Please rate this article by answering the questions at the right ----------------->>>
[
Edit
]
Directory Project
English Knol Project
Irene Ryan (1902-73), actress (you are here)

Irene Ryan (1902-73), actress (you are here)
This article should be cited as :
"Irene Ryan (1902-73), actress" by Will Johnson,
wjhonson@aol.com
for Scholar's Edition Professional Biographies at knol.google.com
Copyright 2010,
All Rights Reserved.
[
Edit
]
This is the only known comprehensive biography of Irene Ryan in existence.  All other biographies of Irene Ryan are either quite tiny, or just snippets of his impact on others at some particular point in their lives, without giving a comprehensive view of his life.  This biography I hope will correct that.
I am a professional genealogist. Contact me, if you'd like help in tracing your family tree, by clicking the below button.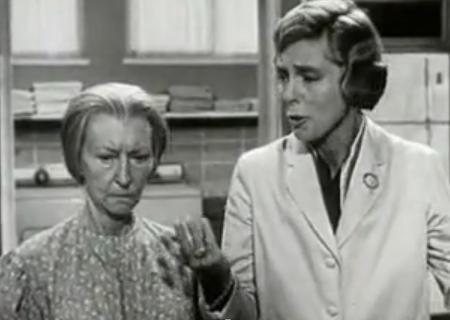 Irene Ryan (age 59) as "Granny", Nancy Culp (age 41) as "Jane Hathaway"
in "The Beverly Hillbillies", episode 3, 1962


[
Edit
]
Irene Ryan, actress most known today as "Granny" on "The Beverly Hillbillies" (1962-1971). 
Watch every episode of "The Beverly Hillbillies"
right now for free onYouTube.
Irene Ryan was born as Jessie Irene Noblitt on 17 Oct 1902 in El Paso, Texas, daughter of James M Noblitt (d. 1913) and his wife Catherine "Katie".  The family was living in San Francisco by the 1910 Census.
[
Edit
]
Her career began at age 11 when she sang "Pretty Baby" as loudly as she could to win a $3 prize at an amateur contest at San Francisco's old Valencia Theater.  "I wore a pink silk dress and had long curls.  I was terrified.  If they didn't like an act, the audience would throw tomatoes and eggs."  Irene is listed as Eileen J. Noblitt actress, on the 1920 census, living in San Francisco with her widowed mother Katie and her sister Annie and brother in law Virgil Wilkerson/Wilkenson.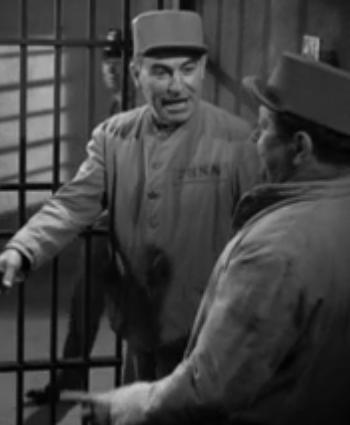 Tim Ryan (facing) in 1946's
"Dark Alibi" Charlie Chan mystery


Irene married first to actor and writer Tim Ryan (b. 1899) in 1922 probably in California, they divorced in 1942.  They formed the comedy team "Tim and Irene" who toured vaudeville for years, and then made it to the radio as "The Tim and Irene Show".  As early as 1933, I find that "Tim and Irene, the comedy team which contributes a generous portion of the laughs to the Carefree Carnival, have concocted another line of nonsense which they will spring on the radio audience when that program is broadcast over an NBC-KJR network of stations tonight." Tim who died in 1956, had also been in five Charlie Chan movies.
[
Edit
]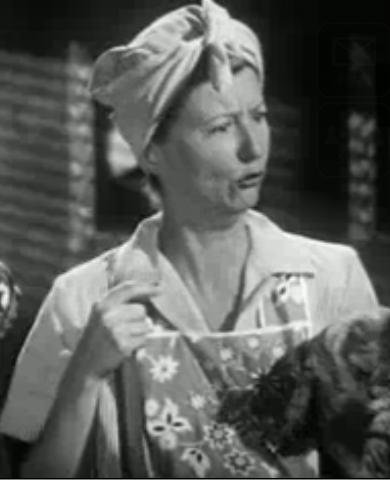 Irene Ryan (age 45) as "Molly the Maid" in 1947's
"Heading for Heaven"


Irene married producer Harold E "Harry" Knox in 1946, they divorced in 1961.  You can see what she looked like in
1947 when she played "Molly the Maid" in the movie Heading for Heaven, which you can watch for free at this link at archive.org.
My Dear Secretary
(
1949
)
comedy
romance
added 28 Dec 2010
starring Laraine Day,
Kirk Douglas
, Keenan Wynn, Helen Walker
with Rudy Vallee, Florence Bates, Alan Mowbray,
Irene Ryan
, Gale Robbins, Grady Sutton
Kirk Douglas is a famous writer, Laraine Day is an aspiring writer, who becomes his secretary and love interest.  Keenan Wynn is the best-friend side-kick and he and Irene Ryan as "Mary the maid" provide the comic relief.
This is an odd "B" movie, which cannot seem to decide if it's a comedy or a romance drama.  Some of the drama scenes go way too far into melo-drama as well.
[
Edit
]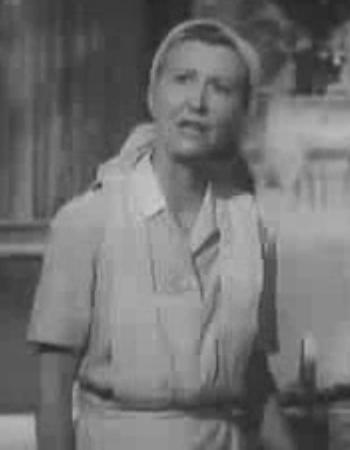 Irene Ryan in 1949's
"My Dear Secretary", starring Kirk Douglas


Irene Ryan was a comedienne touring with Bob Hope in 1949, along with
Doris Day
. (Oakland Tribune, 6 Feb 1949, pg 8A) She is described a few months later, still with Bob Hope, as a "professional hypochondriac" evidently that was her comedy routine at the time. (cf "Long Beach Independent", 8 Dec 1949, pg 34A)  In Feb 1950 her act is described as a "sad-faced chatterbox" (cf "Long Beach Press-Telegram", 10 Feb 1950, page A13)  She toured with Bob Hope and was also on his radio show for three years.  In 1950, UPS correspondent Virginia MacPherson reported Irene as stating that : "I ain't no beauty.  My face is homely, my figure's dumpy, I'm getting old and I'm low on curves and loaded on wrinkles." (cf: "Daily Review", 28 Sep 1950, pg 21)  She was reported in 1950 to have a five-year contract with Bob Hope (cf: "Oakland Tribune", 5 Oct 1950, pg 62)  She was also at some point on the Rudy Valley radio show.
[
Edit
]
She was not originally the first choice to play "Granny".  Bea Benaderet was the original choice, but Irene gave a strong audition and got the part.  Bea was cast as cousin Pearl, who you see in the first episode, and some subsequent ones. 
The Beverly Hillbillies
, got at the time, the highest Nielsen rating, sometimes garnering fifty percent of American households.  They were the highest rated show in 1962 and 1963.  One episode achieved a stunning 65 percent share of viewers -- still today, the highest rating ever achieved by a half-hour program.  Irene Ryan was nominated in both 1963 and 1964 for an Emmy for her work on The Beverly Hillbillies.  Watch her, from around this time, on a show hosted by Roy Rodgers and Dale Evans
at this link,
where she sings her comedic version of the hit song, "I'm A Woman".
Her last role was as Pippin's grandmother in Broadway's smash hit "Pippin". 
On YouTube at this link, you can hear her sing her hit "No Time At All" from this production
.  It was released as a single by Motown, and she was nominated for a Tony award.  Irene Ryan had a stroke in New York City on 10 Mar 1973, during a Saturday matinee of this play. 
She was flown back to California where she died 26 Apr 1973 at "St John's Hospital" in Santa Monica, as at least one obit related (cf: UPI, "Beaver County News", 27 Apr 1973, pg 8), but I cannot yet find anyone in the CADI who could be her to confirm this.  Her funeral was in Santa Monica.  She was cremated and interred at Woodlawn Cemetery in that city, in the same vault with her older sister Anna.
She endowed a foundation, bearing her name, with more than one million dollars in scholarship monies, for promising students in theater arts.
[
Edit
]
Sources
[
Edit
]
James M Noblitt, born in Rutherford Co, NC (cf
1897 Enlistment
)