Please
sign in
and rate this article by answering the questions at the right ---->>
[
Edit
]
This article should be cited as :
"John Swope, a biography" by Will Johnson,
wjhonson@aol.com
for Scholar's Edition Professional Biographies at knol.google.com
Copyright 2009,
All Rights Reserved.
This is the only known comprehensive biography of John Swope in existence.  All other biographies of John Swope are either quite tiny, or just snippets of his impact on others at some particular point in their lives, without giving a comprehensive view of his life.  This biography I hope will correct that.
I am a professional genealogist. Contact me, if you'd like help in tracing your family tree, by clicking the below button.
[
Edit
]
The only detailed biography of John "Johnny" Swope, most well-known today as a free-lance photographer for Life magazine.  During the Summer of 1927 he joined the University Players on Cape Cod, acting in several minor parts and eventually becoming stage manager.  Graduating from Harvard University, he was good friends with
Henry Fonda
, Joshua Logan and Margaret Sullavan.  In 1933 he was named by W Averell Harriman to be field manager for the [New York] state committee of the National Recovery Act, which his father
Gerard Swope
, then President of General Electric, had helped to draft. (It's a little funny isn't it, that Averell's last wife Pamela Digby, later married
Leland Hayward
?)  The symbol of the NRA was a blue eagle or blue thunderbird. "Reports of the most encouraging character continue to come in from upstate.  John Swope, field manager of the State committee, is making a swing around the State.  He attended an enthusiastic meeting in Cooperstown last night, and today met with the city committee of Oneonta, the Chenango County committee and the city committee of Binghampton and the Broome County committee...."
[
Edit
]
"Young John Swope Sits on New Deal"
"Magnate's Son Spends Time with Film Magazines"
by United Press, 27 Dec 1933 - Washington
"
Gerard Swope, president of the General Electric Co., sent his son, John, to Washington to work for the NRA so that John would be in the thick of the new economic battle.
John used to work cross-word puzzles in his office.  He is still having some difficulty keeping his mind on code matters due to 'heart trouble.'  He buys every new moving pictures magazine as soon as it is out, clips every picture he finds of his favorite film actress and then lets his pretty secretary have the remnants of the periodical.  She has several hundred of them stacked in one corner of her room."
[
Edit
]
In 1934, his annual salary "as a division chief" was listed at $4,500.  Around this time the administration was considering reorganizing the group, "Crown Princes to Pass", by Rodney Dutcher, 23 Aug 1934 :"Reorganization is likely to mean the departure of NRA's three young 'crown princes' -- Johnny Swope, son of Gerald Swope and chief of the NRA Field Section; Lieut Kilbourne Johnston, son of General Johnston, official 'aide' to the administrator and former chief of the Compliance Section, and Robert K Straus, son of Ambassador-to-France Jesse Staus and special assistant to Johnson as well as Chairman of the Committee for Completion of Code-Making.  These boys all in their 20's, undoubtedly have gained invaluable experience in these important NRA posts which will help them make money later on.  But it's reasonable to believe the jobs could have been done as well by socially obscure fellows who needed work.  Swope, who has a place he calls Bleagle-on-the-Potomac, overlooking the river, was once a stage comedian, thinks everything is funny, and has a sense of humor which arouses comment."
"No Popularity Prizes Coming to Boy Wonder Hutchins", by Rodney Dutcher, 25 Oct 1934 : "Prediction in these dispatches that the three 'crown princes' of NRA would be on the way out after General Johnson's retirement may turn out to be only 66 2/3 per cent correct.  Johnny Swope, son of General Electric's Gerard Swope and chief of the NRA field section, and Robert K Straus, son of the ambassador to France and holder of one or two high NRA posts, won't be with us long.  Appointment of these inexperienced youngsters to strategic jobs was one of innumerable NRA mistakes which the new administration will repair."  The last time I find his name mentioned in connection with the NRA is in an article dated Feb 1935.
[
Edit
]
In June 1935 we read that about 3500 men at the NRA will soon be out of a job but that "A net has been put up for some of them by Professor Tugwell.... in Tugwell's Rural Resettlement administration.... The regular patronage machine here is overtaxed as a result of NRA dismantlement."  Rexford Tugwell was the head of the Resettlement Administration which sought to build model suburbs for the rural unemployed, during the Great Depression.
Brooke Hayward states that it was Fonda who convinced John Swope to come out to Hollywood to become an assistant director. ("Haywire", p84)  This move happened then sometime between Jun 1935, and May 1936, when we read that "John Swope son of Gerard Swope came to Hollywood several months ago...."  Retrospectively we discover that he "helped director Fritz Land in Walter Wanger's 'You Only Live Once' in which [
Henry] Fonda
starred with Sylvia Sidney."  A strange error for Fritz LANG, but at any rate John is not mentioned in the credits for this picture at IMDb.  "Behind the Scenes in Hollywood", 17 Jul 1936, by Harrison Carroll "James Stewart is a lone householder again .... Henry Fonda, Joshua Logan and John Swope are all away on vacations."  During a yacht race to Honolulu in Aug 1936, John realized his love of photography.
[
Edit
]
15 Aug 1937 - "While Jimmy Stewart was out of town, housemates Josh Logan and John Swope handled the job of moving into a new house.  On his return, Jimmy found himself the occupant of a feminine chamber decked up with fluffy curtains, cute dressing table and ducky, diminutive sleeping couch."
28 Aug 1937 - "
Jimmy Stewart
is a godfather, the baby being tiny Brooke Hayward.  But he is the third one, the other two being
John Swope
and Josh Logan."
John shared this house with his fellow "resolute bachelor"
Jimmy Stewart
for many years (seven years?), right down the street from where
Leland Hayward
and his wife Margaret Sullavan lived with their children in Brentwood.  In 1938 he published his first book of photographs.  Brooke Hayward refers to him and Jimmy Stewart as two of her godfathers.  Leland in a fit of anger once referred to him as Jimmy's latest "roommate-lover".  While in Hollywood during this time he also acted as an agent and an assistant director.  In a 1939 passenger list he lists his address as 1040 Park Avenue, New York City.  His photographs of Margaret Sullavan were published in Life magazine June 1940.  His photographs illustrate the John Steinbeck book "Bombs Away: The Story of a Bomber Team".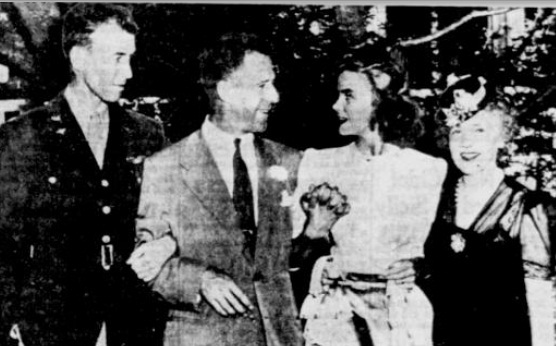 Jimmy Stewart, John Swope, Dorothy McGuire, Frances Starr
July 1943


[
Edit
]
Later in 1943 he married Henry's friend and fellow actress Dorothy McGuire, at the home of
Leland Hayward
in Brentwood, "Capt
James Stewart
of the Army Air Forces" was their best man.  At the time of his marriage, John is called 'vice president of an airline and is field manager at Thunderbird Field, Arizona., an air force training site.  The couple will reside in Phoenix.  The bride is under film contract to David O Selznick.'  Dorothy McGuire is arguably best-known today, at least to Disney lovers as "Mother Robinson" in
1960's "Swiss Family Robinson".
  Brooke states that Jimmy Stewart was then stationed in Albequerque but flew in for the ceremony. ("Haywire", p89)
I don't know why they don't say which airline he is vice-president of here, surely it must be Southwest Airways which was started by Leland Hayward and Jack Connelly evidently.  Leland has earlier been named to the board of TWA.  This time period in the history of both airlines need to be expanded greatly to tweeze out these details.  Brooke mentions that Leland was chairman of the board of Southwest.  She mentions John Swope there, but only states that he was secretary-treasurer and an instructor.  ('Haywire" p69)
They went on their honeymoon to Mexico and then lived at the army base in Arizona.  John left to be a photographer's assistant on a new work, while Dorothy appeared in the movies "A Tree Grows in Brooklyn" and "Enchanted Cottage".  In Nov 1944 he is called the "operator of Thunderbird Field, Phoenix, Arizona."
[
Edit
]
He and his wife were involved in the founding of the La Jolla Playhouse.  "Mel Ferrer managed the theater until 1953, when Dorothy McGuire's husband, photographer John Swope, whom Lloyd described as 'a man of impeccable taste, great warmth, and charm who had much compassion for people,' took over." ("Vincent Price: a daughter's biography", by Victoria Price, p161)
"A son, Mark, to Mr and Mrs John Swope, May 14, in St John's Hospital, Santa Monica, Calif.  Father is executive producer of the La Jolla Playhouse, Mother is Actress Dorothy McGuire." - Billboard, 30 May 1953
John Swope (center)


[
Edit
]
"John Swope, Note Photographer" (obit), by Thomas W Ennis, New York Times, 15 May 1979
"
John Swope, a photographer who had a long association with Hollywood and the theater and who was also a theatrical producer, died Friday at St John's Hospital in Santa Monica, Calif.  He was 70 years old and lived in Beverly Hills.
Before Mr Swope went to Hollywood in 1936 to work as a free-lance still photographer, he had been a Washington bureaucrat, serving the Administration of President Franklin D Roosevelt for several years as director of national code compliance of the Depression-born National Recovery Administration."
"He had a keen interest in the theater as well as his photography.  After he was graduated from Harvard University in 1930, he joined the University Players, a theater group in West Falmouth on Cape Cod that included Henry Fonda, James Stewart, Joshua Logan and the late Margaret Sullavan.  And they all met again in Hollywood, where Mr Swope lived for a while with the three actors.
In 1938, when he was 29, Mr Swope had the first of many gallery exhibitions of his photographs when the Carstairs Gallery on 57th Street displayed 54 of his pictures, mostly of beach and sea scenes taken on the West Coast.
In 1943, Mr Swope's association with the theater was reinforced with his marriage to Dorothy McGuire, the actress.
During World War II, Mr Swope was an Air Force flying instructor.
After the war, he was a free-lance photographer for Time and Life magazines, he and his actress wife and their friends, Mel Ferrer and Gregory Peck, established the La Jolla Summer Playhouse in La Jolla, Calif.  Mr Swope produced more than 40 plays there, while continuing his magazine assignments.
A collection of Mr Swope's Hollywood photographs, "Camera Over Hollywood," with 96 pictures of Hollywood and Hollywood people, was published in 1938 by Random House.
His photographs have been exhibited at galleries and museums across the country, generally under the heading of "People and Places."  Mr Swope was also commissioned to photograph the sculpture and the art collection of Jacques Lipchitz for the University of California at Los Angeles and Henry Moore's sculptures for the Los Angeles County Art Museum.
Mr Swope was born in New Brunswick, N.J.  His father, Gerard Swope, was president of the General Electric Company, and he was a nephew of Herbert Bayard Swope, a colorful and well-known New Yorker who was one of the country's great reporters and editors when he was on the old New York World.
In addition to his wife, Mr Swope is survived by a daughter, Topo; a son, Mark; a sister, Henrietta Swope of Pasadena, Calif., and two brothers, Gerard Swope Jr of Croton-on-Hudson, NY, and David Swope of Ossinging, NY.  There was no funeral service.  There will be a memorial service today at the Swope home in Beverly Hills."
[
Edit
]