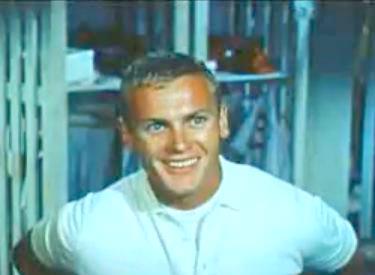 Tab Hunter in 1958's
"Damn Yankees"



Damn Yankees was a 1958 Warner Brothers film, produced and directed by George Abbott and Stanley Donen and starring Tab Hunter, Gwen Verdon and
Ray Walston (and notice a brief appearance by Jean Stapleton).
Watch It Now
Damn Yankees (1958)
Synopsis
First Third
The movie opens to a middle-aged-man watching a baseball game on his television while his wife sits sewing.  His wife tries to talk to him about the weather and he ignores her.  She then sings a song about how she is alone half the year (because her husband ignores her to concentrate on the games).  She goes to bed, but he stays up and swears that he would sell his soul for "one long ball hitter".

At this point the Devil appears (Ray Walston) calling himself Mr Applegate.  He offers to turn the man into the  "greatest baseball player in all history". He does not at first believe it, but is more convinced when two woman walking by, cannot see this other man. (One of the women is Jean Stapleton, best-known today for her role as "Edith Bunker" on the TV-series "All In The Family".)

He makes the deal but the Devil allows an escape clause on the 24th of September at midnight.  As he writes a goodbye letter to his sleeping wife, we get the next song "Goodbye Old Girl".  The Devil then turns him into Joe Hardy (Tab Hunter) and they leave.
  The next scene is in the Washington locker room where the players are talking to each other, and we get a bit of the personality of the three main players and their coach.  We then get the next song "You've Got To Have Heart".
Then we see Joe Hardy (Tab Hunter) at the Washington ball park where Mr Applegate convinces the coach to let Joe hit a few balls.  Of course he hits each one out of the park.  He then fields well.  But still the coach wants to send him out to a farm "for a little seasoning".  He is finally convinced to let him play in the big league right now, because the Senators have been playing so lousy lately.
Review
An interesting but relatively mindless excursion into mediocre musicals.  The story is unique and probably a good opportunity for Tab Hunter to showcase his All-American boy-next-door appeal.  The music however is surprisingly unappetizing, most of it is barely digestible, and some of it downright embarrassing.  There are however two songs that are rather good, both sung by Gwen Verdon, the most famous one was "Whatever Lola Wants".
Wjhonson's Knols - Total Pageviews - Independent Counter