This Knol written by Will Johnson,
wjhonson@aol.com
Creative Commons Attribution 3.0 License
This Knol is part of my series "
Celebrity Family Trees
"
The numbers below, in front of each heading name, are assigned using the
Ahnentafel
method.
1 Ed Wood Jr
Edward Davis "Ed" Wood Jr was born 10 Oct 1924 at Poughkeepsie, New York, the first child of Edward Davis Wood (b. 1895) and his wife Lillian Phillips (b 1900/03).  If you came here looking for biographical details, you cannot do better than to check out 2009's "
The Haunted World of Edward D Wood Jr", now playing at "Chairpotato's Night At the Movies!"
  This new film has tons of intimate conversations with those who knew him, and clips from his movies.  Ed Jr lived with his family in New York until at least age 17, when he, joined the Marine Corp, evidently for a four-year tour from 1942 to 1946.  After leaving the Corp, he went to Hollywood.  His Wikipedia article states that he arrived in Hollywood in 1947.
Ed Wood Jr directed only five movies, but those five, so amazingly awful, have kept his name in the minds of thousands of film students.  Although some college students, not in film, were introduced to the work of director Ed Wood in the 70s and 80s in all-night-B-film-festivals, it was not until after Johnny Depp played Ed in the 1994 bio-pic "Ed Wood" that the general public discovered him.  In addition to being a director, producer, script-writer and actor, Ed wrote some published short stories.
Ed Wood was a transvestite, he liked to wear woman's clothing.  He was straight, one of his friends describing him as a "womanizer".  Ed was married twice, his first-wife however could not abide his desire to dress-up and so left him after about six weeks, as she herself states in the 2009 documentary linked above.  He married his second wife Kathleen O'Hara in 1956 and they stayed married for the next twenty two years.  Ed Wood's first film was evidently 1953's "Glen or Glenda" in which he played the title character of a man who likes to dress in woman's clothing.  Part exploitation, part cry-for-help-and-understanding and semi-autobiographical, the film did not find a large audience.  The woman who plays his girlfriend in the movie, was his real life girlfriend Dolores Fuller.  Bela Lugosi played the role of narrator.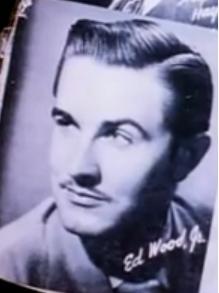 Ed Wood Jr

In 1954 Ed Wood directed, produced and co-wrote "Jail Bait" a gangster film with a twist ending.  In 1955 he directed, produced and co-wrote "Bride of the Monster", which features Bela Lugosi's last speaking role.  The plot involves Bela as a mad scientist determined to create a race of atomic super-men.  It was in 1956 however that Ed Wood would sink to the bottom of his abilities as a film-maker, when he made the notoriously abysmal "Plan Nine From Outer Space".  Not only featuring many silent walking scenes, scenes with no point, cardboard headstones, the failure of a mechanical creature and a bizarre confused plot, but in addition Bela Lugosi died during the making of the film.  His scenes was filled-in later by another actor who bore no resemblance to Bela.
Ed died 1978 in Los Angeles.  He and his then-wife were both heavy drinkers and their lives had degenerated to the point where they were living in a cheap flop-house, boozing away as their health declined.  Finally, at the end, Ed was staying with a friend and had a heart-attack while watching television.  "His posthumous fame began two years after his death, when he was awarded a
Golden Turkey Award
as Worst Director of All Time" ("Ed Wood", Wikipedia)
Ed Wood's life has been presented in a print biography by Rudolph Grey "Nightmare of Ecstasy: The Life and Art of Edward D. Wood, Jr. (1992)", and also in a Tim Burton film
"Ed Wood" (1994)
.  In 2009, a documentary-biography
The Haunted World of Edward D Wood Jr
was released with many original clips, photographs and talking heads of the people who knew him when he was making his very bad horror films.
3 Lillian Phillips
Lillian Phillips was born about 1901 (perhaps 1903) in New York, possibly in Poughkeepsie, the daughter of Frank Phillips and his wife Lillian.  She married Nov 1923 to Edward Davis Wood (b. 1895) and they had at least one child.  Ed Sr worked at the post office.  Lillian was a buyer for a local department store.
6 Frank Phillips
Frank Phillips was born about 1871, the son of Samuel Phillips and his wife Martha Emory (b. 1835).
12 Samuel Phillips
Samuel Phillips was born 1834, the son of Samuel Phillips (1797-1877) and his wife Emily Lucy Wightman.
25 Emily Lucy Wightman
Emily Lucy Wightman was born 1801 in Warren, New York, the daughter of Eleazar Wightman (1774-1850) and his wife (and cousin) Lydia Wightman.
51 Lydia Wightman
Lydia Wightman was born in 1778, daughter of Benjamin Wightman (1755-1829) and his wife Esther Randall.
103 Esther Randall
Esther Randall was born in 1758, the daughter of Rufus Randall and his wife Margaret Wightman (1740-1813).
206 Rufus Randall
Rufus Randall was born in 1738, the son of Benjamin Randall and his wife Ruth Brown (1714-91).
412 Benjamin Randall
Benjamin Randall was born in 1715, the son of John Randall (1666-1720) and his wife Mary Baldwin.
825 Mary Baldwin
Mary Baldwin was born in 1675, the daughter of John Baldwin and his wife Rebecca Palmer (1647-1713).
1650 John Baldwin
John Baldwin was born in 1635, the son of Sylvester Baldwin and his wife Sarah Bryan (1602-69).
3300 Sylvester Baldwin
Sylvester Baldwin was born in 1595, the son of Sylvester Baldwin (1560-1633)
See
this google search
Wjhonson's Knols - Total Pageviews - Independent Counter