Please
sign in
and rate this article by answering the questions at the right ---->>
[
Edit
]
[
Edit
]
I am a professional genealogist. Contact me, if you'd like help in tracing your family tree, by clicking the below button.
Susan "Genie" Wiley's story is also told in these sources:
I have done a substantial amount of research in primary sources to put together this story, which I first started researching in 2007.  Since I published my first draft in March of 2007, I've been contacted by a dozen different media and research sources, some of whom have since published on the story of Susan "Genie".
These two pages give a
brief overview
of the case.  You can find a more in-depth set of pages at my write-up on
Susan here at CountyHistorian at sites.google.com
.
Chapter One
Clark Wiley did not like children.  His son John Wiley, now a man of 50-some would later relate how John and his mother Irene would speak in whispers to avoid upsetting Clark.  John also stated that Clark would often sit with a gun in his lap.  Clark and Irene's first child died from neglect and possibly their second child as well.  Clark's own mother Pearl, thinking Clark unbalanced, took John to live with her for a few years, but when John was five, Pearl was killed by an out-of-control truck driven by a teenager and John went back to live with his parents.  The death of his beloved mother Pearl, quite possibly, threw Clark further into mental illness.  By this time, Clark and Irene had had their fourth and last child Susan M Wiley.
Susan M Wiley was born 18 Apr 1957 in Los Angeles County.  When Clark's mother Pearl was killed, the family moved into Pearl's home on Golden West Avenue in Temple City, California.  No one was allowed to sleep in Pearl's bedroom, it was kept as it was when she lived.  The four members of the Wiley family made other makeshift sleeping arrangements.  Neighbors later described the family as strange, "They never went anywhere, they never took the children anywhere." "I saw the daughter from time-to-time, I always understood there was something wrong with her."  John would later describe how his father abused him, hitting his testicles, "I don't think he ever wanted me to have children." (John did marry and has one daughter.)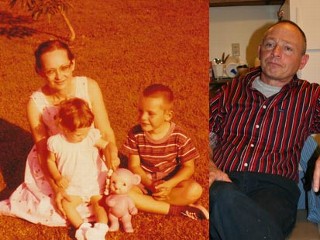 On the left, Dorothy, Susan and John
evidently around 1960
On the right John in 2008.  (Credit: ABC News)

Dorothy was nearly blind from cataracts and largely dependent on Clark.  Dorothy had also herself had mental health issues, evidently institutionalized at one time.  Early in Susan's life, a doctor had told Clark and Dorothy that Susan might have a slow development.  Clark decided that this meant that Susan was retarded and the only way to "protect" Susan from the world was to keep her, as much as possible, in her bedroom.  He told his wife, that if Susan could live until she was 12, than he'd allow Dorothy to get help for her.  During the majority of Susan's life the timid Dorothy hurriedly fed Susan a sub-standard diet consisting of milk, oatmeal and sometimes an egg.  During the day Susan was often tied to her potty chair and left in her room, and during the night she was strapped into her bed, with a makeshift covering of chicken wire.
When Susan was about 12 or 13, Dorothy decided to leave Clark and took Susan with her, to live with her own mother in nearby Monterey Park.  Dorothy went to try to apply for help for the blind and since she had a child, she could also apply for welfare for her dependent child.  A home visit on 4 Nov 1970, alerted officials that there was something very odd about this child, although she was 13, when she was found, she had the physical development of a 7-year old due to her prolonged malnutrition.  As well, she could not speak evidently because she was never or rarely spoken to, by her parents or brother.  She walked with a strange hopping motion, she could not feed herself, and she didn't seem to relate to others in any particular way, as if she were autistic.  It was also reported that she masturbated excessively as some kinds of retarded children also do.
Dorothy and Clark Wiley were charged with Felony Child Abuse, and due to appear at an arraignment in the local municipal court, where they lived near Temple City, California.  Meanwhile Susan was taken into protective custody.  On Nov 20th, the day he was to appear, Clark was going to have his son John, who was then staying with a friend, drive him to the courthouse.  While John waited outside with a friend, Clark then aged 70, took his own life, in the house, with a revolver.  He left a note with funeral instructions.  Dorothy was told of his suicide, while sitting in court.  In light of this, and Dorothy's apparent complete dependence on Clark, charges against her were dropped.  Judge Peter S Smith in Alhambra Municipal Court stated, "I can't see the Superior Court judge or jury, convicting this woman."
At the time that this story first appeared, it was widely reported in dozens of newspapers across the United States (and quite likely in Britain as well).  Some of these reports went into multiple columns, consisting of hundreds of words over several days.  The full names of the parents and children were used, even the address where they lived.  There was no attempt made to conceal any details of their lives at that time.  The allegations were so shocking that it was picked up by the newswire and the entire country read these details.  The original local reporters and editors won a journalism award for their coverage.  The final national coverage was of Dorothy's decision to allow Susan to become a ward of the state and to be taken to a local hospital where Susan's fate would next be decided.
Continue to Chapter Two
Wjhonson's Knols - Total Pageviews - Independent Counter