My original article is on my website at countyhistorian, where I call her by her maiden name "
Nannie Hazle
".  She is however probably best known as "Nannie Doss"
'''Nannie Hazle''', (1905 - 1965) serial killer, who killed four of her five husbands, her mother, and probably several other people.
Copyright 2006, Will Johnson,
wjhonson@aol.com
, Professional Genealogist, All Rights Reserved.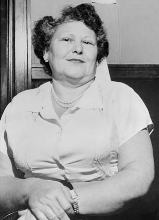 Let me start right off by saying that her biography at the crimelibrary has been slightly altered in the names and dates given to certain things.  I'm not sure if this is an attempt at privacy, or if it's sloppy research.  I will start with that biography as a guideline and then show the actual documents of her life.
Early life
She was born Nancy Hazle in Blue Mountain, Calhoun County, Alabama in 1905 to Louisa "Lou" Holden (1879/80-1953) and James Hazle. The 1910 Census says her parents had been married for nine years and he is listed as a "Railroader".  The 1920 Census says he is a "Farmer". Louisa's maiden name comes from
this article in the Atchison Globe
, where she is called "...Mrs Louisa Holden Hazle". 
The crimelibrary article
calls her "Loulisa or Lou", that her maiden name was "Holder", and states of Nannie that "...her grandma Holder was remotely related to the Lincoln family".
First husband
When Nannie was 16 (so about 1921/2), she married Charles "Charley" Braggs, who was living with and supporting his mother.  The new couple lived with Mrs. Braggs.  Nannie and Charles had four daughters starting with Melvina in 1923 and ending with Florine in 1927.
"Early in 1927, their two middle daughters died", says crimelibrary.
Charley left and showed up a year later in 1928 with another woman. But
this article
says they divorced in 1929 "after eight years of marriage".
Charlie Braggs was yet living in 1954, in Alabama City, Alabama, when Nannie was arrested
Second husband
Nannie then married 23-year-old Robert H Harrelson in 1929 who lived in Jacksonville.  Again crimelibrary calls him "Frank" but the 1930 census shows the family (see sources below).  "This marriage lasted 16 years."  This is the most confused of the stories. 
This site by a relative Sherby Green
has them marrying also in 1937 and/or in 1945! Which is supposed to be the year of "Frank's" death. 
An article in the ''Atchison Daily Globe'', 29 Nov 1954
confirms his death in Jacksonville in 1945. 
This article in the ''Albuquerque Journal''
calls him "Ernest" Harrelson. 
This article in the ''San Antonio Express''
calls him "Robert Franklin "Frank" Harrelson, and calls his brother "Ernest J Harrelson"
"Her eldest daughter Melvina had married Mosie Haynes and had a son Robert in 1943 and a daughter Feb 1945."  Again this appears to be an error.  Mosie Haynes was born in 1910, he
enlisted for WWII
for "...the duration of the war plus six months, a native of Etowah, Alabama, "SINGLE" (emphasis mine) with dependents.  He was quite a bit older than Melvina when they married Jan 1947 in Morgan County (see below for this corrected date).  So their children could not have been born in the early 40s.  They divorced in 1952. Crimelibrary claims that Robert died while in Nannie's care after Mosie and Melvina had fought.  Could
this child in the Death Index
be Robert ?  If so, he died after Melvina had divorced Mosie.
A site reader informs me that the last paragraph is all screwed up.  Because in the Alabama marriage index, there is not only a "Melvina Broggs who married Mosie Haynes", but there is
also
a "Melvina Braggs who married Robert Haynes" in Sep 1946 in Etowah County.
Nannie is then supposed to have murdered her husband Robert Harrelson.  I can't find a person in the Death Index who is a good match for this man.  By 1954 Melvina had married a Mr Hedrick
per this article
where she is called "Mrs Melvina Hedrick".
This
article in the Atchison Daily Globe
calls the boy a "STEP-grandson", the "2 1/2 year old grandson of Harralson".  It would then appear, that all researchers on this point have been wrong.  It's then imperative to find the marriage records for Calhoun and see what's up with all this confusion about when they married and who married whom.
This
article in the ''Albuquerque Journal''
states that Frank Harrelson is buried in Jacksonville, Alabama.  And calls the 2 1/2 year old grandson "Richard Lee Higgins".
Third husband
She is next supposed "...to have married in 1947 to Arlie Lanning, a resident of Lexington, North Carolina, but a former Alabaman.  Arlie's mother lived in a nearby town.  He died three years later."  Again the dates seem slightly off for some unknown reason.  The North Carolina Death Index has
Arlie Jackson Lanning born 1900, dying in Lexington 16 Feb 1952
.  And
Sherby Green here
says this marriage lasted five years.  An article in the Atchison Daily Globe (cited above) confirms his death in Lexington in 1952.
His
World War I Draft Registration Card
says his mother's name was "Sarah E".  You can see Arlie's
family tree here
.  And
this article says
they were "childhood friends in Anniston, Alabama"
Crimelibrary then states that the elder Mrs Lanning died in her sleep.  But Sarah (Leonard) Lanning died two years BEFORE her son Arlie. 
See here
.
Supposedly Arlie's will left his house to his sister Ethel (Lanning) Swicegood, but the house burnt to the ground and the check was sent to, and cashed by Nannie.
When Nannie was arrested in 1954 she stated that she had a daughter by Braggs and also one by Lanning. (
See this article
.)
Fourth husband
She next married Richard L Morton (1883/9-1953), a retired businessman who lived in Emporia, Kansas in Oct 1952 and she moved to Emporia. 
This article calls him "69"
, but another article calls him 64.
So it would seem, that the death of her two grandchildren must have been in this 1952 time period,  (so she must have gone back to Alabama for a few months) and not five years earlier.
Crimelibrary says it was at this time that James Hazle her father, died in Blue Mountain, Alabama and her mother Lou moved in with her in Kansas.  But nobody by that name died in 1952 anywhere in Alabama, so again we have to consider crimelibrary's sources flawed on the dates.  A site reader, who is a relative of Nannie's, informs me however that James is buried, "...next to my great grandmother, Nannie Holder Steele, in Thomas Cemetery on Charlie Penny Rd. outside of Jacksonville, Alabama"
Then according to crimelibrary, Lou died Jan 1953 and Richard Morton is supposed to have died "...three months later".  Kansas does not have a death index online, so I cannot verify these dates at this time.  This
biography by Nannie's relative Sherby Green
is apparently the basis for part of crimelibrary's story.  And an article in the Atchison Daily Globe (cited above) confirms the death of "Richard L Morton, 64, Emporia, Kansas 19 May 1953."
The
article "Widow Doss Denies Poisoning Mother" in the ''Great Bend Daily Tribune'' (Great Bend, Kansas), 5 Dec 1954
, says that an autopsy of the body of her mother (later) showed arsenic.  Her mother "...died at Lexington, NC two days after a visit from Mrs. Doss"  While
this article in the ''Albuquerque Journal''
states that Louisa Holden Hazle was "...buried near Arlie Lanning..." [i.e in Lexington, NC]
Fifth husband
Her fifth and last husband was Samuel Luther "Sam" Doss (1895-1954), "age 59", born at the town or township of Alabama in Carroll County, Arkansas, but then a resident of Tulsa, Oklahoma.  They had married June 1954.  See
his family tree here
.  She poisoned him a few months after their marriage.  Per the article
"Reticent Widow Investigated in Arsenic Deaths", in the ''Great Bend Daily Tribune'' (Great Bend, Kansas), 27 Nov 1954
, he died Oct 6th 1954.  As you can see he was actually only 58.  I here correct his birthdate which was 29 Dec 1895 as he states on both his WWI and WWII Draft Registration Cards.   Nannie's campaign-of-death ended when a state-performed autopsy showed that Samuel L Doss had poison in his system.
Arrest and death
She was finally arrested Nov 1954 in Tulsa, Oklahoma.  She pled innocent, her public defenders told the court she was mentally incompetent and tried to get her committed to a mental hospital. 
This article
states that in mid-December she was "...ordered placed under psychiatric examination to determine her sanity."  She was committed to the Eastern State Hospital in Vinita, Oklahoma for 90 days.
After her arrest
, more bodies were dug up and tested for poison.  Among those were "...Mrs Dovie Weaver, her sister..." and "...Mrs Sarah Elizabeth Lanning, one of Mrs Doss' five mothers-in-law."
Ernest Harrelson, a brother of the victim, said when the Higgins infant died he asked his brother's wife what was wrong with the baby. "I don't know but that baby toddling around just might have gotten ahold of some rat poison," he quoted Mrs. Doss as saying.  She didn't explain, he said, how a two-months-old infant could "toddle around".

However
toxicology reports
received by Tulsa County Attorney J Howard Edmonson, showed that her sister and step-grandson died natural deaths.
Her court-appointed attorneys were Gordon Palterson and Quinn Dickason. 
This article
states that she was declared insane by the psychiatrists after the 90-day period.  They recommended that she be committed to Eastern State Hospital for treatment.  A sanity trial followed.
District Judge Elmer Adams
sentenced Nannie
, taking into account her probable insanity, and the bad precedent it would set for her to be the first woman executed by electric chair in Oklahoma, sentenced Nannie to life in prison for the murder by poisoning of Samuel Doss.  Other states had served murder warrants, but they did not bring charges, nor ask for extradition. Nannie Doss died in University Hospital in 1965 of leukemia, the day she was brought there from prison.  The
notice of her death was published in the ''Albuquerque Journal'' 3 Jun 1965 : "Admitted Killing Four Mates - Leukemia Fatal to Nannie Doss, Husband-Poisoner of Oklahoma"
stating that she had been incarcerated at the state penitentiary at McAlester, but was brought to the University Hospital in Oklahoma on May 20 where she died that same night. "Survivors include a daughter Melvina Leonard, who lives at Krebbs." [sic, Krebs, Pittsburg County, Oklahoma]
Primary Sources

Secondary Sources