See all my other
Audio Equipment For Sale
These speaker specifications have been added to the
Electronics Portal
KLH AV4001 back

KLH Model AV4001 Series 1001 vintage floor-standing speakers.  These have a 12" woofer, 5 1/4" midrange and 1" tweeter.  The cabinets are black and the covers are also black.  The covers are detachable.  The speakers look great with or without the covers.
These speakers can really be cranked up loud without distortion. 
They are 29" tall, 15" wide and 12" deep.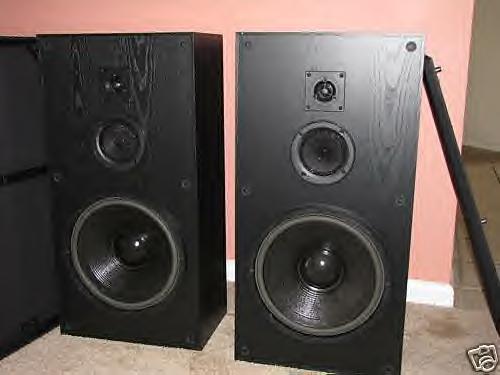 KLH AV4001 front

THESE ARE ALREADY SOLD
(I am preserving them on this site as part of the electronics specifications page only.)
Both cabinets have minor scuffing on the sides, but it is hardly noticeable.  One grill cover has a hole about one-quarter inch, on the top edge.  Other than that, these units are beautiful for being about twenty years old.
My price for these is $80 plus $69.50 (flat rate UPS shipping charge) to ship them in the continental U.S. only, because they are that heavy.  If you are in the Santa Cruz California area and want to pick them up, that is also fine and you'll save the shipping cost.  Click here to go to my paypal where you can then buy it.  If you are not in the continental U.S. email me at wjhonson@aol.com and I'll see about calculating the shipping cost.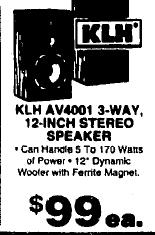 When introduced new in 1996 as the advertisement on the right proves, these speakers cost $99 each.