Agnes Moorehead appears in the
Knol Biography Index
Subscribe to my
Biography and Genealogy Newsletter
[
Edit
]
Agnes Moorehead
(6 Dec 1900 – 30 Apr 1974) was a stage, screen, radio and television actress.  She won one Emmy Award, and two Golden Globe awards, in addition to four Academy Award and six Emmy Award nominations. (
"Agnes Moorehead", Wikipedia
)
She is perhaps best-remembered today for her role as "Endora" from the television series
Bewitched (1964-1972), starring Elizabeth Montgomery
.  She however had a long and varied career, appearing in small to medium parts in films with
Henry Fonda
, Orson Welles and
Jerry Lewis
, as well as on other television programs and radio series.  The movies and television programs underlined below are viewable, by clicking on them.  See also
Agnes Moorehead Movies on YouTube
.
[
Edit
]
She was born
on 6 Dec 1900 in Clinton, Worcester County, Massachusetts as Agnes Robertson Moorehead
, the eldest of the two daughters of John Henderson Moorehead (1869-1938), a Presbyterian minister, and his wife Mildred McCauley.  While she was yet young, the family moved to St Louis, Missouri.  She graduated from Central High School in St Louis in 1918.  In 1919, her family moved to Reedsburg, Wisconsin, where her father was minister at the First Presbyterian Church and where Agnes taught public school in that area for five years.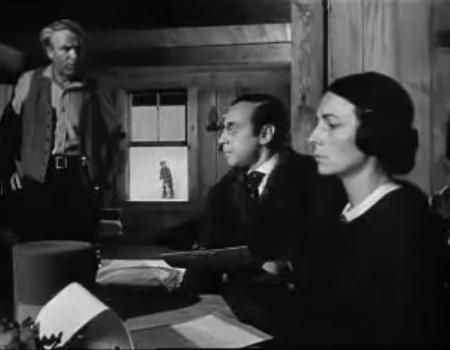 Agnes Moorehead as "Mary Kane" in
1941's "Citizen Kane"


[
Edit
]
In Jan 1929, I find the first newspaper mention of her in the Hamilton Evening Journal, "Agnes Moorhead, Former Hamilton Girl, Achieving Success on Stage".  "Miss Moorehead is well known in Hamilton, having spent a number of the years of her life here, while her father, now pastor of the Memorial Presbyterian church in Dayton, was the pastor of the First United Presbyterian church of Hamilton.  Miss Moorehead is now a senior at the American Academy of Dramatic Arts in New York City.... Miss Moorehead had the honor of appearing in the lead role of Anna Valeska in Walter Hackett's popular comedy, "Captain Applejack," when the senior students of the academy presented this play of Broadway for three performances the past week -- one on Friday at the Lyceum theater and two yesterday at the McMillan theatre."
[
Edit
]
Agnes Moorehead earned a master's degree and pursued post-graduate studies, graduating from the American Academy of Dramatic Arts in New York City in 1929.  In Jun 1930 in New York City, she married on his birthday, to fellow graduate Jack Lee of San Francisco. "I wanted to make sure he never forgot our anniversary", she said.  (They divorced in 1952.)
In Aug 1931, "Badger Co-Ed is in Seth Parker Radio Players", "... Agnes Moorehead.... who holds a master's degree from Wisconsin...."  A few months later, in October, another newspaper article, informs us that "Seth Parker is Going A Visiting", "On Sunday, Phillips H Lord and his cast of National Broadcasting Company actors left New York to begin a tour that will carry them into twenty-three states and two provinces of Canada."  The cast is listed as :"Effie Palmer, Agnes Moorehead, Bennett Kilpack, Raymond Hunter, Carlton Bowman, Norman Price, Ruth Bodell, Gertrude Forster, and James Black".
[
Edit
]
Some sites report this: "Agnes was appearing on New York radio, when she was noticed by Orson Welles and joined his Mercury Theatre Group by 1937."  However the "truth" appears a little more slanted, for in June 1940, Ethel Clark, syndicated columnist reports how Agnes and Orson met. "Agnes Moorehead taught Orson Welles the answers, and radio's fair-haired boy is still returning the favor... Way back in 1934 Miss Moorehead ran into Orson Welles, he was hungry, lonesome and didn't know a soul in radio... she knew everybody and was sitting on top of the world... she gave Orson pointers and contacts with the right persons in radio and when Orson's star took off on its meteoric ascent, he didn't forget, and whenever he directs Miss Moorehead automatically becomes a member of his cast if circumstances permit... Orson still gets inspiration from Aggie's work and a lot of pats on the back for having such a capable actress on tap... Aggie likes to think of him as a protege, though she doesn't say so out loud, and is convinced he is the best director and actor on the face of the globe."
Some people have reported that at this time she appeared on Broadway as well, but there is no evidence for that, except for this tiny "demo" presentations of the Academy, which hardly count.  Her first appearance on Broadway was evidently in 1951.  I'm not certain what happened to Jack Lee, but she was also known publicly as "Agnes Moorehead".  In 1939, she is also called, perhaps pointedly, "MISS Agnes Moorehead".
Agnes Moorehead and her very
self-conscious smile in
1942's "The Big Street


[
Edit
]
Agnes appeared in Welles' seminal film, 1941's "Citizen Kane" playing the brief part of his mother. (
Watch Citizen Kane
)
In 1942 the movie "
The Big Street"
was released starring
Henry Fonda
and Lucille Ball, but also including a medium-sized part for
Agnes Moorehead
.  The plot is that Lucille Ball plays a tough, gold-digging, nightclub singer.  Henry Fonda plays a busboy deeply but shyly in love with her.  When Lucy tries to leave the man she's been dating, that man pushes her down the stairs and she is confined to a wheelchair for the rest of the picture.  Now destitute, she must rely on Fonda who takes care of her.  The singing of "Who Knows" is not Lucy's voice, it was dubbed in by Martha Mears.  Agnes in this film, first appears at an eating competition, as a friend and fellow-rooming-house-occupant of Henry Fonda's.  Later Agnes marries Nicely Johnson and they move to Florida.  In the middle of the film when Henry takes Lucy to Florida in her wheelchair,
walking partway
, we are reminded of the ending of Midnight Cowboy, which has the same plot element.  That is, a sick person being taken to Florida, in an odd yet touching manner, by their caretaker.
[
Edit
]
Agnes Moorehead in the trailing credits for 1942's classic
"The Magnificent Ambersons"


Also that same year Agnes appeared in one of her most dramatic roles as the long-suffering "Aunt Fannie" in Welles'
1942
classic "
The Magnificent Ambersons
", a
family life
drama
, for which she received an Academy Award nomination for best supporting actress.  "The Magnificent Ambersons" was written and directed by Orson Welles produced by Mercury (an Orson Welles vehicle) for RKO Pictures starring Joseph Cotten, Dolores Costello, Anne Baxter, Tim Holt,
Agnes Moorehead
, Ray Collins
.  Based on a book by Booth Tarkington.
  The film was cut down to the commercial length of "under 90 minutes", by film-editor
Robert Wise
.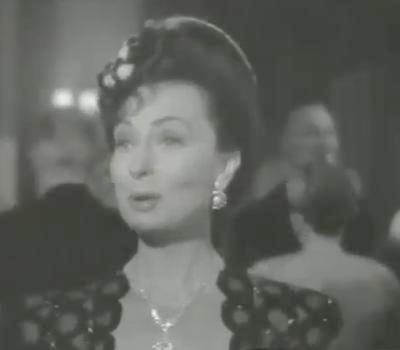 Agnes Moorehead in 1945's
"Government Girl"


[
Edit
]
In 1943, Agnes played the part of
Mrs Danvers in a radio production of "Rebecca", a 1940
Hitchcock
film classic, starring Laurence Olivier and Joan Fontaine.
Mrs Parkington (
1944
)
family-life
drama
added 18 Apr 2011
starring Greer Garson, Walter Pidgeon, Edward Arnold,
Agnes Moorehead
, Cecil Kellaway
also notice Gladys Cooper,
Dan Duryea
and Peter Lawford
Part 1
,
Part 2
,
Part 3
,
Part 4
,
Part 5
,
Part 6
,
Part 7
,
Part 8
,
Part 9
,
Part 10
,
Part 11
,
Part 12
It's Christmas 1938 and Greer Garson, recalls her life in flashbacks just after a family gathering.
[
Edit
]
Agnes appeared in a small part in 1945's "Government Girl", starring Olivia de Haviland, and with Sonny Tufts and
Jess Barker
. 
You can watch her in this YouTube clip
.
Agnes continued the radio work she had done with Welles', but now appearing as a voice on the CBS radio drama "Suspense".  Her most remarked performance being in "Sorry, Wrong Number" later made into a 1947 film starring
Barbara Stanwyck
.
Agnes Moorehead in 1948's "Johnny Belinda"
Credit: Wikimedia Commons


For her performance on this radio drama, Agnes received the Golden Mike Award.
In 1948, she had a role in "Johnny Belinda" (
Watch Johnny Belinda
)
[
Edit
]
The cult classic "
Caged"
is a
1950
drama
starring Eleanor Parker who is sent to a woman's prison, and gradually changes from a frightened girl to one tough cookie.  Also appearing in this movie, among others were
Agnes Moorehead
as the prison warden, and Betty Garde.  The following year, Agnes appeared as Parthy Hawks in 1951's MGM remake of the movie "Show Boat".
Agnes Moorehead in 1959's "The Bat"
Credit: Wikimedia Commons


[
Edit
]
Agnes and her husband John Griffith "Jack" Lee divorced in 1952, after 22 years of marriage.  In 1954 she married Robert Gist, they divorced in 1958.  She had no biological children from either marriage, but adopted a son Sean about 1950.  Sean's last two years of high school were completed at Beverly Hills.
Scandal at Scourie (
1953
)
drama
added
26 Apr 2011
starring Greer Garson, Walter Pidgeon
co-starring Donna Corcoran,
Agnes Moorehead
, Arthur Shields, Philip Ober
Part 1
,
Part 2
,
Part 3
,
Part 4
,
Part 5
,
Part 6
,
Part 7
,
Part 8
,
Part 9
The film
"Pardners"
was released in
1956
.  It is a
buddy-film
western
comedy
  starring Dean Martin,
Jerry Lewis
, Lori Nelson, Jeff Morrow, Jackie Loughery but also including, in bit parts
Agnes Moorehead
and Lon Chaney.  The plot of the movie is that after Dean Martin's and also Jerry Lewis' fathers are both killed in an old West shoot-out,
Agnes Moorehead
takes her son (the baby Jerry) and moves to "the city" where she becomes fabulously wealthy.  Meanwhile Dean grows up on the ranch their father's fought to protect.  Sometime later, Dean shows up in the city, which triggers Jerry to follow him out to the ranch to learn how to be a cowboy.  Check out that crazy all-blue cowboy outfit Jerry wears.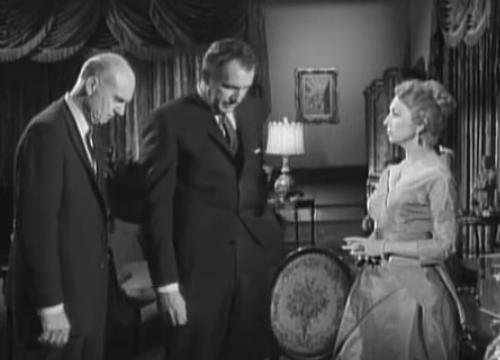 Gavin Gordon, Vincent Price, Agnes Moorehead
in 1959's "The Bat"
Click to Enlarge


Watch this next full-length movie for free, just click the link
The Bat
(
1959
)
suspense
added 6 Jan 2011
starring
Vincent Price
,
Agnes Moorehead
Agnes Moorehead is a mystery writer, with her own mystery to solve, when a murderer stalks the town and eventually her own house!

The writer had Agnes in mind when he wrote the "
Twilight Zone
" episode "The Invaders" which first aired 27 Jan 1961, in which
Agnes Moorehead
starred.  You can watch the
full episode here on IMDb
.  The plot is that a woman living in isolation is terrorized by space aliens. This is one of the all-time best Twilight Zone's.  It is almost entirely without dialogue, the only dialogue being at the end when the twist is revealed.
[
Edit
]
In 1963 the film
Who's Minding the Store
(1963) was released.  It is a
comedy
starring
Jerry Lewis
, Jill St John, Ray Walston, John McGiver,
Agnes Moorehead
,
(also notice Nancy Culp later to become "Miss Jane Hathaway" on
"The Beverly Hillbillies"
).  The plot is
set in New York City,
Jerry Lewis
is "an animal sitter and poodle-dog walker", Jill St John is his romantic interest. 
Agnes Moorehead
is Mrs Tuttle, Jill's wealthy mother who is shocked...simply shocked at the relationship, and decides to break it up.
  Ray Walston is the manager of one of the Tuttle department stores and ordered by Agnes to hire Jerry and give him rotten jobs to do.  Classic wicked Agnes. (Ray Walston would later become famous as "My Favorite Martian" co-starring with Bill Bixby.)
Also that same year, Agnes appeared in 1963's "How The West Was Won", starring
James Stewart
, Gregory Peck, John Wayne,
Henry Fonda
and others including Agnes, who received an Academy Award nomination for her role.  In 1964, she was the homely maid Velma Cruther, in the Bette Davis vehicle "Hush, Hush, Sweet Charlotte", for which she again received an Academy Award nomination.
[
Edit
]
Agnes Moorehead
appeared in the television pilot episode for the series "
Bewitched
" starring Elizabeth Montgomery as a witch who marries a mortal man and then has to explain the situation to him.  Agnes plays her mother "Endora" as a meddling, cantankerous, middle-aged witch who bears a loathing for the mortal husband.  The first episode aired 17 Sep 1964.  Agnes was in 173 of the 254 episodes.
[
Edit
]
In 1971's "
What's the Matter with Helen
", Agnes played a supporting role as a preacher, opposite the leads
Shelley Winters
and Debbie Reynolds.
In 1973 Agnes was one of the voices on the animated version of "Charlotte's Web".
Agnes Moorehead died Apr. 30, 1974 from lung cancer at Rochester, Olmsted County, Minnesota.
She is interred beside her parents at
Dayton Memorial Park
, Dayton, Montgomery County, Ohio