See also other consumer electronics at the
Consumer Electronics Portal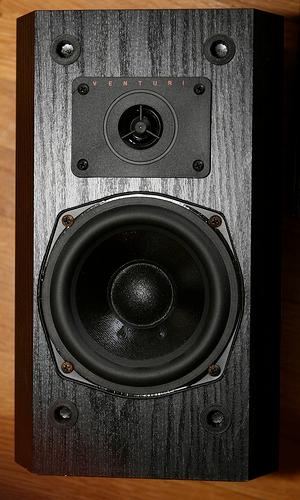 BIC America
Venturi V-52
Bookshelf Speakers

Today (17 Oct 2009) I picked up a pair of bookshelf speakers that looked pretty cool, they are Venturi on the front, and on the back plate it states BIC America Venturi V-52.  They also state that they were made in Stow, Ohio.  So what can I find out about these?
The company BIC America is still in business,
here is their site, where they say "Top Rated Since 1973"
although the address they now give on their site is in Anaheim, California.
Here's a tweet repeating a sale off a Washington, DC Craigslist ad which states that the
MSRP on these was $199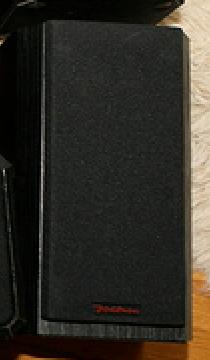 BIC America
Venturi V-52
Bookshelf Speakers

These speakers as you can perhaps tell have a curious beveled front-edge which makes the grill cover actually quite a bit smaller than the cabinet back.  The cabinets weigh eight pounds each and measure 11 1/2" tall x 7" deep x 7" wide.  They are a black wood veneer over particle board.  (Is this stuff called particle board?)
They connect with speaker wire only (no other type of connection).  They have 8 Ohms resistance.  The covers are detachable, as you can tell from these pictures.
Here's one for sale in Burlington, with blondish cabinets for $50.
The pair I picked up are these black cabinets with black grill covers.  Someone's also added felt feet, I don't think they came with those.
The entry on usedprice.com states that these were made in 1991, and have a 5.25" woofer and dome tweeter.
These have a vent on the back and in that venthole is supposed to go a plastic insert that I suppose is just for cosmetic appeal so you don't look at the routered-out hole itself.  One of my pair doesn't have that insert anymore, so now I'm supposed to be on a mission to find a replacement one.  Does that thing have a specific name?  I sent an email to BIC America, and got a response back the next day.  My email correspondent stated that BIC America had originally been owned by a "cabinet maker", that this particular speaker was made "sometime in the 80s" and that they have no parts for them.  He also called this thing a "port tube".  I'm not sure if that's the technical name (if any) or just what the person loosely called it.  I'll go with it.
And now in-line with my old adage that "finding the name of the gizmo is 90 percent of the solution",
my google search for "port tube"
shows several sellers. 
Here's a whole page of pictures of "port tubes"
of various sizes and prices.  My port tube however has a 7/8" inner diameter and 1 1/2" length.  I can't find an exact match yet.