[
Edit
]
The original article on which this one is based, is on my website
http://www.countyhistorian.com
at "
Elizabeth Taylor
" on CountyHistorian.
Also see my article on this same topic at
Ancestry of Elizabeth Taylor
on Examiner.com
After "Lassie", Elizabeth again appeared in a minor role in the
Roddy McDowall
vehicle "The White Cliffs of Dover", and then in another minor role in 1944's Jane Eyre. 
Watch Elizabeth Taylor in Jane Eyre here.
Elizabeth Taylor
age 11 or 12
after her hair is cut off


After a determined campaign, she and her stage mother finally persuaded the powers-to-be that she could play the coming-of-age star "Velvet Brown" in the film "National Velvet" opposite
Mickey Rooney
.  Clarence Brown was the director, and
Pandro S Berman
the producer.  Anne Revere, won the Best Supporting Actress Oscar for her part as Velvet's mother.
[
Edit
]
Cast as a co-star in this film, she rocketed to fame in 1944, at age 11, as "Velvet Brown". What that 1949 article doesn't state, is that because of her sudden national fame, Elizabeth would never be able to live a normal childhood. She was in danger of being mobbed anywhere she went.
In this film, Elizabeth disguises herself as a male jockey in order to race her prized horse, and wins, only to be disqualified, when her true sex is ultimately discovered. A sharp eye recognizes the distinct voice of Angela Lansbury in her first role, as Elizabeth's eldest sister. (Originally this part was supposed to be played by Mona Freeman.)
[
Edit
]
Box sleeves today make Elizabeth Taylor the "star" of this film, but she was not the first billed.  The original film credits boldly proclaim "Starring
Mickey Rooney
" on the first star page by himself, and on the second page "with Donald Crisp, Elizabeth Taylor".  It was essentially a
Mickey Rooney
vehicle, even though Elizabeth played the central character.  Box sleeves today elevate Elizabeth to first position, or co-starring role, but that is not how it was promoted, since she was an unknown actress at the time.  Watch
"National Velvet" on YouTube
, and then buy it!
Elizabeth was next put into the 1946 silly, sentimental piece of nothing called "Courage of Lassie" (
Trailer
).  The only interesting thing about the picture was that it also co-starred Frank Morgan, better known to today's viewers as the wizard in "
The Wizard of Oz
".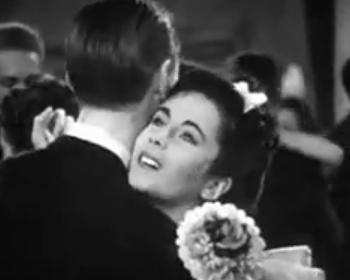 Elizabeth Taylor in 1947's "Cynthia"


[
Edit
]
Slightly more interesting was her role in 1947's "Life with Father", starring William Powell and Irene Dunne, a sort of family-life comedy where the father blusters around while the mother subtly manipulates things to her advantage. (
Watch Part 1 here
)  Elizabeth's part is merely supporting and not large at that.  The film is a bit of family fluff.
Next for Elizabeth was her "first movie kiss" in 1947's "Cynthia". (
Trailer
)  This film is evidently a coming-of-age movie about a girl's first dance, first boyfriend, etc.  Elizabeth was 14 or 15 at this time in real life.
In 1948, Elizabeth appeared in the musical romance "A Date with Judy" (
Trailer
), and the comedy "Julia Misbehaves" (
Watch the whole movie on YouTube here.
)  The next year, 1949, saw her last adolescent role as Amy March in "Little Women", starring June Allyson (
Watch a three-minute excerpt here
.)

This seems to be 703 North Elm Drive
in Beverly Hills
Credit: Google Maps, Street View


Kitty Kelley quotes J. D. Salinger at this time as stating that Elizabeth was "... the most beautiful creature I had ever seen in my life."
During this time we can determine exactly where Elizabeth was living, as in the 1946 California Voter's Registration in Beverly Hills I find : "Francis L Taylor, Mrs Sara S Taylor, 703 N Elm Dr" both listed as Republican.  They are still listed there through 1954, still both listed as Republican. 
[
Edit
]