The original article on which this one is based, is on my website
http://www.countyhistorian.com
at "
Elizabeth Taylor
" on CountyHistorian.
Also see my article on this same topic at
Ancestry of Elizabeth Taylor
on Examiner.com
Glenn Davis
1947 West Point yearbook
Source:Wikipedia


[
Edit
]
Meanwhile in real life, Elizabeth had her first real romance with football star
Glenn Davis
.  Glenn had also starred in a movie called the "Spirit of West Point", evidently about the West Point football team.  He served in the Korean war during which time Elizabeth wrote to him regularly.  While their romance was still hot, Elizabeth made the forgettable film "Conspirator" co-starring Robert Taylor.  This would be her first "adult romance".  Kitty Kelley reports that Elizabeth said while she was kissing Taylor, she closed her eyes and imagined it was Glenn Davis.
When Glenn was furloughed, he brought her an engagement ring, but by that time, their romance had cooled when she fell for the wealthy William D Pawley, Jr.  Glenn later played football for the Los Angeles Rams.
Pawley had given her a diamond engagement ring.  Kitty Kelley reports that Sarah was enamored by this new connection as Pawley's father
William D Pawley
, was wealthy and had social standing as the "former Ambassador to Brazil".
[
Edit
]
Pawley and she discussed marriage, but he did not want a movie star wife, and she, or perhaps her mother, did not want Elizabeth to give up her career.  Some websites have mistakenly made this man that one born in 1896 who was an ambassador, but the man she dated here, was actually the older man's son.  When they dated, William Pawley, Jr was 28 when Elizabeth was 17.  Some details from this part of her life are revealed in her own letters to Pawley
at this link
.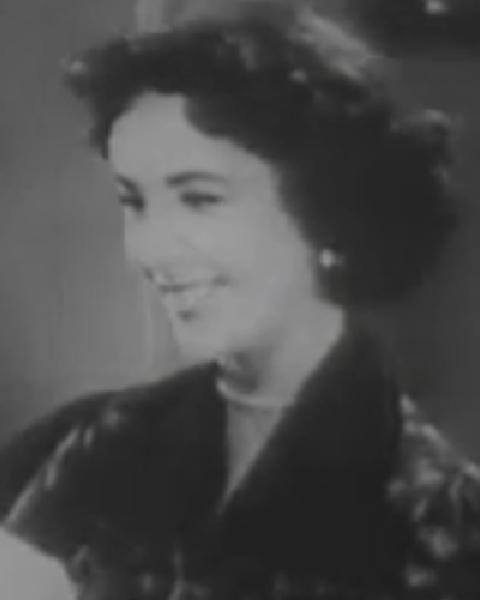 Elizabeth Taylor in 1951's
"Father's Little Dividend"


[
Edit
]
Another forgettable film followed, 1950's "The Big Hangover" co-starring
Van Johnson
. 
Watch three minutes of this movie on YouTube
.  Next came a success with "Father of the Bride" with Spencer Tracy as her father (remade more recently with Steve Martin as the father), and a sequel, "
Father's Little Dividend
" (1951) which was a bit of ho-hum.  Those of you subscribed to "
Chairpotato's Night at the Movies"
watched this with me
2 Dec 2010
, the rest of you, if you are lucky, can still watch
the movie "Father's Little Dividend" for free at this link.
Between these last two movies, she was loaned out to do the now-classic picture "A Place in the Sun" co-starring
Montgomery Clift
and
Shelley Winters
, and directed by the legendary
George Stevens
.  Pawley could no longer stand the marriage being postponed yet again announcing to the press that the engagement was now off. 
Shelley Winters
states that during the filming of "A Place in the Sun", it seemed to her that Montgomery was actually falling in love with Elizabeth, but Shelley thought it was just flirtation on Elizabeth's part.  Shelley also states that immediately after the filming ended, Elizabeth married Nicky Hilton.
Image Source: http://www.arnadal.no/
[Edit]
Elizabeth Taylor has been married eight times: to Conrad Hilton Jr 1950-51, Michael Wilding 1952-57, Mike Todd 1957-58, Eddie Fisher 1959-64, Richard Burton 1964-74, Richard Burton (again) 1975-76, John Warner 1976-82, Larry Fortensky 1991-96.

Conrad Nicholson "Nicky" Hilton Jr (1926-69), the eldest son and one of the heirs to his father Conrad's fabulous Hilton Hotel fortune, proved to be a drunkard and sometimes violent, at least with Elizabeth.  It's been reported, that Conrad spent their wedding night drinking in the hotel bar, while Liz was in their room, and that he was still there the next morning. 
Nicky and Liz were married 6 May 1950 at the Church of the Good Shepherd (Catholic) in Beverly Hills, but only lived together briefly before their divorce was finalized 1 Feb 1951.  They had no children together.  In her divorce papers, Elizabeth reports at-length her harrowing experiences with Nicky.

Shortly afterward when Elizabeth was sent a bill for her stay in the Hilton, she was so upset, she invited over Montgomery Clift and Roddy McDowell and together they trashed the room.

Elizabeth Taylor starred in the 1951 movie ''A Place in the Sun'' opposite Montgomery Clift and Shelley Winters. (Buy it on VHS, or DVD, watch a Seven Minute Interview with Liz.)  The movie was based on the 1925 novel "An American Tragedy" by Theodore Dreiser, which was based on a real-life crime.

This was the start of a life-long friendship with Monty.  At least one source reports that they were lovers.  Montgomery is quoted as saying that when they tried to have sex he "couldn't rise to the occasion".  She asked him to marry her, but he declined repeatedly.  Just prior to her second marriage to Michael Wilding, she called Montgomery and asked him to marry her again.


Image Source:
http://img3446.imagevenue.com/images/loc357...x