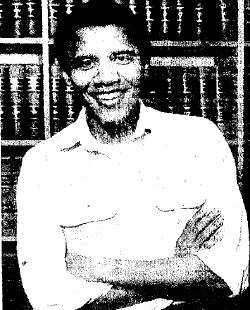 Barack Obama in 1990
Credit: AP (1990)

Allison J Pugh, associated press, published a story in 1990 bylined Cambridge, Massachusetts, "Law journal's leader wants to help the poor"
"His boyhood friends in Indonesia were street peddlers and his grandmother still lives in a mud-walled house in Kenya.  But Barack Obama is another world away, presiding over the Harvard Law Review as the first black president in the prestigious journal's 103-year history."
".... He was born in Hawaii, his father an Oxford- and Harvard-educated economist from the African nation of Kenya, his mother a white anthropologist from Kansas.  Obama moved to Southeast Asia at age 2 when his parents divorced and his mother married an Indonesian."
"Until the fifth grade, Obama attended Indonesian schools..."
"Concern for Obama's education led his mother to return him to Hawaii, where he attended public schools through high school.  In 1983 he graduated from Columbia University with a degree in political science"
Barack Obama has a royal ascent as follows:
Barack Hussein Obama (b. 1961), Us President 2009-2013
Stanley Anne Dunham (1942-95)
Stanley Armour Dunham (1918-92)
Ruth Lucille Armour (1900-26)
Gabriella Clark (1877-1966)
Susan C Overall (b. 1849)
George Washington Overall (1820-71)
Annie Browning (b. 1780)
Susannah Hickman (b. ~1745)
James Hickman (1724-1816)
Edwin Hickman
Martha Thacker
Eltonhead Conway
Col Edwin Conway (d. 1661)
Edward Conway (1564-1631), Knt 1596, Baron Conway of Ragley, co Warwick 1624; 1st Viscount Conway 1626.  Also an ancestor to Sarah Ferguson, Duchess of York and to Diana Spencer, Princess of Wales.  Barack is also, through this connection a cousin of U.S. President James Madison

Eleanor (Helen) (Ellen) Greville (d. 1588) of Beauchamps Court
Elizabeth Willoughby (d. 1562)
Margaret Neville (b. 1495)
Richard Neville (1468-1530), 2nd Baron Latimer
Henry Neville (d. 1469) married Joan Bourchier both fourth-generation descendants of Edward III, King of England by his wife Philippa of Hainault.