I decided to write this article, because I couldn't quite remember fully the story of Schellville and why it was important to my genealogy.  About 1900, my first cousin, many times removed, Margaret L Church married, as his first wife to Frederick Augustine "Fred" Schell probably in Sonoma County, California.
Fred was the second of four children born to Theodore Lawrence Schell by his wife Georgianna Beebe.  Theodore had settled in the town of Sonoma by 1860 where he is enumerated in the census that year, not yet married.  He is still there in the 1870 census, now with his wife and their three eldest children: Lawrence, Frederick and Georgiana.  They would also have a son Arthur in 1876.
It is possible that all these children grew up and married, but I only know about Fred.  I found him almost by  sheer accident.  I was looking for the probate of my own ancestor Richard A Fowler who had died 7 Dec 1856 in Sonoma and is actually probate number forty-two!  I guess they hadn't had many probates in the seven or so years since the town came under American jurisdiction.  At any rate within this probate there was a very odd notice that the probate had lain open for decades and was finally closed by a Fred Schell in 1922 !
Evidently the initial administrator William Cubberly, who had married, as her second husband, to Maria the  widow of Richard Fowler "delays final account due to inability to pay costs of probate".  And there the situation lay for sixty years, perhaps until some question in the title of "Outlot Number 557" caused this closure of the probate.  At that point I didn't know who Fred Schell was, but I dug into it and realized that he was the husband of Margaret L Church, one of the surviving granddaughters of Richard Fowler and Maria.  This piece of land must have descended to him and Margaret and now he wanted a clear title.  That's what I figure.
Fred and Margaret divorced and then I later discovered this Frederick had died 24 Aug 1938 in "Schellville".  Fred and Margaret had two children that I know of : Fred in 1901/1903 and Nevada Schell in 1907/1909.
The Sonoma Valley Airport is known to locals as the
Schellville Airport.
  Here is the
Wikipedia entry
, stating that there was a post office here from 1888 to 1931, which is interesting.  Theodore Lawrence Schell died in 1877, his widow Georgianna appears to have taken the children and moved into San Francisco.  Unless of course she perhaps split her time between there and here.  Her son Fred was certainly living back in Petaluma by 1900.  So who exactly was the "Schell" post office named after?  The dead Theodore?
Here is the Google map showing where
Schellville is (or at least where it is today).
Google Map
The
Sonoma Valley Women's Club of 1907
shows several members living in "Schellville", also I recognize Miss Meta Stofen the daughter of Capt Peter Nicholas Stofen.  Peter had been one of the partners in the short-lived "Steamer 'Sonoma' Company" with his brother John Stofen, my own ancestress Mrs
Thomas Fawcett
(Mary nee Fowler), Captain William Green, Louis Holton (or Halton), and Captain Jurgens Peter Hauto. The Steamer 'Sonoma' had it's maiden voyage in the Fall of 1874, landing about one mile south of the Embarcadero.
The Sonoma River was not navigable to the town square for larger ships.  When ships started to come near to Sonoma, they would discharge their passengers at the "Embarcadero" and then a stagecoach could take them the remaining way into town, or they could walk, I think it was one or two miles.  At one point, a thriving enterprise arose around this landing point and the residents called their place "St Louis".  For example, Louis Halton was taxed on a billiards table and liquor store at this "St Louis" location per the surviving annual tax records of Sonoma County. 
In this 1847 article, alcalde L W Boggs calls it the "Embarkadara"
.  I'm not sure that this "town" was ever incorporated, but you can still find references to "St Louis" in the early Sonoma land deeds and tax records, and this is to what it refers.
I've just found
this very unusual real estate ad dated 16 Aug 1853
that I will transcribe entire as it relates to the early town of St Louis:
"Splendid Investment in Sonoma Valley -- That fine Farm, situated on the west bank of the Sonoma River, opposite the town of St. Louis, to which steamers and sailing vessels ply regularly, is offered for sale, as the owner is about to leave California.
"It contains 475 acres of excellent land, substantially fenced in, a considerable potion of which is under cultivation.  It is not liable to overflow, and is admirably adapted for a stock farm.
"On it are two good dwelling houses, with a large quantity of stock, argricultural implements, and a store-ship of 600 tons burthen, in good condition.  The latter has been placed there at great expense, and in case of not being required by a purchaser can be sold or rented to advantage.
"Also, about three-fourths of the Town of St. Louis, at the Embarcadero of Sonoma, laid out in lots, and containing 75 acres, 40 of which are fenced in and improved.
"It is desired to sell the whole in one lot, and as the title is unexceptionable it may be considered one of the most desirable investments ever offered.
"For further particulars apply to the owner, Robert Graham, on the premises, or to the undersigned, where plans can be seen.
"Lee & Winans, Corner of Frost and Sacramento sts."
That Robert Graham owned "three-quarters" of the town of St Louis in 1853 is amazing. 
Here is another article mentioning "the Town of St Louis" in 1858
.  In this
article in 1911 we see "Embarcadero near Schellville"
.  The place was still called the Embarcadero
as late as 1919, as can be seen in this reference
, and also that this is the same spot as Schellville. 
The book "California's Geographic Names" claims that the post office was actually called Shellville
and that this was a misspelling, named after Theodore Schell. 
The book "Sonoma Valley" claims that Theodore Schell was also a "cargo master".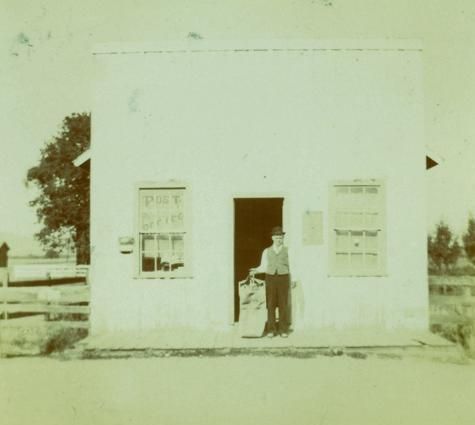 Montgomery Akers standing in front of the
Schellville Post Office, California

Meta C Stofen was part of the Sonoma Valley Historical Society and contributed at least one piece to their book "
Saga of Sonoma in the valley of the moon
".
The book
"California Place Names"
, claims that Theodore L Schell owned 160 acres here, "and was active as a merchant in Sonoma and San Francisco.  He died in San Francisco in 1878.  Certainly the 1870 census shows he was quite wealthy with $25,000 in worth and an additional $30,000 in real estate value.
The Larson Family Winery claims to
sit on the spot where the Embarcadero had been
.