Watch a live version of their hit "
I Get Around
" (1964)
The Beach Boys were the greatest American rock band that has ever existed.  They formed in the early 60s.  The line-up initially consisted of the three Wilson brothers,
Brian Wilson
,
Dennis Wilson
and Carl Wilson, their first cousin Mike Love (b. 15 Mar 1941) and a high-school friend Al Jardine.  Mike's mother Emily Glee Wilson was the sister to the Wilson brother's father Murry Gage Wilson (d. 1973).  They initially called themselves the Pendletones after the Pendleton shirts popular at the time.  You can see them below, wearing these.  However, on the pressing of their first hit "Surfin", their producers the Hites changed the name to "The Beach Boys". 
This first hit brought them just $200 each.  Al, seeing this as small time chump-change, left the group to continue his schooling.  Listen to their first hit "
Surfin
".  Simple and corny to today's ear which is why they stopped playing it.
At this time David Marks, a young neighbor-friend of Carl's, was recruited to fill-in the spot, and he toured with the band and also performed on the initial releases of their hits for the next year or two.  After some time, possibly when he saw their early success, Al rejoined the group.  Soon afterward David was out.  Here's a picture of David Marks, performing with them, he is the boy, first on the left.  If you watch this interview, just be prepared for the howler at the end, that when David left the group his first replacement was Glen Campbell.  I almost fell off my rocking-chair.  Campbell did not replace Marks!  He replaced BRIAN!  You complete monkey. 
[
edit
]
Cover of the Single "The Beach Boys" (1964)
"I Get Around" (Side A)"
"Don't Worry Baby (Side B)"


Brian many times did not want to tour.  When Marks joined, Brian sat out.  When Marks left, Brian came back.  When Campbell joined, Brian sat out again.  Then came back, then left again.... He just didn't want to tour.  After Campbell left is when Bruce Johnston became a regular part of the band.
Al Jardine was born in Lima, Ohio, but his family moved to the same area where the Wilson brother's lived, where in high school he met Brian Wilson.  Al Jardine sang the lead on their hit song "Help Me, Rhonda". In 1964 in Los Angeles, he married Lynda Sperry.  He co-wrote the song, "Lady Lynda" which Wikipedia in their typically blind mole fashion, doesn't mention that this song was about his wife.  They divorced in 1984 in Monterey.  When they performed the song after that, they changed it's title.
Al Jardine sings lead on the Beach Boys "Help Me Rhonda"
[
edit
]
The often misheard lyrics here go "Since she put me down, I've been out -- doin' in my head.  Come in late at night and in the morning I just stay in bed."  In other words, he's so depressed, he's staying out late drinking or partying all night.
[
edit
]
Brian Douglas Wilson (20 Jun 1942 -)
Dennis Carl Wilson (4 Dec 1944 – 28 Dec 1983) and of course Wikipedia has an ugly picture of him.  He was very attractive when he was just starting his career, as you can see in my top picture above.  Born in Los Angeles County.  His birth index entry has his mother's maiden name as Korthof, but for his brother Brian's entry it calls her Karthof. He sang lead on their hit song "Do You Wanna Dance?"  Dennis and Brian were the two that got most heavily into drugs.  Dennis was briefly involved with Charles Manson's "family", who lived with Dennis for a short time.  (Manson helped him write the lyrics to a song, and was really annoyed when he didn't get a credit.)  Dennis died by drowning at Marina del Ray.  He was buried at sea.  You can listen to Dennis sing Do You Wanna Dance below.  I like his voice, Brian should have used him on lead on other songs.
Carl Wilson (21 Dec 1946 - 6 Feb 1998).  Curiously the California Birth index entry for him does not give him any first name, just Wilson, male, mother's maiden name Korthof.  He died of cancer.  Carl sang lead on many songs in the later part of The Beach Boys career and his voice was simply amazing.  Late bloomer.
An ABC mini-series "The Beach Boys: An American Family" can be watched in its entirety at this link
Chairpotato's "Night at the Movies" June 2010
Clockwise from bottom: Dennis Wilson, Al Jardine
Mike Love, Brian Wilson, Carl Wilson
Source: findagrave.com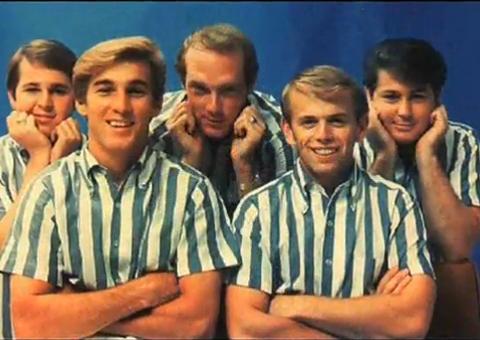 Left to Right: Carl Wilson, Dennis Wilson, Mike Love, Al Jardine, Brian Wilson

Listen to their a Capella version of
Sloop John B
Listen to Dennis Wilson as the lead on "
Little Girl (You're My Miss America)
"
Dennis Wilson leads the Beach Boys on "Do You Wanna Dance?"
edit
The parents of the Beach Boys were Murray Gage Wilson and his wife Audree Neva Korthof.  Murray's California Death Index entry states : Murray G Wilson; died 4 Jun 1973; Los Angeles; born 2 Jul 1917; Kansas" while Audree's states : "Audree Neva Wilson; Birth Date: 28 Sep 1917; Birthplace: Minnesota; Death Date: 1 Dec 1997; Death Place: Los Angeles; Mother's Maiden Name: Finney; Father's Surname: Korthof."
Further Ascent
One Ascent proposed by a Public Tree at ancestry:
Audree Neva Korthof (1917-1997)
Ruth Edna Finney (1895-1955)
Albert H Finney (1854-1939)
Eli B Finney (1831-1892)
Uriah Finney (1805-1876)
Huldah Gifford (b. 1775)
Lydia Thomson (1752-1844)
John Tomson (1727-1766)
Shubael Tomson (1686-1733)
John Tomson (1648-1725)
Mary Cooke (1626-1714)
Francis Cooke (1586-1663)
Edward Cooke (b 1547)
Anthony Cooke ("
Anthony Cooke
", Wikipedia)
The last part of this ascent is problematic. 
Anthony Cooke's DNB entry
states that when he wrote his will in 1576 only two of his sons were living, Richard and William.  So he could not have had a son Edward who was having a son in 1586.  I believe that this Francis Cooke is actually the son of a different man named Edmund who is not connected to this Cooke family, but is part of another.