Please
sign in
and rate this article by answering the questions at the right ---->>
[
Edit
]
Directory Project
English Knol Project
Justin Hartley, a biography (you are here)

Justin Hartley, a biography (you are here)
[
Edit
]
This article should be cited as :
"Justin Hartley, a biography" by Will Johnson,
wjhonson@aol.com
for Scholar's Edition Professional Biographies at knol.google.com
Copyright 2010,
All Rights Reserved.
This is the only known comprehensive biography of Justin Hartley in existence.  All other biographies of Justin Hartley are either quite tiny, or just snippets of his impact on others at some particular point in their lives, without giving a comprehensive view of his life.  This biography I hope will correct that.
I am a professional genealogist. Contact me, if you'd like help in tracing your family tree, by clicking the below button.
Justin Hartley shirtless


[
Edit
]
Do you know the maiden name of Justin's mother?  Can you cite a source for it?  If so, email me (
wjhonson@aol.com
) and I'll give you credit in this article for that information.
1 Justin Scott Hartley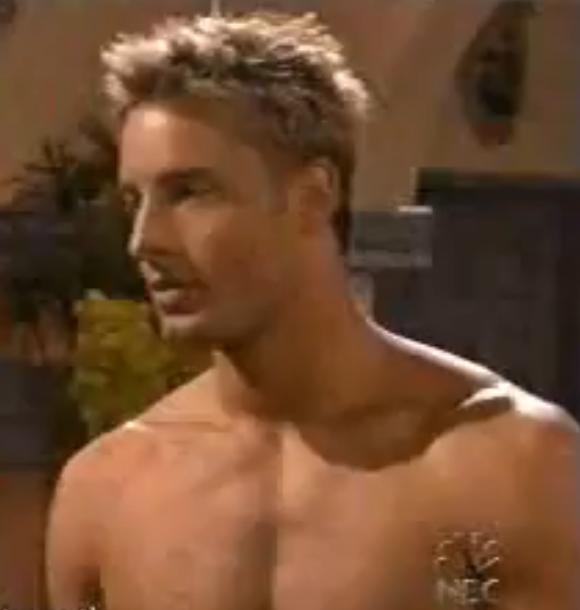 Justin Hartley as
Fox Crane on NBC's "Passions"


Justin Scott Hartley was born 29 Jan 1977 in Knoxville, Knox County, Illinois, the second of three  children of Mark D Hartley and his wife Jackie.  His parents divorced in 1992 or 1993 and both married other people.  His older brother is Nathan and his younger sister is Megan (b 1980
Source
).  By his mother's second marriage to David Carrillo, he has a half-sister Gabriela.
About 1993, the family moved to Palos Park, Cook County, Illinois where Justin attended Carl Sandburg High School (located in adjoining Orland Park), graduating in 1996. (
Source
) 
[
Edit
]
Justin attended Southern Illinois University and the University of Illinois in Chicago where he majored in history and theater.  In the
U.S. Public Record Index Vol 1
, he is listed as "Justin Scott Hartley" in 1995, living at
12241 E Tanglewood, Palos Park, IL.  And in 1996 at "
314 Abbott Hall, Carbondale, IL".
  I take this to mean quite possibly that his family lived in Palos Park in 1995 while he was yet in high school and he moved directly into campus housing at Southern Illinois University in Carbondale.  I don't quite yet see other Hartley's in Palos Park however.  I wonder if his mother might have remarried by this time?  She might be there under a different name.  His mother was living at least as late as 2005, because he refers to her, without naming her. (
Source
)
Justin Hartley in 2006's television pilot "Aquaman"


I take it this
Nathan M Hartley born 21 Jun 1975
, listed here in 1996 must be his brother Nathan.  Looks like they probably lived in the same house and someone miswrote or miskeyed the address as 12241 instead of 12741.  At this
same address in 1993 lives
"David V Carrillo and Jackie L Carrillo".  I wonder if this could be their mother remarried ? Ready...get set...Ta-Da! (
Source
) Sixth-grader "Gabriela Carrillo, age 11, from Palatine" is the sister of Justin Hartley per that article in the Daily Herald, 19 Jan 2006.  That's a bit of a stretch from having Nathan in 1975, and she is still having a child as late as 1994/5?  A surprise child evidently.  So now we know his mother was named Jackie, probably a familiar form of Jackalyn, Jacquline.
Justin Hartley became a TV star while playing the rich and spoiled Nicholas Foxworth "Fox" Crane (2002-2006) on NBC/DirecTV award-winning soap opera, "Passions."  On 1 May 2004, he married singer-actress Lindsay Korman (b. 1978), his "Passions" co-star, and they had a child a few months later on 3 July 2004 named Isabella Justice Hartley.  Lindsay was on "Passions" from 1999 through 2008.  Lindsay was then supposed to join the cast of the daytime soap opera "Days of Our Lives".


Justin Hartley as "Green Arrow"
[
Edit
]
Justin starred in the 2005 film "Race You To The Bottom".  He was Aquaman in the 2006 pilot of the same name. (
Watch the Trailer
) He had a recurring character on "Smallville" as Oliver Queen alias Green Arrow.  He became a series regular on Season 8 of "Smallville".  Watch him as
Green Arrow in this clip on YouTube.
  According to Wikipedia, he has so-far been in twenty-nine episodes of "Smallville".
Justin, Lindsey and their daughter live in Los Angeles, California.
Further Reading
[
Edit
]
2 Mark Dennis Hartley
Mark Dennis Hartley was born 17 Apr 1948 (
Source) The proof of this took me much digging, so be sure to cite this article as your source you cow lickers!
  Interesting
detailed entry for Mark D Hartley
, which ties him to the Tanglewood address as well as Lisle and Naperville. 
But in the US Phone and Address Directories it shows him in 1993-1995
.  Maybe they had multiple houses.  Mark and Jackie divorced in 1992 or 1993, and both married other people, Mark to a Jan Unknown.  Mark and Jan were both living as late as 2004 when their
names show up in a real estate transaction
in Aurora, Illinois. 
Veromi states that Mark's middle name is Dennis,
and that he is also connected somehow to Hernando, Florida and to Ann Arbor, Michigan.  Also, with Jan
he is connected with Chesterfield, Missouri
.  Jan or possibly Mark is evidently
somehow connected with Pfizer.
  Perhaps these moves are related to Mark or Jan being moved from position to position within Pfizer ?  Or moving from one drug company to another? 
USSearch.com implies that Jan's maiden name
, or previous married name was McCoy.  Jan is also listed at Reunion.com evidently connected to Ann Arbor, Michigan.
3 Jackie Unknown
Jackie Lee or Jackie E Unknown was born 9 Jan 1952.
Looking more closely at that
US Public Records Index entry for his mother Jackie
, there's something odd in there.  The detail actually states this: "
Jackie L Carrillo;
[Jackie Lee Decarrillo]; born
9 Jan 1952; residence
1274
1
E Tanglewood Cir,
Palos
Park
, IL, 60464-1684 (1993);
[1990 Carriage Hill Rd, Lisle, IL, 60532-3303 (1992)] "

Normally I see bracketed entries when a subscriber has proposed a correction.  Is someone trying to tell us where Jackie lived the year before?  Checking various ways of digging deeper, I finally found this search. Looking at these detail records we can see that Nathan, Jackie and a Mark Hartley all lived at this address and Mark is the right age to be the father.  In 1993, just when we see Jackie married to David Carrillo, we also see Mark married to a Jan who has a different birthdate from Jackie.  So Mark as Justin's father is a perfect match.


In 2002 the "Palatine Countryside" which must be a newspaper states that Jackie is then a third-grade teacher.  Here in 2008 we see that Jackie, at that time, was a "Paddock school teacher and Palatine resident".  The Columbus Dispatch 16 Aug 2009, repeats a Chicago Tribune story here, mentioning Jackie and Gabriela but curiously not mentioning that her son is Green Arrow.