Numbers assigned below in the headings, using the
Ahnentafel
system
Part of my series "
Entertainment Biographies
"
Part of my series
Gay Rock Musicians
[
Edit
]
Patrick Joseph "Pat" Cowley was born in Buffalo, New York, 19 Oct 1950, the son and second child of Kenneth Cowley (1919-2005) and his wife Ellen McManus (1923-1984). Kenneth and Ellen had five children altogether.
"During his teenage years, Cowley became a successful drummer with local amateur bands before attending Niagara University and later the University at Buffalo to study English. In 1971, at the age of 21, Cowley moved to San Francisco to attend the City College of San Francisco where he studied music, specifically the use of synthesizers." (Wikipedia)
[
Edit
]
Jerry Mueller started the Electronic Music Lab at the City College in 1972, there were three students: Arthur Adcock, Jerry Judnick and Patrick Cowley.
"Arthur Adcock had a little money from his family and bought his own Electrocomp system. He was very generous with his equipment and would let Patrick come over and use the gear a couple days a week. Patrick introduced me to Arthur and we all shared the gear for the next few years. Patrick, Arthur and I formed a production company called Short Circuit that produced musical segues, 'stingers', sound effects for radio stations, etc."  (MAURICE TANI)  Source: 
"Patrick Cowley", by Daniel Heinzmann
Gamson in his biography of Sylvester, first mentions Cowley on page 144: "The lighting guy at the City Disco [in 1978] was a wee, bouncy, literate, unassuming blond named Patrick Cowley -- a 'little cosmic cookie,' his friend Linda Imperial called him.  Cowley was not especially musical, but he was a whiz with a synthesizer and was starting to do some hip stuff with synthesized sounds.  One night, Patrick invited Sylvester over to his house to hear some of his synthesizer music.  'I totally flipped out,' Sylvester said.  It was the sound he's been looking for.  He played 'Mighty Real' for Patrick, and Patrick totally flipped out.  Patrick came into Fantasy and added boingy synthesizer on top of the 'Mighty Real' that Sylvester and the Two Tons [Martha Wash and Izora Rhodes (1942 – 2004)] and the band had recorded, and did the same for 'Disco Heat.'  He was right on time." ("The Fabulous Sylvester", by Joshua Gamson, page 144-5)
[
Edit
]
Gamson doesn't recognize that Cowley was not just a lighting guy, but had made in 1978, a 15:45 remix of Donna Summer's 1977 "I Feel Love", although his version was not generally heard until a shorter version was released in 1980.  This song was made again in 1984 by Bronski Beat. (
Listen to Patrick Cowley's remix of Donna Summer's "I Feel Love" on YouTube.
) (Now listen to
Jimmy Sommerville of the Bronski Beat sing it.
)
Watch Sylvester, "Dance (Disco Heat)" on YouTube
Watch Sylvester, "You Make Me Feel (Mighty Real)" on YouTube.
[
Edit
]
Gamson continues : "Over the next months, Sylvester and the Two Tons and the band -- which now included Patrick Cowley -- appeared on Dinah Shore, American Bandstand, Don Kirshner's Rock Concert, and The
Merv Griffin
Show (twice)." (Gamson, page 149)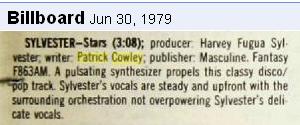 Sylvester "Stars" released by Fantasy
writer: Patrick Cowley
publisher Masculine, Patrick's company

[
Edit
]
For Sylvester's 1979 album "Star", Cowley wrote the title song "Stars", published under his company name Masculine.  He was also the synthesizer accompaniment on the album.  On 11 Mar 1979, at the San Francisco War Memorial Opera House, the album was premiered with Cowley on the synthesizer.  Later that same year, for the Gay Freedom Day Parade, they again performed "You Make Me Feel (Mighty Real)" on a flatbed truck. (Gamson, page 181)
Paul Parker relates that he met Cowley in August of 1979 "I was singing with a 5-piece cover band in local San Francisco venues.... Only when I started singing with Patrick Cowley did I get a real education in dance music." (Source:
http://www.utmosis.net/paulparker/memories/the-early-days.html
)
Sylvester at this point, apparently decided to change up and used new musicians on his next album "Sell My Soul" released in 1980. (Gamson, page 193)  However in 1980, when Martha Wash and Izora Rhodes, under the name "Two Tons o'Fun" released their own album of the same name, Cowley played synthesizers on it. (Gamson, page 196)  The album was released by Fantasy records, produced by Honey Productions which was run by Harvey Fuqua and Nancy Pitts.
[
Edit
]
Cowley had also been with Fantasy and Honey Productions, but suspected that he wasn't getting his full share of the royalty checks, so along with Tip Wirrick and Michael Finden, they hired lawyer Gerald Weiner in 1978.  Weiner states that they tracked the problem down to Honey Productions' lawyer Ted Rosenblatt, who "...had been claiming their interest in the publishing.... We found out he collected a whole bunch of money.... almost none of it [paid] to the writers."  They settled, apparently out-of-court, for cash and all of their publishing. (Gamson, p210)
[
Edit
]
Cowley's version of "I Feel Love" was released again to DJ's only in 1980, but he achieved his own lasting fame, with his 1981 "Menergy" which climbed to
Number One on Billboard's Dance Chart for two weeks that year
.  (
Listen to Patrick Cowley, "Menergy" on YouTube.
)  The song "Menergy" was off his album of the same name, which also included "I Wanna Take You Home". (
Listen to Patrick Cowley, "I Wanna Take You Home" on YouTube.
)  An interesting song on this album, because it features Patrick singing without any electronic modification of his voice "Teen Planet". (
Listen to Patrick Cowley, "Teen Planet" on YouTube.
)  The "Menergy" Album was released on Fantasy Records, but that year, in the summer of 1981, with Marty Blecman a DJ and keyboardist, Patrick founded Megatone Records, which they ran out of Blecman's house.  On some releases Patrick is credited as producer, while Marty is listed as assistant producer.  Blecman was also one-half of the Hi-NRG duo "Modern Rocketry".
The female singers on Menergy were Jo-Carol Block, Lauren Carter and Carol McMacken aka the "Patrick Cowley Singers".  After Menergy they started opening for Sylvester.  "Carol eventually left the Patrick Cowley Singers, and Jo-Carol and Lauren changed their name to Jo-Lo." (Gamson, pg 208)
[
Edit
]
He followed up his Menergy success with his next album and single "Megatron Man" which climbed to Number Two on the Dance Chart.  (
Listen to Patrick Cowley, "Megatron Man" on YouTube.
) The album "Megatron Man", also included the spacey instrumental "Sea Hunt".  (
Listen to Patrick Cowley, "Sea Hunt" on YouTube.
)  "Megatron Man" was the first LP which Megatone Records produced.
Patrick Cowley was getting sicker.  He had been ill since the band toured to Brazil in 1979 and was losing weight.  When Patrick Cowley became sick, AIDS was unknown.  It took doctors a while to figure out that a new disease had appeared and they first starting calling it GRID for Gay-Related Immune Disorder.  He was admitted to the hospital in the fall of 1981 with pneumonia.  In 1982 he was in intensive care at U.C. Medical Center.  Out of the hospital, he recuperated in the home of his best-friend, Paul Parker and Paul's lover Ken Crivello. 
[
Edit
]
Cowley wrote and produced Paul Parker's hit "Right on Target" which climbed to
Number One on the Dance Chart for two weeks in 1982
(
Listen to Paul Parker sing "Right on Target"
) and that same year collaborated with Sylvester on "Do You Wanna Funk" which, released on 4 Jul 1982, hit Number four.  (
Watch Sylvester, "Do You Wanna Funk" on YouTube.
) "Do You Wanna Funk" appeared on the soundtrack of Eddie Murphy's film "Trading Places".  Cowley wrote Frank Loverde's 1982 "Die Hard Lover" and Paul Parker's 1982 "Technological World".  (Listen to
Frank Loverde sing "Die Hard Lover"
, now
Listen to Linda Imperial sing "Die Hard Lover"
.)  Cowley however, would not realize fame and riches from this, in his lifetime.  It has only been since his death, that the significance of his impact on dance, electronic and Hi-NRG music has been credited. 
By the time he made his last album "Mind Warp", he was confined to a wheelchair.  (
Listen to selections off "Mind Warp" by Patrick Cowley.
)  When the album was released in 1982, Megatone threw a party in his honor at the Galleria Design Center.  Patrick Cowley died 12 Nov 1982, in his home in San Francisco from AIDS complications.  He was 32 years old.  Marty Blecman took Patrick's body back to Buffalo for burial.
In 1988, Sylvester died from AIDS, he was 41.
In 1990, Frank Loverde died from AIDS, he was 44.
In 1991, Marty Blecman died from AIDS, he was 37.
[
Edit
]
"He was a very quiet man. He was actually a very dedicated and creative workaholic but when he was stricken by inspiration, he quite often ended up exhausted. He was a sweet, talented, unassuming person who was driven by music; very dedicated and very prolific. He really didn't have much of a social life. He loved music , and the world's music, he loved the many percussive sounds that were out there but Americans couldn't hear. His life was practically music and; 'baths' only. That´s probably how he got sick. He constantly was in the studio all day long and he'd get out real late when there wasn't much to do." (Frank Loverde)
Source:
"Patrick Cowley", by Daniel Heinzmann
"Patrick Cowley was a man ahead of his time. His experience in electronic dance music pioneered the way for many of today's hit recordings. Before computers and synthesizers could punch up a sound effect, Patrick was crafting his art the hard way. Painstakingly patching his own programs by hand and creating what was to become famous as 'The Cowley sound'. Being a brilliant songwriter, master technician and commercial producer, Patrick's carreer sky-rocketed in the early 80's around the planet. Today his music is still fresh, contemporary, and is currently being rediscovered by a new generation of dance enthusiasts, aerobic instructors, and clubs. Patrick died November 12th 1982 of A.I.D.S. His death shocked the world and many still mourn his loss. He was my best friend, business partner in Megatone, and I loved him very much. It is with great honor that I dedicate this album to Patrick, his fans, everyone living with A.I.D.S., to the forty thousand plus we have lost, and especially to his fantastic family and loving father, Mr. Kenneth Cowley."  (Marty Blecman -- President, Megatone Records)
Source:
http://www.myscifi.co.uk/cowley.html
[
Edit
]
The Pet Shop Boys and New Order, both cite Cowley as a major influence. 
This Google News search
shows that Patrick Cowley is still spoken about and referenced today as a major influence on the development of Hi-NRG Dance.  And a Google Books search for:
Googs
.
While for a man who died in 1982 after only a few chart hits, a
YouTube search generates a stunning 508 hits
, and a Google search for
Discogs has over 500 separate entries for works
credited in whole or part to Patrick Cowley
[
Edit
]
Sylvester would go on to more fame without Cowley's inspiration.  Two Tons, Sylvester's early back-up singers, would turn into "The Weather Girls" and achieve lasting fame with "It's Raining Men", a
Number One Dance Hit at the end of 1982
.  Martha Wash, one half of the Two Tons and the Weather Girls, made dance floors smoke with her smash hits
Black Box
's "
Everybody Everybody
" and "
Strike It Up
," and
C+C Music Factory
's "
Gonna Make You Sweat (Everybody Dance Now)
," which hit #1 on the Billboard Hot 100 in 1991.  Paul Parker is still producing new music,
his official website
.
[
Edit
]
Sources
[
Edit
]
Click the picture to buy from Amazon


Patrick Cowley - Megatron Man Track Listing

1 - Megatron Man
2 - Thank God for Music
3 - Menergy
4 - Get a Little
5 - Lift-Off
6 - I Wanna Take You Home
7 - Sea Hunt
8 - Teen Planet
9 - If You Feel It
10 - Megatron Man '87
11 - Megatron Man [Radio Edit]
Source for track listing: http://www.woodstock.com/
There is a
slightly different image at discogs
where we also see that he dedicated this album to his parents.
Kenneth L Cowley
1930 Census of Buffalo, Erie County, New York : "Bernard Cowley, 45, married at age 31, NY/NY/NY, Conductor, Railroad; Ruth 40, married at age 26, NY/NY/NY; Bernard 13 NY; Kenneth 10 NY; Eileen 4 3/12 NY"
OBITS: The Buffalo News Death Notices 19 Jan 2005; Buffalo, Erie co., New York

Cowley, Kenneth L.
January 16, 2005. Husband of the late Ellen N. (McManus) Cowley. Father of James M. (Colleen), Mariellen (Timothy) Jackson, Madonna (Brad) Stairs and the late Patrick J. Grandfather of Erin, Brian, Meghan, Kimberly, Christine and Patrick; great grandfather of Jake, Rielly and Ryan, Dear friend of Bea Graham. Brother of the late Bernard (Naomi) Cowley and Eileen (late Donald) Brown. Friends may call Tuesday 7-9 and Wednesday 2-4 and 7-9 PM at the (Buffalo Chapel) THOMAS H. McCARTHY FUNERAL HOME, 1975 Seneca St, where funeral will be held Thursday morning at 9:30 and from St Teresa's Church at 10. Flowers gratefully declined. Memorials may be made to AIDS Alliance of WNY.