Guest Star Appearances on the TV show "American Bandstand", as I have sourced them from newspapers, and magazines. 
Please note
that I am fully aware that other websites may have differences from what I state.  My claims below however are
sourced
while theirs are not.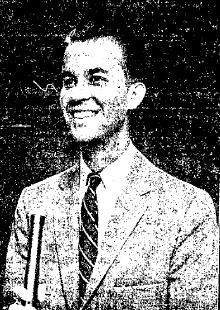 Dick Clark 1957

Can you
add
to the below table, citing an online source?
If so, tell me.
[
Edit
]
Guest Appearances on American Bandstand
 Date
 Guest
 Source
 20 Aug 1957
Sal Mineo and Jodi Sands
 (Source)
 26 Aug 1957
Jimmy Bowen and Jerry Lee Lewis
 (Source)
 03 Sep 1957
Fats Domino and Johnny Nash
 (Source)
 04 Sep 1957
Eileen Barton and the Matys Brothers
 (Source)
 30 Oct 1957
Georgia Gibbs, Mary Small and Carl Perkins
 (Source)
 07 Nov 1957
Tommy Presto
 (Source)
 02 Dec 1957
Sam Cooke
 (Source)
 16 Dec 1957
Bobby Helms
 (Source)
 09 Jan 1958
Della Reese
 (Source)
 15 Jan 1958
The Georgettes
 (Source)
[
Edit
]
Guest Appearances on American Bandstand
 Date
 Guest
 Source
 24 Jan 1958
 The Teen-Agers
 (Source)
 19 Feb 1958
 The Original Casuals
 (Source)
 26 Feb 1958
 The Hollywood Flames
 (Source)
 28 Feb 1958
 Ned Taylor
 (Source)
 22 Mar 1958

 Bill Haley and the Comets

 Source
 29 Mar 1958
 Joni James
 Source
 05 Apr 1958

 Four Aces

 Source
 12 Apr 1958

 The Shirelles

 Source
 17 Apr 1958
 Johnny and Jonie
 Source
 03 May 1958
 Ersel Hockey
 Source
 06 May 1958

 Jordanaires
 Source
 24 Jun 1958

 Pat Shannon

 Source
 25 Jun 1958

 the Cousins

 Source
 26 Jun 1958

 Chuck and Betty

 Source
[
Edit
]
Guest Appearances on American Bandstand
 Date
 Guest
 Source
 18 Feb 1959

 Roy Hamilton

 Source
 19 Feb 1959

 The Moonglows

 Source
 20 Feb 1959

 The Platters

    



 Source
 05 Mar 1959

 Chuck Berry

 Source
 06 Mar 1959

 Fats Domino

 Source
 14 Mar 1959

 San Cooke

 Source
 03 Jun 1959

 Preston Epps

 Source
 13 Jun 1959

 Preston Epps

 Source
 12 Aug 1959

 LaVerne Baker

 Source
 29 Aug 1959

 Jack Larson

 Source
 31 Oct 1959

 Larry Hall

 Source
 03 Dec 1959

 The Drifters

 Source
[
Edit
]
Guest Appearances on American Bandstand
 Date
 Guest
 Source
 11 Mar 1960

 Barbara McNair

 Source
 14 Mar 1960

 Sonny Til

 Source
 02 Nov 1960

 Damita Jo

 Source
 03 Nov 1960

 Jackie Wilson

 Source
 10 Nov 1960

 Adam Wade

 Source
 14 Nov 1960

 Billy Ward and the Dominoes

 Source
 16 Nov 1960

 Junior Waters

 Source
[
Edit
]