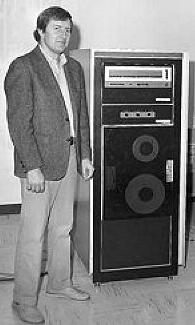 Richard "Dick" Pick
standing next to what I believe
is a Microdata Reality
picture probably from about
1972-1976


See also the
Pick Operating System Portal
Richard A "Dick" Pick (1937/8 - 19 Oct 1994)
Dick Pick, co-creator of the
Pick Operating System
was born in 1937 or 1938 ("aged 56" at his death in 1994).  He had a younger sister Barbara Pick, who in 1960 was in the 1960 Class of Covina High School, California.  Barbara K Pick age 31, married Robert H Mooney, age 44 on 10 Aug 1974 in Orange County.
Dick married for the first time, at a fairly young age, as in 1956/7 he and his wife had a daughter Susan.  Susan A Pick age 20, married Scott A Jackson, age 26 on 16 Apr 1977 in Los Angeles County
His first wife must have died, or they divorced, as Richard A Pick, age 22, married Anna A Guess Munyon, age 22 on 16 Dec 1960 in Los Angeles County; they divorced Mar 1977 in Orange County.  Anna then is probably the mother of Dick's next children Linda and Mark.
In or around 1965, Dick Pick and Don Nelson worked out a computer database system for TRW to sell to the government.  Don moved on to other things, but Dick kept working on the system to try to develop something commercial.  This developed by the early 70s into a relationship with Microdata Corporation.  Many Microdatas were sold with the system Pick and Associates created, until Pick and Microdata parted ways in Dec 1976.  At that time, Pick and all his co-workers were fired by Don Fuller of Microdata.
On 20 Oct 1979 in Orange County, a Richard Pick (no middle initial) married Junella R Hobbs, who had been an employee at Microdata.  Junella Rae (Hobbs) Pick died on 24 Mar 1982 in Orange County, mother's maiden name Crocker.
Pick was sued by Microdata for theft of trade secrets, but after many years in court, it was decided that they both could sell the system, without the need to license each other. 
The Ultimate Corporation
, run by Theodore M "Ted" Sabarese was the next implementation.  Ted had been a Microdata dealer, but developed his own implementation of Pick on the DPS 6 which was commercially marketed starting in 1979.
In 1981, Pick lowered the licensee fees dramatically, which brought a dozen vendors on board.  Vendors such as ADDS, Fujitsu, General Automation, and others.  ADDS in particular made significant strides forward in the development, and relabeled their product MvBase.  ADDS was purchased by NCR, sometime later.  Sequoia's Pick product was later renamed MvEnterprise, and both products were eventually folded into Pick Systems.
Pick Systems themselves ventured into the Windows integration market, creating D3 which allowed seamless connectivity with Windows files.
Dick married lastly to a woman named Zion, who survived him, but she was not the mother of any of his children.  Dick Pick had three children listed in his obituary Susan Jackson of Colorado Springs, Colo., Linda Rallo of Chesterfield, Mo.; and Mark Pick of Corona del Mar; and also a sister Barbara Pick-Mooney of San Gabriel.
He suffered a stroke and died thirteen days later, age 56, at Hoag Memorial Hospital Presbyterian in Newport Beach, California, in which city he had been a resident.  At the time of his death, his obituary stated that the computer operating system he created is "used today by about three million people worldwide."
Dick's son Mark Pick is now the Vice-President of Reality.
[
Edit
]
See Also