Please
sign in
and rate this article by answering the questions at the right ----->
[
Edit
]
This article should be cited as :
[
Edit
]
This is the only known comprehensive biography of Morty Manford in existence.  All other biographies of Morty Manford are either quite tiny, or just snippets of his impact on others at some particular point in their lives, without giving a comprehensive view of his life.  This biography I hope will correct that.
I am a professional biographer and genealogist. Contact me, if you'd like help in tracing your family tree, by clicking the below button.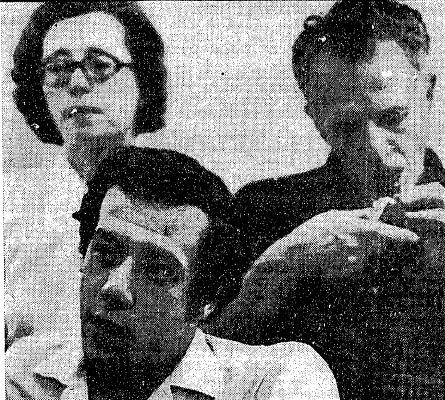 Morty Manford and his parents Jeanne and Jules in 1972
Could someone lighten this picture a bit and send it back to me?



[
Edit
]
Morty Manford was born 17 Sep 1950 in Flushing, Queens, New York, the son of Jules Manford (1919-82) a dentist, and Jeanne (b. 1920) his wife, an elementary-school teacher.  When he was in high school, he saw a psychologist who, without Morty's consent, told the Manfords that their son was gay.  In 1968 he graduated from Bayside High School and enrolled in Columbia University.
[
Edit
]
Morty was at the Stonewall Inn, the night the Stonewall Riots started 28 June 1969.  An interview with him many years later, elicits his remembrances.  Although he had been dancing in the bar, when it was shut down, he did not participate in any of the violence.  Meanwhile, that year, or possibly earlier a group was meeting called the Gay Liberation Front.  When some of the meetings turned into nothing more than screaming matches, some of the more moderate members formed their own group in Dec 1969 called the Gay Activist's Alliance.  Arthur Bell, who at that time, was a publicist at Random House, discusses
how the group initially formed
.
While at Columbia, Morty in 1970 attended a meeting of the Gay Activist's Alliance.  He states, "once I got involved in GAA, I quickly became active in the Columbia organization.  We changed the group's focus, and we changed it's name to Gay People at Columbia."  So this dispels the false claims that Morty himself co-founded GAA.  For more on the Gay Activist's Alliance see
my work on extracting the names from the FBI dossier
.  At this point, probably 1971 or early 1972, Morty left college and began visiting various places across the country to organize gay rights organizations.
[
Edit
]
The 50th anniversary dinner of the Inner Circle, a group of political writers, was held in 1972 at the Hilton.  Hearing that comments were made degrading the recently defeated Gay Civil Rights Bill, the Gay Activist's Alliance organized a "zap" where they stormed the party and tried to seize the microphone.  During the altercation, he was beaten by Michael J "Mickey" Maye, then President of the Uniformed Firefighters Association of Greater New York and a "former National Golden Gloves heavyweight champion" (in 1951).  The Village Voice that year, describes Maye as "6 foot 3 and 215 pounds".  Other protesters were also attacked, and three required hospitalization.  Morty and six others, swore out a complaint against Maye, but District Attorney Frank S Hogan failed to prosecute.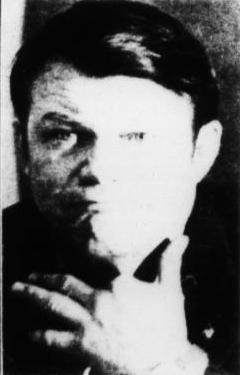 Michael Maye in 1972
Click to Enlarge


The headquarters of the Gay Activist's Alliance, in 1972 was in a former firehouse at 99 Wooster Street in Manhattan.  The "chief spokesman" at this time is named Charles Choset by the New York Times.
[
Edit
]
The Gay Activists Alliance, and Morty Manford then filed a petition in State Supreme Court to force the prosecution.  They were represented in that action by civil rights lawyer William Kunstler.  "State Supreme Court Justice Amos E Bowman directed Mayor Lindsay, and four other officials to show cause next Thursday why they should not arrest and prosecute Mr. Maye." (NYT, 6 May 1972)  Hogan forced by the court to prosecute, showed his homophobia by not even requesting an indictment of assault against Maye, but only a charge of "harassment".  And so the grand jury convened returned that charge which was the only thing they could do.  Monfort's lawyer Emily Goodman called the situation "obscene".  "At his arraignment in Manhattan Criminal Court, before Judge George Roberts, [Maye] pled not guilty.  He was released for a hearing on June 7." (NYT, 23 May 1972)
[
Edit
]
The case went to trial, but due to Hogan's hostility and ineffectual handling, Maye was acquitted by the judge.  Hogan refused to call any witnesses unless they signed a waiver of immunity, knowing full well that he would be able to use anything to which they admitted, in a revenge persecution against these very witnesses later.  Because of this, none of the witnesses from the Gay Activist's Alliance were called by Hogan, because none of them were eager to face the backlash.  In a disgusting display of hostility, Hogan claimed that the other witnesses did sign the waiver.  Of course they weren't "faggots", so they had nothing to fear from Hogan. 
About one hundred members of the Gay Activist's Alliance demonstrated outside the courtroom and just to show his benevolence, Hogan arrested two of them, Corona Perrotta and Martin J Clabby, and charged
them
with assault, and a host of other charges.  For struggling with police.  Because you know struggling is so much more heinous then throwing a person down an escalator, beating them as they lay semi-conscious on the ground, and stomping on their groin several times as it was testified, Maye did to Manford.  Maye was defeated the following year when he ran for President of the Uniformed Firefighters, but he was elected once again in 1975.  The Uniformed Firefighters of New York evidently liked their Presidents to be vicious homophobes.  Maye's unchecked temper problem, put him in the spotlight again, when
John O'Hagan states that Maye threatened him with physical violence
during a labor contract dispute.
Manford's original assault complaint, could only identify Michael Maye, the others being named only as John Doe.  At the trial however, Morty identified one other attacker, who testified for Maye, as David McCormack, a Battalion Chief of the New York City Fire Department.  He then filed a complaint against David as well.
[
Edit
]
An ironic twist to this sordid tale, is that Maye himself had worked briefly in 1962-63, as a bouncer at a gay bar on the West side of Manhattan (in the Docks area) which was called the Foc'sle, but when Maye's relative operated it, he changed the name to "Dirty Dicks". (
Source
)  Maye, age 39 at the time, was lucky enough to live long enough to supposedly redeem himself.  "While working for the Teamster's in 1982, Maye testified in front of the New York City Council in favor of gay rights, speaking at the request of Teamster's president Barry Feinstein." (
The New York Chronology, pg 705
) Although this claim in stated in a few late pieces, I cannot find a contemporary citation.  Morty's obituary does not mention this supposed redemption, even though it prominently mentions Maye several times.  Morty's papers do not mention any sort of rapprochement with Maye, they don't even mention Maye after the Inner Circle Affair, and they don't mention the year 1982.
It was in 1972 that Morty's mother Jeanne marched in the Christopher Street Gay Liberation Day parade holding a sign which read : "Parents of Gays: Unite in Support of our children". (NYT, 1 Sep 1972)  This was the start of the organization that became PFLAG.  PFLAG's first meetings were held in a Methodist church, the group was first called "Parents of Gays".
At that same time, a reporter for the New York Times calls the Gay Activist's Alliance the "leading homosexual group in the city now". (NYT, 26 Jun 1972)  Frank S Hogan who decided to end his career on this illustrious note suffered a
stroke
on 10 Aug 1973,  resigned on December 26, and died of cancer in
New York City
a few months later.
[
Edit
]
"Morty was one of the leaders of the gay and lesbian demonstrators gathered at the Presidential National Conventions of both the Democratic and Republican parties held in Miami Beach." (
Source
)  David Ehrenstein, writing for the L.A. Times, states that during this time "from the late 60s to the mid 70s" Morty's lover was Vito Russo. (
Source
)  Vito Russo (1946-1990) is most well-known today for having written "
The Celluoid Closet
" in 1981.
In or just before 1974, Morty became President of the Gay Activist's Alliance.  That year, their original headquarters on Wooster street, which they had called The Gay Firehouse, was destroyed by arson.  Morty charged that it was part of a campaign of harassment against homosexuals.  But by January of 1974, the group had lost most of its membership to the NGTF. (
Source
)  After graduation, Morty worked for Legal Aid in New York for four years.  In 1981 he is called a "third-year student at the Benjamin N Cardozo School of Law at Yeshiva University". His mother, who accompanied him in the parade that year is stated to have "founded the New York City Parents of Lesbians and Gay Men in 1973."  In an article in 1978, the group with chapters in 26 U.S. cities is called "Parents of Gays", and "Dr Jules Manford" is listed as President of the New York chapter.  In a letter to the New York Times, Morty is called a former President of the Gay Activist's Alliance and the National Coalition of Gay Activists.
Later Morty took a job with the New York State attorney's office in 1986.  He died 14 May 1992, in his mother's home in Flushing, Queens, of complications from AIDS.  He was survived by his mother Jeanne, and a sister Suzanne Swan of San Francisco.  He was 41 years old.
PFLAG-Queens every year from 1993 has given out, a Morty Manford award to recognize "... an individual or organization whose work on behalf of the lesbian and gay community of Queens best exemplifies the pioneering political spirit of the late Morty Manford, and who serves as a positive and visible role model for gay men and lesbians."  Past winners are listed on their website
http://pflag-queens.org/morty.html
  In 1998, an article in the NY local paper "Daily News" stated that PFLAG has 70,000 members and 425 chapters.
[
Edit
]
Sources
Interview with Morty Manford, transcribed from Eric Marcus' book, at GayToday.com

"Morty Manford, 41", New York Times obituary
"Morty Manford; Gay Rights Activist", Los Angeles Times obituary

"Morty Manford", glbtq

"Unlikely Supporter of Gay Rights Recalls Pivotal Night", New York Times, 3 Nov 1996
"James W Owles is dead at 46", New York Times obituary, 8 Aug 1993
"Jules Manford", Social Security Death Index : "23 Jan 1919 - Jul 1982, last resided in Flushing, Queens, New York"
"Jules Manford", US Public Records Index, Volume 1 : "Dr Jules Manford, born 23 Jan 1919,

3323 171st St, Flushing, NY"

"Jeanne Manford", US Public Records Index, Volume 1 : "Jeanne Manford, born 4 Dec 1920,

PO Box 580114, Flushing, NY (1992);

525 5th St SW, Rochester, MN (1996)"

[
Edit
]
Further Reading
Morty Manford Papers, Manuscripts and Archives Division, The New York Public Library, Astor, Lennox and Tilden Foundation
Jeanne Manford Papers, also at the New York Public Library

"Making History: The Struggle for Gay and Lesbian Equal Rights, 1945-1990, An Oral History, by Eric Marcus, HarperCollins, 1992, a history of the gay right's movement contains the story of Morty and his mother Jeanne
"Stonewall: The Riots That Sparked the Gay Revolution," by David Carter, St. Martin's Press, 336 pages

[
Edit
]
To Be Merged
There are twenty-nine mentions of Morty Manford in the New York Times:
[
Edit
]