This Knol should be cited as:
I am a professional genealogist. Contact me, if you'd like help in tracing your family tree, by clicking the below button.
[
Edit
]
The Barbi Twins with kitten
Click to Enlarge


Their Wikipedia page
, has the interesting claim that their great-aunts were the Andrews Sisters.  I wonder if that claim can be validated?  The Andrews Sisters have
their own Wikipedia article
, where it states that "the sisters were born in Minnesota to a Greek immigrant father and a Norwegian American mother, Olga "Ollie" Sollie (1886–1948) and Peter Andreas (1884–1949), who took the name of Andrews."  The sisters were born as Laverne 1911, Maxene 1916, and Patricia 1918.
In order for them to be great-aunts to the Barbi twins, there must be another sibling, who was the Barbi Twins grandparent.  Or possibly, one of the three Andrews Sisters themselves, are the Barbi twins grandparent.  Can we determine that?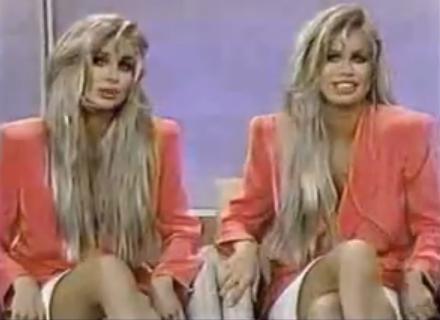 The Barbi Twins in 1992 on "Geraldo"


[
Edit
]
The 1930 census of Minneapolis, Hennepin County, Minnesota
has the family of The Andrews Sisters, as follows : "Peter Andrew, 45, married first at age 25, born Greece/Greece/Greece, proprietor, Recreation Pold?, immigrated 1903; Olga, wife, 39, married first at age 19, born Norway/Norway/Norway, immigrated 1891, no occupation; Laverne S, daughter, 18, born Minnesota, musician; Maxine A, daughter, 14, born Minnesota; Patricia M, daughter, 12, born Minnesota"
So any other sibling of the sisters would have to have been born after 1930.  If the Barbi Twins were actually born in 1963 as their Wikipedia article relates, it would be fairly astounding were another sibling here, to have been their grandparent only 33 years later.  Is it possible? yes.  Is it likely? no.
The 1920 census of Minneapolis, Hennepin County, Minnesota
has the same family as : "Peter Andrew, 37, immigrated 1906, Greece, Proprietor, Billiard Pool Hall; Olga, 32, immigrated 1890, Norway; Laverne S, daughter, 8, Minnesota; Maxine A; daughter, 3 11/12, Minnesota; Patrica, daughter 1 11/12, Minnesota; Harry Flynn, cousin, 37, Single, immigrated 1906, Greece, Maker, Ice Cream Co"
The reason for looking at this earlier 1920 census, is to dispel any idea, that there may have been an even older sibling.  Peter and Olga married in 1909 or 1910, so any other child they might have had, should be listed here with them.  And there isn't. 
Olga called "Ollie" died in 1948
in Brentwood, Los Angeles, her three daughters are mentioned at that time in her death announcement.
[
Edit
]
Laverne Andrews married
Louis A Ruggiero
, aka Lou Rogers in 1948.  Laverne died in 1967,
her obituary was printed
in the New York Times.  She was still married to Lou at that time, he was by her bedside.  No children are mentioned in her obituary.
Maxene married Lou Levy in 1941, they divorced in 1951.  Maxene had two adopted children: Aleda Ann Levy (who married a Mr Hunt by 1995) and Peter Todd Levy.  In 1954, despondent over the recent break-up of the trio, Maxene attempted suicide.  An article then, in the Victoria Advocate, states that her two children, there called Lita age 9, and Peter age 7 were from her marriage to Lou Levy.  Maxene died in 1995 in Hyannis, Massachusetts. 
Her obituary was published
in the New York Times.  Her two children, at the time of her 1995 death, were both living in Salt Lake City, they are not referred to in her obituary as being adopted.  I don't know why Arlo Nimmo states that he couldn't locate them.  I located the two children in about five minutes.  I guess that's why it pays to hire researchers when you're writing a book.
Patty Andrews married first Marty Melcher in 1947, they divorced in 1950 (he would then marry actress Doris Day), and secondly she married Walter Weschler in 1951.  Patty was still living as late as 2007, and if she is living today, she would be 92 years old in 2010.
[
Edit
]
So it does not appear that the Barbi twins could possibly be nieces to the Andrews Sisters.  Anybody have anything to add here?  In other news, in an interview one or both of them stated that their mother "Marsha" who reverted to her maiden name "Barbi" after their parents divorced was a former Miss Ohio.  That may be true, but she was not a winner as the list has been published.  I can't find any mention of anyone named "Marsha Barbi" whatsoever -- newspapers, documents, nothing.  I can't find a birth for a Shane or Sia Barbi or Carlson in the CABI in Apr 1963.  Nothing even close to that.  No mothers Barbi with daughters born in 1963.  No daughters born to any Carlson in 1963 with the same mother, nor in 1962, nor to Carlsen.  No Sia's, no Shane's.  Something is obviously being made-up here, but how to penetrate the myth?
Other than being Playboy models and pin-up girls in the 1990s, Shane Barbi married actor Ken Wahl 17 Sep 1997.  They claimed, shortly after she died, that Dusty Springfield had been their mother Marsha's lesbian lover for a few years.  By the way in Sep 2007, the Barbi Twins
led a protest against primate experimentation at UCLA
.
I do find that "Shane Barbi" was living in 1994 at 1308 Factory Place in Los Angeles and  that "Elizabeth Shane Barbi" resident of California, married on 17 Sep 1997 in Clark County, Nevada to "Ken Wahl" resident of California.  I find nothing for "Sia", I think this is probably some form of diminutive name or even just a plain pseudonym.
Wjhonson's Knols - Total Pageviews - Independent Counter