[
Edit
]
I am a professional genealogist. Contact me, if you'd like help in tracing your family tree, by clicking the below button.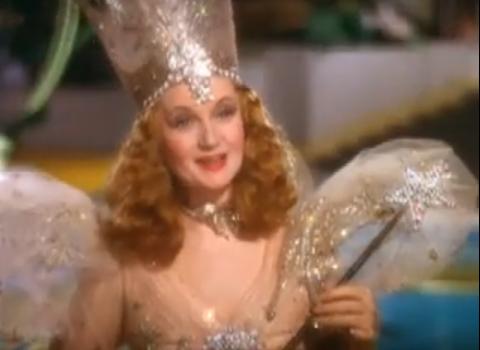 Billie Burke as
Glinda, the Witch of the North in 1939's
Wizard of Oz


1 Billie Burke
Billie in her autobiography, states that she was born 7 Aug but does not mention the year. 
The California Death Index cites "7 Aug 1884"
, this was probably entered by Billie's only child Patricia.  Various sources cite 1884, 1885 and 1886.
Various websites and published sources will claim that her name was Mary William Ethelbert Appleton Burke.  This is slightly true and slightly false.  She was named, at birth only Ethelbert Appleton Burke, Appleton being her "godfather". (
Source
) Mary being her christening name many years later, and William only being a sort-of back-formation from her desire to be called "Billie" or "Billy" after her father, because she abhorred the thought of being called "Bertha".
She states in an interview around 1926/27 that she was named "Ethelbert Burke". (
Source
)  She also in this same interview claims a birthdate of 7 Aug 1886.  However on a Passport application, her own mother uses the year 1884 for her, and there calls her "Ethelbert Appleton".
[
Edit
]
Billie states that she was born "in a little house on K Street", and that her mother and she lived in Washington DC and New York while her father traveled around the country with the circus.  And that at "age 8" the family relocated to London, where they all lived until Billie herself was at least in her late teen's.  Now from this
ship's manifest dated 1913
we see her birthdate given as "7 Aug 1887" !  Billie herself, at one point in her autobiography states, "
I was eighteen years old and the year was 1903.
"  I suppose like all actresses she shaved a few years off when necessary. 
BGMI has several citations with years 1884, 1885 and 1886.
The first mention I can find in any publication of Billie Burke, is from Lloyd's Weekly 12 Oct 1902 which in an
article called "The Music Halls
" states in mentioning various names on the music hall stages : "...Billie Burke...."  Billie writing in 1916 states that her theatrical debut was on 9 May 1903 as Mamie Rockefeller in "The School Girl".  The London Daily Mail, in an article "The Motor and the Stage", dated 23 Jun 1903 :"...the first theatrical ladies' motor meet.... [included] Miss Billie Burke...."
The first mention I can find of her in a play is in an article in the
Black and White, dated 2 Sep 1905
, in which she has a part in "The Blue Moon", a musical play which had premiered in the past week. 
On 3 Jun 1906, the Logansport Journal reported
that "Recently the popular actress was left $35,000 by Wallace T Sawyer, an old friend of her father."
Billie's first mention in the New York Times was 26 Aug 1906, as one of : "twenty Americans holding assured positions on the British stage at the present time.... Billie Burke...."  On 9 Jun 1907 : "Mr [Charles] Frohman is confident that Billie Burke, who will be [John] Drew's leading woman next season, will greatly please New Yorkers.  Miss Burke herself is delighted with the prospect of playing in her native land, where, up to the present, she has never appeared.  Miss Burke has had a great success in London."  On 19 Jun 1907 : "London - Miss Billie Burke proved herself a capital actress and was warmly applauded as Madame Polacca in the revival tonight of Burnand's "Mrs. Ponderbury's Past," at the Vaudeville Theatre.  The cast included Charles Hawtrey."

Photographs of Billie Burke in 1907
Click to Enlarge


Sailing from Liverpool, England 25 Jul 1907 on the S.S. Baltic, arriving in New York City : "Blanche Beatty Burke, age 60, married; Billie Burke, age 21, single".  On 17 Jun 1908, the New York Times is reporting that Billie Burke had just returned from "the West" after a tour of forty weeks in John Drew's company and would now sail to Liverpool with her mother.  If so, she returned a month later, as I find : Sailing from Liverpool, England 23 Jul 1908 on the S.S. Baltic, arriving in New York City : "Blanche B Burke, age 60, married; Billie Burke, age 22, single".  On 1 Aug 1908, the New York Times reports : "Among other passengers on the Baltic were Billy Burke, who was John Drew's leading woman in 'My Wife' last season, and who is to star under the Frohman management in the Autumn...."  On 2 Nov 1908, they are reporting "Billy Burke [sic, headlining] in 'Love Watches' at the Lyceum"
[
Edit
]
Either she or the newspapers were ambivalent about whether to spell her name "Billy" or "Billie".  However, at the same time that she became known in the United States (or at least in New York), there was also a racehorse named Billy Burke, as well as a boxer named Billy Burke!  One can see why, if she really was a "Billy", she would then decide to be a "Billie"!  A little later, in the 1920s there was a golfer named "Billy Burke".
Sailing from Liverpool, England 20 Jul 1909 on the S.S. Caronia, arriving in New York City : "Blanche Beatty Burke, age 60, widow, no occupation; Billie Burke, age 23, single, actress".  Sailing from Southampton 10 Aug 1910 on the S.S. Adriatic, arriving in New York City : "Miss Billie Burke, age 23; Mrs Blanche Burke, age 53.
On 20 Aug 1910, the New York Times, reports that Billie Burke had spent time on "her farm in Devonshire" making hay.  She likes to spend her Summers in Devonshire, because that area does not cause tan and freckles, it relates.  In that article, it mentions her "adopted daughter, Cheredal".  On 28 Sep 1910, it reports that : "Adele Cheridah, the eighteen-year-old ward of Billie Burke, will make her metropolitan stage debut next Monday night as one of the bridesmaids in 'The Girl in the Train.'  Miss Burke has withheld her consents to her ward's appearing on the stage during the three years they have been together, but this Fall she consented to let her start at the bottom and in a musical play."
[
Edit
]
Sailing from Liverpool 9 Aug 1913, arriving in New York City : "Blanche Burke, age 60, married, born Zanesville, Ohio, 25 Jun 1853; Billie Burke, age 26, single, born Washington DC, 7 Aug 1887, residents of Hastings-on-Hudson, New York".  Billie at this time lived in a residence she called "Berkeley Crest" near Hastings, New York, evidently I suppose with her mother.
Billie married only once, in 1914 to showman Florenz Ziegfeld.  The New York Times in an article dated 13 Apr 1914 reports the wedding as occurring "last Saturday afternoon" in Hoboken.  The wedding was performed by Rev. Dr. J Engelberg, pastor of the Lutheran Church in Hoboken. Dr F. Ziegfeld, father of Florenz, and also his wife Mrs Ziegfeld, and also Mrs Burke, the mother, were all present.  In that article they further state, "Billie Burke whose real name is Ethel Burke is in her twenty-eighth year...." Billie agreed to a new five-year contract with Frohman, but he died shortly, which "automatically released her from her contract" according to a statement from Ziegfeld.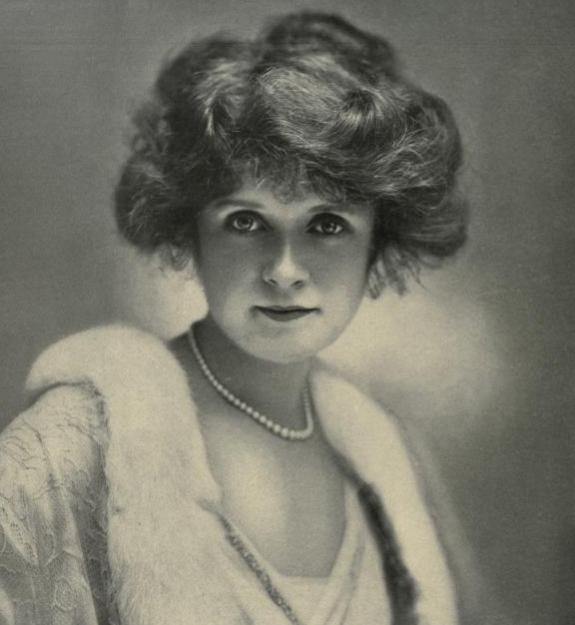 Billie Burke in 1916
Click to Enlarge


Billie's film debut was in a 1916 movie called "Peggy", evidently directed or produced by Thomas Ince. The New York Times reviews it in Jan 1916.  Billie and Florenz had a single child, daughter Patricia, born in New York City, 23 Oct 1916, who later became an author.  She is mentioned in a New York Times article dated 3 Dec 1916 as "Florenz Patricia Burke-Ziegfeld."  Around this time, we start to see advertisements for some type of clothing called a "Billy Burke", evidently a kind of pajama which had an elastic ankle so the pajama leg would not slip up.  There are dozens of mentions in the New York Times during this time period, of Billie Burke being in plays and also a few movies.
[
Edit
]
Still living in New York, Billie is mentioned in 1921, in a list of actresses.  She is mentioned 25 Oct 1923 to appear in a new (unnamed) play.  She is mentioned 7 Nov 1926 as having a pet "baby leopard".  By 1936 however, she had relocated to Beverly Hills, California.
Billie died in her sleep, in her home in Brentwood.  Her body was taken to be buried in New York.  Billie's tombstone in the Sharon Gardens section of Kensico Cemetery in Valhalla, Westchester County, New York, also states her birthdate as 7 Aug 1884.
[
Edit
]
Sources
[
Edit
]
2 Billy Burke
William Ethelbert "Billy" Burke was born in Ohio.  In the Harvard College Library, the following items are all bound together in one volume:
"Billy Andrews' Comic Songster", New York, Samuel Book, 1873
W.E. Burke's Barnum and Great London Circus Songster, NY Popular Publishing Co [1881/2]
Jennie Engel's Upon the Grand Parade Songster, Fisher & Denison, 1872
Fielding's Songsters, A.J.Fisher, New York, 1873
John Foster's Favorite Clown's Songster, Robert DeWitt, New York, 1872

This second item, gives us his
first (and possibly only known) biographical sketch
.
"Biographical Sketch of William Ethelbert Burke, American's Greatest Clown"
   "William E Burke, 'American's Clown,' was born in Waterford, Knox County, Ohio, on the 23rd of October, 1845, and is consequently thirty-six years of age.  During his early boyhood he had the advantages of a country school education, and was noted for his exuberant wit and wonderful mimicry.  A grotesque attitude or a peculiar grimace from Billy was sure to create an uproarious laugh in the school-room that resulted in a reprimand from the teacher, who was often holding his sides and straining every nerve to repress his own impulse to laugh outright at his amusing pupil.
   "In due course of time the mirthful school-boy was apprenticed to S.S. Tuttle, Esq., the well-known druggist of Fredericktown, Ohio, where he rapidly won many friends by his aptitude and affability.  Here he was in his glory, for the drug-store soon became the popular resort of a mirth-loving circle, of which Billy was the brightest center light.  While all was sunshine the dark cloud of civil war spread its shadow over the land, and in response to his country's call, Mr Burke, though but sixteen years of age, enlisted under the old flag, and in six hard-fought battles exhibited the fortitude and heroism of a veteran.  During many a tedious campaign he was the life and soul of the camp, driving dull care away during many an otherwise gloomy hour, by cheerful songs and merry jokes.
   "At last, at the battle of Arkansas Post, Burke was seriously wounded, and so disabled as to soon receive an honorable discharge from the army, much to the regret of his many admiring comrades.  When sufficiently recovered to permit it, Mr Burke became clerk in the large house of Eaton, McCrum & Co., Pittsburgh, Pa.  Time now passed with our hero as smoothly as a gently-flowing river, rippled ever and anon by his irrepressible humor, till he turned his versatility into a professional channel by joining a minstrel troupe in 1865.  After a brief tour he was secured by J.M. Nixon to join his circus, and started for Galveston, Texas.  In a terrible storm at sea the vessel was wrecked, and Mr Burke's happy career seemed near its end.  Though lost at sea, he never, for a moment, lost hope, and was finally picked up by the United States steamship 'South Carolina,' and brought into port at New Orleans, after a perilous experience of thirty-four eventful days upon the fathomless deep.
   "At New Orleans he was quickly secured for Thayer & Noyes' circus. While with this company he received another evidence of the anger of the water spirits; for, while ascending the Red River on the steamer 'Ida May,' she was wrecked and sunk.  Mr Burke escaped with only the loss of a handsome and expensive wardrobe. With this circus he remained two years, joining Mike Lipman's circus the following season.  The next two seasons he was with the great Forepaugh's vast show.  Following these two seasons he joined L.B. Lent's circus, that was stationed in New York City, and met with a brilliant success.  His next engagement was with James Robinson's circus, with whom he was when that company merged into the "Great Chicago Show."  At Cincinnati, Mr Burke left the last-named concern to join the 'Trans Atlantic,' and while with it went through the yellow-fever siege at its worst in Shveveport.  With his usual happy luck he escaped from the doomed city for the second time, and joined L.B. Lent's great show at St Louis.  From which place he went South, remaining with the organization till the season closed at Atlanta, Ga.  After that event he joined the 'Great Eastern,' and afterwards went to California, where he was soon secured by Montgomery Queen, with whom he remained two years.  Since that he has been traveling with other shows, until the present circus season of 1882 sees the best clown with the largest show in the world -- that owned and managed by Barnum, Bailey & Hutchinson.

[
Edit
]
William Ethelbert "Billy" Burke is also cited as having been born in Youngstown, Ohio in 1843 or 1844 (
Source
).  Initially apprenticed to a druggist, he "ran away" and enlisted for the Civil War in Ohio.  After the war, he became a singing clown in Barnum & Bailey's circus. When the circus was in town in Cincinnati in 1883, he was introduced to the widow Hodkinson [Blanche], "then living in New Orleans". (
Source
)  She had four children by her prior marriage, the youngest at this time, was eleven years old.  Blanche followed the circus, until she became quite pregnant, at which time she went to Washington DC probably to live with, or near, her mother, and there had their only child Ethelbert (Billie Burke) in 1884.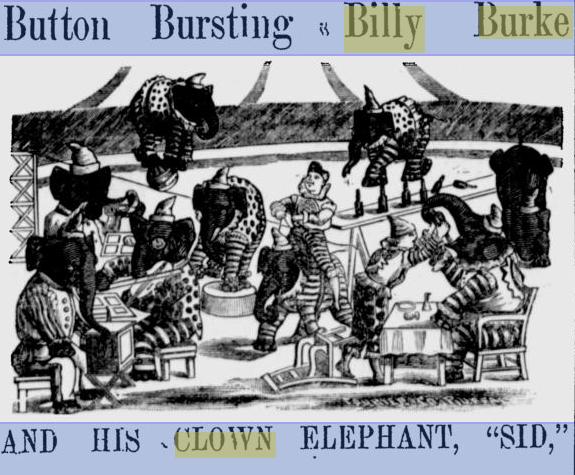 Billy Burke and his Clown Elephant "Sid"
advertisement 1886
Click to Enlarge


On
18 Aug 1886, the San Jose Daily News
is advertising the "Sells Brothers 1st Trans-Continental Tour including the mini-ad shown here.
On 4 Nov 1891, 'The Day', in an article called "Behind the Scenes" states : "Billy Burke, the famous clown and low comedian, fell in love with the beautiful treasury clerk whom he
recently
married while he was in  a circus seat and he was performing in the ring in Washington."
In the Boston Globe 22 Feb 1893, "This week Billy Burke, the clever clown, who has made countless numbers laugh for years past with the Barnum show by his droll wit, is introducing some new pantomimic business, which has met with particular success."  In the Boston Globe 10 Jun 1894, "the Barnum & Bailey greatest show on earth" arriving. "The list of well-known clowns includes 'Pete' Conklin, 'Al' Caron and 'Billy' Burke...."
In the New York Times 16 Dec 1894, I find an advertisement for Huber's 14th St Museum including "...Billy Burke, Barnum's Famous Clown...." Also repeated on 23 Dec 1894.  On 17 Apr 1895, in the New York Times, I find an article on "Barnum & Bailey's Greatest Show on Earth", which was then at Madison Square Garden, in which they particularly mention "...old-time Billy Burke, who has such funny times with his waltzing and pugnacious dummy."  On 16 Jun 1895 I find an article about the summer entertainment, then to be had at Manhattan Beach in which they mention : "...Billy Burke, the principal clown...."  On 27 Dec 1896, The Philadelphia Record has an article stating the Billy Burke the clown and his elephants are performing in that city.
Billie his daughter, writing in 1916 states that he was with the circus for many years "...until pantomime and the vaudeville stage lured him... away from the sawdust."
[
Edit
]
His obituary, appeared on 4 Nov 1906 in the Oakland Tribune:
William E Burke Dead
"William E Burke, of Burke, Andrus and 'Frisco,' died of gastritis on October 5, at Huddersfield, England, where he had been playing the week before.  Mr Burke was sixty-three years old.  He was born in Waterford, O., and was apprenticed to a druggist in Frankstown, O., where be became a great favorite.  Tiring of being behind a counter he ran away and enlisted, fighting with the Union forces during the Civil War, and being wounded was honorably discharged.  He then joined a circus and was speedily promoted to the front rank, singing and making popular many songs.  He went to London eight years ago and opening at the Palace for a fortnight's engagement continued the run for six months.  Since then, he has performed at hundreds of halls in London and the provinces.  His admirable and generous qualities caused him to become greatly esteemed both in and out of the profession, and his unexpected death is greatly regretted.  He was the father of Billie Burke, who played the leading character in the recent Coliseum revue and also played in "The Duchess of Dantzic" "The Blue Moon" and other pieces.  The remains were laid to rest in the family vault at Hampstead Cemetery, a service having been previously held at St Paul's Church by the Rev. Herbert Bury, who later performed the last rites at the grave.  The casket was covered with beautiful floral offerings."

In a New York Times article, 20 Apr 1924, C I Willey, a fellow-clown describing the old days, mentions "Billy Burke, with his clown elephant, Ah Sid.  Ah Sid was one of the popular headliners."
[
Edit
]
Sources
[
Edit
]
3 Blanche Beatty
Billie tells us that her mother was Blanche, a widow living in Washington DC, with four children, when she married Billy Burke.  That she was living long enough to see Billie successful on stage.
Although her obituary states that she was born in New Orleans, Billie or whoever gave this information was probably confused.  Blanche was born in Zanesville, Ohio on 24 Apr 1844.  She did live in New Orleans, but it was 40 years later.  In 1850 Blanche, is living with her parents John A Beatty and his wife Cecelia Flood in Muskingum County, Ohio.  By 1860 the family had, for some reason, moved to Washington DC, which is probably where John died between 1860 and the 1870 census when Cecelia appears without him.
Blanche married firstly to George Hodkinson, an Englishman.  They married sometime between the 1860 census and 1864, their eldest child Florence Hodkinson was baptised at St Luke's in Marietta, Ohio on 16 Apr 1865.  Their next child Blanche was baptized there 23 Nov 1867, and their third child George Flood Hodkinson on 15 Nov 1868.  In the 1870 census of Marietta, George is listed as "works in refinery".  They had one more child Grace born in 1871 or 1872, but she does not appear in the Parish Register and so perhaps the family had already moved by this time.  By 1880, George was dead and Blanche was living in Washington, DC perhaps near her family who had stayed there.
Between 1880 and 1883, Blanche relocated to New Orleans, probably with her children, her son George Flood Hodkinson would marry in 1897/98 to a woman from New Orleans.  While visiting either in Cincinnati or Philadelphia, Blanche was invited to a party at which William "Billy" Burke was also present.  They began spending time together and were married probably in 1883.  Grant Hayter-Menzies
uses the odd term "eloped"
, which certainly at the age of 39 or 40 would not describe Blanche.  He claims there, that they married in New York City, 11 Jan 1883, the ceremony being presided over by Rev George Hendric Houghton.
[
Edit
]
Blanche followed the circus, evidently until she became unable to as her pregnancy developed.  She probably then went to her mother, living in Washington DC, where Billie Burke was born 7 Aug 1884 "
in a little house on K Street
".
Emergency Passport Applications, 7 Mar 1902, "Blanche Burke" application filed at Vienna, to include her child "Ethelbert Appleton" who was born at "Washington, DC on 7 Aug 1884".  She states that she herself was born at "Zanesville, Ohio" on or about "24 Apr 1844".  She states her permanent residence as "New York, New York".  That she had left the United States on "28 Dec 1901" and was now temporarily sojourning at "Budapest, Hungary".  She is here described as "57 years 10 months, 5 foot 8, brown hair, black eyes"
New York Times, 8 Feb 1922 : "Mrs Blanche Burke", "Mrs Blanche Burke, mother of Mrs Florenz Ziegfeld, who is known on the stage as Billie Burke, died yesterday at her home in Hastings.  Mrs Burke was a talented newspaper woman and a pioneer of her sex in that profession.  She was born in New Orleans.  Her first husband was George Hodkinson, her second was William F Burke, an Ohioan, who died several years ago.  She left four children by her first marriage.  Billie Burke is the only child of her second marriage."
[
Edit
]
6 John A Beatty
7 Cecelia C Flood
12 Cyrus P Beatty
13 Nancy Ann Sarchet
24 John Beatty
25 Sarah Parkinson
26 Thomas B Sarchet
27 Anne Nancy Bichard
48 John Beatty
49 Henrietta Biggs
[
Edit
]
96 John Beatty
of Ulster Co, New York; has a 1721 will
97 Susanna Asfordby
married 7 Nov 1691 at Esopus (Kingston), New York; Will dated 20 Jun 1742, probate 30 Oct 1745
192 Edward James Beatty
193 Sarah Ross
194 William Asfordby
bap 29 Mar 1638 Saltfleetby, co Linc; heir of his father; of Staine-in-the-Marsh, co Linc; immigrated to the American colonies; Will proved 1698
195 Martha Burton
[
Edit
]
388 John Asfordby
adult 1634; married 14 Oct 1634 at Cumberworth, co Linc; of Saltfleetby, co Linc; living 1657
389 Alice Wolley
bap 14 Dec 1610 Cumberworth, co Linc; buried 16 Jun 1658 Saltfleetby, co Linc
776 William Asfordby
married 20 Apr 1597 Saltfleetby, co Linc; of Asfordby-in
-Bilsby, co Linc and of Newark; buried May 1623 Saltfleetby, co Linc


777 Eleanor Newcomen
bap 10 Nov 1576 Saltfleetby, co Linc; bur 9 Jun 1634 Saltfleetby, co Linc
778 William Wolley
779 Anne Lemyng
Eleanor Newcomen is of royal blood, her shortest path being twelve steps back to Edward I, King of England
Wjhonson's Knols - Total Pageviews - Independent Counter