This article was originally begun a few years back, at "Roddy McDowall", countyhistorian.com
[
Edit
]
Roddy McDowall, born Roderick Andrew Anthony Jude McDowall (17 September 1928 London – 3 October 1998 Los Angeles)  He was born in Lambeth, London, the son of Thomas Andrew McDowall (1896-1978) and his wife Winsfriede L. Corcoran (1899-1965).  Sailing from Liverpool to escape the war, Winefride, Virginia (his sister) and Roddy arrived in New York City on the ship
Scythia
3 Oct 1940.
Darryl Zanuck had bought the rights to the novel How Green Was My Valley, and had a screenplay written.  William Wyler, given the original role as director, states, that his greatest difficulty in casting this movie was trying to tell the entire life story of the central character, Huw. "I wanted an English boy, so I asked Twentieth's New York office to check the ships for a boy who could act." (
"A Talent for Trouble", Jan Herman, pg 219
) "You don't want to see this kid... he's bowlegged and walleyed.  He has a gap in his teeth, and he's ugly." Wyler responded "Let's see it anyway", and cast Roddy in the part.  Wyler is also known for being the second husband, of
Henry Fonda
's first wife Margaret Sullavan, the actress.
[
Edit
]
The first newspaper mention I find of Roddy is 11 Nov 1940 when "Roddy has been assigned the leading role of Huw... His mother said she fled London with her son and daughter at the urging of the British government, which was trying to clear London of as many women and children as possible."  Roddy, she said "played in 16 movies in England."  His father stayed behind because "He runs lorries and has to move explosives for the government...."  In a 1942 article however, Thomas McDowall is then being called "Third Mate" of a British steamship, but also reporting that "three years ago....His father was owner of a London trucking business....."
[
Edit
]
How Green Was My Valley
, (1941) emotional, dramatic 20th Century Fox film based on the book by Richard Llewellyn. The film directed by
John Ford
, marked the American debut of
Roddy McDowall
as Huw. The film was not directed by William Wyler, who was actually the man who discovered Roddy, because 20th's board of directors pulled the plug, partly due to concerns that Wyler was extravagent. 
John "Jack" Ford
later agreed to bring in the picture for a million dollars, and so they then gave it to him to direct.
This film won the
Best Picture Oscar award
for 1941.  Ford made the unusual decision to keep Huw the same age throughout many years that are supposed to pass. The title reflects the author's belief that his valley once green is quickly being blackened by the slag from the coal mine.  If you are a subscriber to
the Chairpotato Entertainment Channel on Knol
, we watched this film together on 4 Jan 2011. If you're not a subscriber, what are you waiting for!
[
Edit
]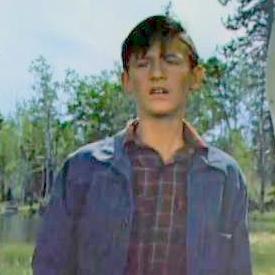 Roddy McDowall in
1945's Thunderhead: Son of Flicka


Close on that role, Roddy McDowall was cast in
My Friend Flicka
(watch the first 35 seconds
here
).  Roddy followed up his success, starring in 1943's "Lassie Come Home", which marks the screen debut of the then-unknown juvenile
Elizabeth Taylor
.  And they were then both in 1944's "The White Cliffs of Dover", which also included
Van Johnson
among others.  It is possibly from this time that Elizabeth and Roddy became close friends. Elizabeth's selection for the daughter of the Duke in "Lassie Come Home" was a fluke. The director wanted a young girl with an English accent. Elizabeth had been born and lived for some years in London where her father had run an art gallery.
My Friend Flicka
proved so popular that it was followed up by 1945's Thunderhead: Son of Flicka a western
coming-of-age
movie, also starring Roddy McDowall, directed by Louis King. (Watch it now at "
Last Fifty Movies Added to Chairpotato's Entertainment Channel
")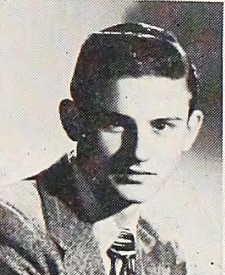 Roddy McDowall
University High School
1946 Yearbook


Roddy McDowall lived in the Los Angeles-area with his parents, graduating from University High School in Santa Monica.
Christopher Isherwood
writes that Tom Maddox told him, that he was having an affair with the then teen-aged Roddy. Christopher in a footnote says that Roddy must have been 18 at this time. (
Lost Years: A Memoir, 1945-1951
, by Christopher Isherwood. WSJ, Page 17). Roddy's last important film from this period was Orson Welles' MacBeth released in 1948.
[
Edit
]
Tab Hunter
mentions Roddy in his autobiography
Tab Hunter Confidential : The Making of a Movie Star
 : "While making shakes [at the Rexall drugstore at Hollywood and Highland], I met my first bona fide movie star. It was the night of the big 1948 Christmas parade...Dick Clayton brought along Roddy McDowall. Roddy was only twenty, but he'd been in pictures his whole life....We hit it off, gabbing and laughing...." (
Confidential
, p48). Several years later, Tab and Roddy posed shirtless for a fan magazine spread entitled "Calling All Girls".

His signature in 1949


As "Roderick Andrew McDowall", he was naturalized 9 Dec 1949 in the US District court at Los Angeles.
In the 1950 and 1952 Voters Registration Index, Roderick Andrew McDowall, his sister Virginia, and their mother Winefriede were all listed, living together at 10418 Dunleer drive.  All registered as Republicans.  In the 1954 Registration, he is listed without his mother and sister, but also living at the same address that same year, is a Patrick Palombo and also a Burnett and Doris Essey.
Elizabeth Taylor
had married Nicky Hilton in 1950.  They only lived together briefly before their divorce was finalized in 1951.  Shortly afterward when Elizabeth was sent a bill for her stay in the Hilton, she was so upset, she invited over
Montgomery Clift
and
Roddy McDowell
and they together trashed the room.
[
Edit
]
Farley Granger
mentions Roddy in his autobiography
Include Me Out: My Life from Goldwyn to Broadway
(see
here
). He knew Roddy prior to Farley's enlistment in the Navy at age 18 [this would have been 1943], and then much later he further remarks, "It was 1953. I found an apartment on the Upper East Side in Manhattan....My old pal Roddy McDowall and also Monty Clift lived
on the same block
" (emphasis mine) (see
page 142
)
It is true that Roddy has moved to New York City. In one interview he claims this was because when he was seventeen, his agent told him that he'd never work again. So he moved to New York sometime between then and 1952 and took to Broadway.  For the next eight years, the stage was his only important output.

Eddie Fisher, in his autobiography Been There, Done That mentions Roddy McDowall partly because of the years of hatred Eddie had for Roddy. They didn't always hate each other, as Eddie had first met Elizabeth at a party that Merv Griffin and Roddy threw in an apartment they were then sharing in the Dakota, at the corner of 72nd and Central Park West. He states, "She spent most of the evening in a corner with her close friend Montgomery Clift....She was recently divorced from her first husband Nicky Hilton...." (pg 136) (So this must have been 1951 or 1952.)
One of Roddy McDowall's fan sites claims that he studied professional acting under the tutelage of "Mira Rostova from 1952 to 1957" which is utterly ridiculous, really almost sardonic. Someone has taken the expression that "he studied acting with Mira" to mean under her, which is ludicrous. Mira is of course well-known as the acting coach of Montgomery Clift, but she never "taught" in that sense.
In addition to Elizabeth, Roddy was a very close friend of Montgomery Clift. (see here) In addition, Virginia, Roddy's sister was once Monty's secretary. In Capua's book, Roddy is quoted as saying about Monty: "The only thing we can do, Maureen [Stapleton], is hold his hand to the grave." (see here)

[Edit]
Again Tab Hunter in his autobiography puts Roddy living in New York City in 1960 when he says "Roddy McDowall and I had seen Rocco and His Brothers, at the Sutton Theater in New York when it first came out" (pg 243).

In 1960 Roddy starred in the 25th episode of Twilight Zone "People Are Alike All Over" in which a stranded astronaut learns a valuable lesson.

Right about the time that Liz was having an affair with Richard Burton, while still married to Eddie Fisher (1962 ish), Eddie comments in his autobiography that "...Roddy McDowall and his close friend
John Valva
..." (page 243) And again, "...my years of hatred for Roddy McDowall were finally going to pay off. He would never give
Mia
[Farrow] permission to marry me...." (pg 289)
[
Edit
]
Roddy McDowall, had a significant part in
1963's Cleopatra
opposite
Elizabeth Taylor
, Richard Burton (as Antony) and Rex Harrison (as Caeser).  When casting him in the part, he got producer Joseph Mankiewicz to add a small part for Roddy's then-lover
John Valva
, with whom he had been living in New York City.  Most sources will indicate this part as "Valvus", however the script indicates his name as "Vallus".
During or shortly before the filming of Cleopatra,
Elizabeth Taylor
and Richard Burton, both then married, began an affair with each other.  During the filming of Cleopatra, both Eddie Fisher, and Sybil Burton, being the odd ones out, returned to New York prior to the end.  After they all had returned to New York City, Sybil Burton (Richard's soon-to-be ex-wife) moved into the same building where John and Roddy were living, but then moved to Staten Island.  John began visiting Sybil, and thought he had fallen in love with her.  John moved in with Sybil, but a few months later it was over.  He later is quoted as having said, "I left Roddy to be with Sybil."  John is possibly that one, born in 1935 who died in 1999 in New York.  A site reader tells me that John did marry someone and also has a son.  I have not verified that.
In 1966, Roddy had a cameo in
Montgomery Clift'
s last film "The Defector".
[
Edit
]
Roddy McDowall as "Cornelius" is one of the most remembered characters from
1968's Planet of the Apes
, starring Charlton Heston. (See also
Planet of the Apes without Makeup
.)
Roddy McDowall appeared, in a small role in the 1971
Disney
fantasy film
Bedknobs and Broomsticks
, as the village priest.
Roddy's mother Winsfried died in 1965 in Los Angeles. Roddy, having lived in New York City for twenty years, now in 1971 returned to Los Angeles, and started appearing in numerous television and movie work. His father Thomas Andrew McDowall died in Los Angeles in 1978.
[
Edit
]
In 1988, Roddy McDowall starred in the
horror movie Fright Night 2
, as the host of a late-night television horror show.  If you're a subscriber, then you know
we all watched this one together on 4 Jun 2010.
Lauren Bacall in her memoir
By Myself and Then Some
mentions Roddy (page 447). "He was someone I looked forward to — loved seeing — loved hearing from."
Roy Moseley who was with Bette Davis the last part of her life, mentions Roddy McDowall in his own autobiography here). When Julie Andrews asked Roddy why he didn't write a book about his life, he said, "I have too many friends, I know too much, I couldn't." (see here)
[Edit]
Roddy became an accomplished photographer and published several books of his photographs of famous people. Roddy McDowall died of lung cancer at his home in Studio City, California. He was cremated and his ashes scattered at sea.
Roddy McDowall has a star on the Hollywood Walk of Fame at 6632 Hollywood Blvd, and there is an honorary rose garden "at the Woodland Hills grounds of the Motion Picture & Television Fund" (xmoppet.org) with a statue of him in-costume as Caesar from the Planet of the Apes. His sister Virginia, slightly older than he, survived him, but died Dec 2006.

[Edit]
Primary sources for 1
Secondary sources for 2
Further reading