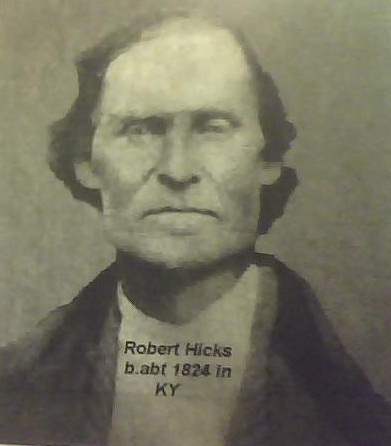 Robert Hicks
born about 1824
in Kentucky


I was sent the picture on the right marked as shown "Robert Hicks b abt 1824 in KY".
He is I believe the father of the next picture I was sent (not shown here), of a man or boy about 16 to 24 years old.  The bottom of that picture is marked "J A Lindgren, photographer, Cleburne, Texas".
On that picture is hand-written in pencil : "John Hicks b 1852 Breathitt d 1903 in El Monte, CA after discharge from Army, died of cancer @ the home of Robert Hicks.  John & Isaac spent a couple years in Johnson County, Texas.  Hicks descendants of the Maryland / Sullivan Co, TN also in Johnson county.  Some of the Southard lived there also.
The next item I received was originally a trifold packet, stamped "Additional Evidence" on the outer.  What I received however, has the pieces all imaged on one sheet.  It states that it is the Claim of Rachel E widow of Jasper R Wisdom, K-13 - [something I can't read]
Stapled to this, I presume is part of the interior portion which states "General Affidavit, 23 Sep 1891".  It is a pension application for "Rachel Emeline Wisdom, widow of Jasper Wisdom of Co K 13th Regt. Kansas Vols." and is dated Sep 1891.
In this case appeared "D Addison M Bourland, aged 66, a resident of Van Buren, Crawford County, Arkansas, and Bettie Bourland, aged 49, a resident of Van Buren, Crawford County, Arkansas".  They state they have been acquainted with the claimant for "27 years and 42 years respectively" and that they also knew the death soldier Jasper Wisdom from "1849 and 1856 unto his death".  They then give longer statements, in particular Bettie states that the claimaint is her elder sister.  The page is hard to read, but it seems like Bettie states that Rachel's name before marriage was Rachel Emeline Williams.  And that at the time of the said marriage (between Rachel and Jasper) that Bettie states she was an orphan living with her half-brother Robert Hicks.  It appears that Bettie next states that the soldier died in "California 12 years ago".
The next page is a Medical Affidavit signed by A M Bourland, MD in Crawford County, Arkansas, which just details how Bourland knew Jasper Wisdom, who he states he met "not a great while after" A M had returned in 1848 from the Mexican War.  That is the end of this packet.
The next page I received is a modern recreation of the land layout of T11N-R28W in Franklin County showing that John W Williams, had the land next-door to William F Hicks in Section 28.  Isaac & Martha E Hicks are shown two sections to the left in Section 30