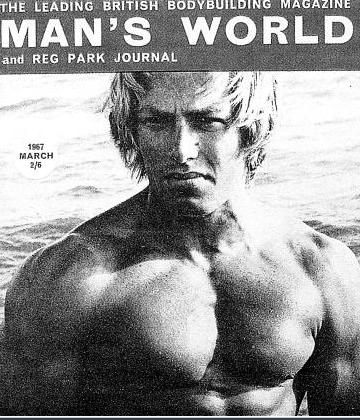 Peter Hinwood
March 1967


[
Edit
]
Written 2011 by Will Johnson,
wjhonson@aol.com
, Professional Genealogist
Creative Commons Attribution 3.0 License
This article is part of my series
"
Sexy Blonde Male Actors
"
1 Peter Hinwood
Peter Hinwood, born 17 May 1946 in Bromley, Surrey, Kent as "Peter W Hinwood", is best-known today for his role as the monster "Rocky" in the cult-classic
The Rocky Horror Picture Show
starring Tim Curry, Susan Sarandon and Barry Bostwick (released in the U.S. Sep 1975). 
Vito Russo
, in his tour de force "The Celluloid Closet" called it "Probably the 'gayest' film yet made by a major studio..." (pg 52)
Peter was born in 1946, his birth entry states that his mother's maiden name was Wylie.  This is also apparently his middle name as "Peter Wylie Hinwood" comes up in a Google search, as an officer (or perhaps the only officer) of Peter Hinwood Limited.
Peter Hinwood started off as a photographer's assistant, but by the age of 22, while living in London, had become a well-known male model making 5,000 pounds a year (about $8 to $12 thousand dollars).  At that time, he had an apartment in Chelsea, drove a Ford Mustang, and "bookings are coming faster and faster."
[
Edit
]
He is described as 6'2", with a "thatch of straw-coloured hair" and "three times a week has a workout at a gymnasium."  At first he says "his people" (his parents?) were ashamed to admit that their son was a model, and when he's "chatting up a bird at a party" (a female) he "tells her I'm a photographer."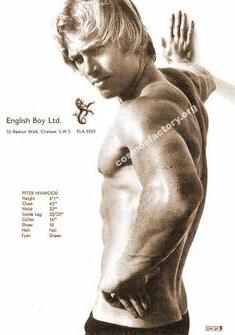 Peter Hinwood
English Boy, Ltd
Credit: Last.fm
[
Edit
]
A book on Ossie Clark calls Peter,
at this time "a model at English Boy Ltd."  A male modeling agency started by
Sir Mark Palmer
("Age 25" in 1967) and his partner Kelvin Webb ("age 21" in 1967).
David Mansour, in "From Abba to Zoom"
states that Peter was "at the top of the male modeling industry."  He is mentioned as
"the gorgeous monster" in Peter Schlesinger's book "Checkered past".
  He is mentioned in the
biography of Derek Jarman.
[
Edit
]
Peter Hinwood as
Hermes in
L'odissea 1968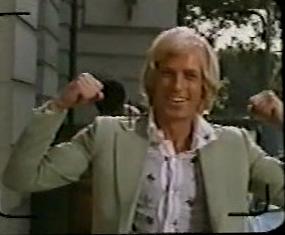 Peter Hinwood as Guy in
The Ballad of Tam Lin 1970
Click to Enlarge


He played the Greek god Hermes in a
1968 television mini-series called L'odissea (The Odyssey)
. (
This is evidently a snippet at this link.
)  He was also "Guy" in the
Roddy McDowall
directed movie "The Ballad of Tam Lin", also apparently called "The Devil's Widow".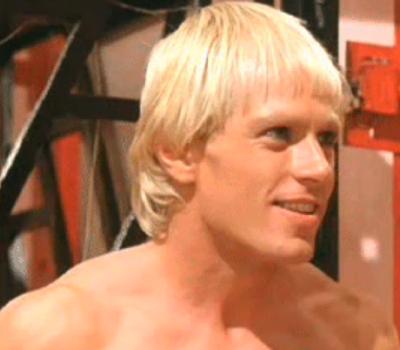 Peter Hinwood as Rocky 1975


[
Edit
]
When he appeared in The Rocky Horror Picture Show,
Dane Lanken of The Montreal Gazette
called him a "blond-haired, muscle-bound perfect specimen of manhood."  A few years later,
Sherwood Anderson, writing 6 Apr 1979 in the Spokane Daily Chronicle
comments that "Peter Hinwood, a former photographic model, provides a beefcake presence, and little else, as Rocky Horror."  Rocky, who is mostly mute, sings a song which I think is called something like the Sword of Damocles, but according to his Wikipedia article, the voice is that of Australian singer Trevor White.
[
Edit
]
His last film appearance was a non-speaking bit part in the homoerotic Jarman picture Sebastienne.  At some point, later than this, he apparently posed for nude pictures (linked below).
U.S.A. Today, writing in 1990, identifies Peter Hinwood, then age 44, as "now an antiques dealer".  That same year, The Toronto Star states that Peter Hinwood "still models, and appeared in the Dino De Laurentis film, The Odyssey."
[
Edit
]
A company Peter Hinwood Limited was formed in 1978 per this entry at Dellam Corporate Information, dealing in "retail second-hand goods".
Writing on
9 Nov 1990 for the Cox News Service, Gary Yandel states
: "Peter Hinwood (Rocky): Gold lame BVDs will never be the same since he wore them.  Today he's an antiques dealer in England."  The briefs he wore however were not lame (which is a woven material), but actually a gold-dyed kid leather.
In 1997, in the St Petersburg Times, we find the statement that "Peter Hinwood (Rocky Horror) operates an antiques store in London and reportedly hates The Rocky Horror Picture Show..." 
A 9 Oct 2000 article in People magazine, "Let's Do the Time Warp Again" by Dan Jewel
calls Peter "an art and antiques dealer in London" and quotes him as saying "I can't act, I cringe with embarrassment every time I see myself on film, I relish a quiet peaceful life."  This article adds that he sold his gold lame pants "six years ago" through an auction house for nearly a thousand dollars.  Peter Hinwood was interviewed in 2002 for a book on the movie.
Recently on the hit television series Glee,
Chord Overstreet
played the part of "Rocky"' in their rendition of The Rocky Horror Picture Show.
[
Edit
]
See Also
[
Edit
]
2 George Y Hinwood
A George Yorke Hinwood was born in 1894.  George Yorke Hinwood was living in 1923 when he sailed from Buenos Aires to Southampton. A George Y Hinwood married a Miss Wylie in 1941 in Bromley, Kent. A George Y Hinwood died in Lambeth in 1960.   Was this all the same person?
[
Edit
]
3 Kathleen Wylie
A Kathleen M Wylie, born in 1915 in Bromley has a mother's maiden name Malling on her birth entry.  Kathleen Mary Hinwood born in 26 Nov 1915, died Sep 2004 in Bromley, Kent.  Kathleen M Hinwood married Douglas L Zeidler in 1966 in Bromley, Kent.