[
Edit
]
I am a professional genealogist. Contact me, if you'd like help in tracing your family tree, by clicking the below button.
This knol written and copyright 2011 by Will Johnson,
wjhonson@aol.com
, Professional Genealogist
The numbers next to the headings below, indicate the position of that person in the
Ahnentafel
(Ancestor Table) with Chord himself in position 1.
Chord Overstreet was born in Nashville, Tennessee, the third child of his parents Paul and Julie.  He is most well-known in his role as Sam Evans on the hit TV series "Glee".
2 Paul Overstreet
Paul Overstreet, singer and songwriter was born 17 Mar 1955 in Newton, Mississippi, youngest of the five children born to William Overstreet and his wife Mary.  His father "
left when Paul was five
".  Paul went to
high school in the small community of Vancleve, Mississippi
.  In 1973 he moved to Nashville where at first he slept in his car.  He married to Dolly Parton's sister
Frieda Parton
(born 1 Jun 1957).  Freida had a daughter Jada, who in a People magazine article dated 1984 is called "5-years old", and who also appears in Freida's video Oriental Dolls. 
Watch Frieda Parton in her music video "Oriental Dolls"
.  That marriage ended some time before 1984.  Freida had also been married to Mark Andersen.  It is
not clear to me
whether Paul or Mark is the father of Jada.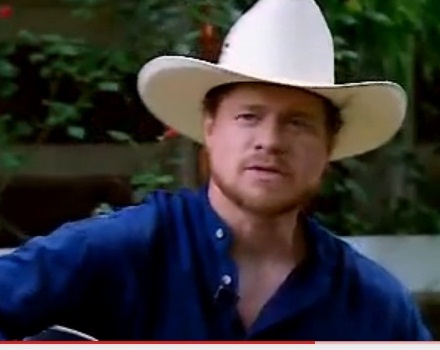 Paul Overstreet


It was not until 1982 that Paul made an impression as a songwriter. George Jones had a US country hit with 'Same Old Me' and Overstreet was able to 'buy a lot of booze and drugs and a new car'. The country hits continued with 'Diggin' Up Bones', 'On The Other Hand' and 'Forever And Ever, Amen', all for Randy Travis, and 'You're Still New To Me', a duet for Marie Osmond and Paul Davis.
A "Paul L Overstreet" with this same birthdate was living at several different addresses in Nashville in the U.S. Public Records Database.  He met his wife Julie Miller on 11 Nov 1984 when she "was the make-up artist on a TV show on which he appeared", and they married three months later.  In 1985, and with the help of his new wife, Julie, Paul Overstreet decided to give up drinking and drugs and devote his time to God and his family.  They have six children: Nash, Summer, Chord, Harmony, Skye and Charity.  When Paul visited VanCleve in 2011 for a public ceremony in his honor, his father William was also there.
3 Julie L Miller
A Julie L Miller Overstreet with birthdate 11 Jun 1957, lived at the same address as Paul above in Nashville.  This must be his wife Julie.  
This article in Billboard
seems to imply that Steve Miller must be either Julie's brother or dad, I'll need to check up on his vitals to figure it out.  
Michael W Smith used Julie Miller Overstreet
for "Grooming", what does that mean?  Both Paul Overstreet and "Julie Miller"
occur here on a Billy Graham
album, both as composers.  Apparently Julie is a make-up artist, or was.  I found a note that she and Paul have (or at least had) six children and lived on a farm outside Nashville.  Another note indicates that perhaps Miller is not her maiden name, it might be Julie Griffin.  I need to follow up on that more.  
Hmmm how strange
 a Julie Griffin Miller born 12 Jul 1956 and a Julie Miller Overstreet born 11 Jun 1957.  Co-incidence. "
Miller Overstreet has been a free-lance specialist in album, video, make-up and set design."  I just found this Steve Miller who had been at Polydor on LinkedIn, you can tell by his graduation year from college that he must be Julie's older brother, not father.

4 William Overstreet
William "Bill" Overstreet has been called a Baptist preacher, but I also saw another reference which just said that he would "preach in small baptist churches", which sounds a bit like an itinerant preacher, indicating he probably had some other job as well.  The family was living in Newton, Mississippi in 1955 where Paul was born.  William and Mary divorced when Paul was six years old.
5 Mary
She was living in Newton, Mississippi in 1955 where Paul was born.


Wjhonson's Knols - Total Pageviews - Independent Counter