[
Edit
]
Theodosia Hawkins-Magill was a great landed heiress, and is an ancestress of
Sarah Ferguson, Duchess of York
.  Theodosia occupies
position 451 in Sarah's Ahnentafel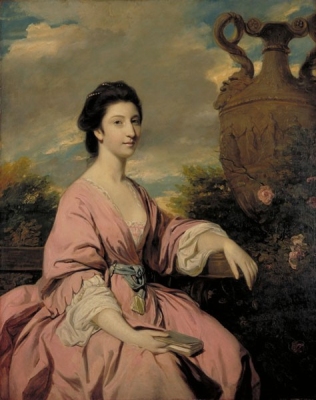 Theodosia Countess Clanwilliam
painted by Sir Joshua Reynolds 1765


Theodosia was born 5 Sep 1743, the daughter of Robert Hawkins-Magill of Gill Hall in the town of Gilford, the diocese of Dromore, and the county of Down; esq; MP co Down and his wife Anne Bligh.  Although Anne was already 24 at this time, her marriage was probably arranged by her brother Edward Bligh who was Baron Clifton and 2nd Earl of Darnley, as their parents were both dead.  Robert was a Member of Parliament for county Down, as his father John had been a generation earlier.
[
Edit
]
Although Robert had been married previously, to Rachel Skeffington and by her had a son, that son died young, and so Theodosia at her birth, was his sole heiress.  Theodosia was probably named for her own maternal grandmother Theodosia Hyde (1695-1722) who had been Baroness Clifton suo jure, but died in childbed.
[
Edit
]
Robert and Anne had two more daughters, both named Rose, who each died as infants.  Robert died 10 Apr 1745 before Theodosia was two years old.  She was Robert's only surviving child.  Two years later, her mother Anne, remarried Bernard Ward (1719-81) who much later in 1781 would be created 1st Viscount Bangor, the same year he died.  By this union, Theodosia gained two half-brothers: Nicholas Ward baptised 5 Dec 1750, and Edward Ward born 30 Apr 1753.  But Anne and Bernard separated in 1766/67, she leaving the young children in the care of their father at Castle Ward.  Edward Ward would later on 15 Feb 1783 marry Anne's niece Arabella Crosbie, daughter of Anne's sister Theodosia (Bligh) and her husband William Crosbie, 1st Earl of Glandorre.  They are ancestors of actor
Cary Elwes
.
[
Edit
]
When Theodosia was 21, she married on 29 Aug 1765 to John Meade of Ballintober, co Cork, 4th Bnt; who was then a Member of Parliament for Banagher, but who in 1776 would be created 1st Earl of Clanwilliam.  Her father Robert had died owning immense estates, but he had entailed them on the future sons of Theodosia's future marriage, so any husband she got would only enjoy them for his life.  This did not matter much with John Meade, as he brought to their marriage lands even broader than hers.  Together they made one of the wealthiest couples then in Ireland.  John was the only son and heir of Robert Meade, 3rd Bnt by his wife Catherine Prittle (d. 1779), daughter of Henry Prittle of Kilboy, co Tipperary.  Robert had died in 1744, Catherine in Nov 1748 remarried to Henry Cavendish (1707-76), Bnt, and had a son by him.  Henry had just before this marriage, been named Commissioner of the Revenue in Ireland.  When he died in 1776, he had been Teller of the Exchequer for twenty years and accumulated a 75,000 pound debt.  Curiously, Henry Cavendish already occupies
position 294 in Sarah Ferguson's Ahnentafel
, through his daughter
Pyne Cavendish
and her husband Maurice Crosbie, Dean of Limerick.  Maurice was the brother of William Crosbie above.
[
Edit
]
Anthony Malcomson
has opined that the union of the fatherless John and the fatherless Theodosia and the immense fortune they brought together could be called "poor little rich boy marries poor little rich girl".  The year after Theodosia married John, John probably on account of the recognition of his landed fortune, was created Baron Gillford and Viscount Clanwilliam, elevating him to the House of Lords, which seat he took in 1767.  John Meade was raised to a peerage, created in 1776 Earl of Clanwilliam, which means Theodosia would then become Countess of Clanwilliam.  According to John Lodge, they had their seat at Lissane, in co Tipperary.  Theodosia and John had five sons and five daughters, including their first son Richard born 1766 who would succeed as Earl of Clanwilliam, and their second daughter Catherine Meade born 7 Oct 1770, who
occupies position 225 in Sarah Ferguson's Ahnentafel
.  For whatever reason, they acquired outrageous debts, so much so, that about 1783, they had their personal property seized and sold at public auction.  Lord Clanwilliam is said to have at least partly dissipated his fortune on "stableboys and mistresses", which raises the eyebrow and makes one wonder if the implication here is that he was bisexual.
On 30 Jun 1789 in Dublin, they married their daughter Catherine Meade to Richard Wingfield who on his father's death in 1788 became 4th Viscount Powerscourt.  Their son who would become the 5th Viscount Powerscourt was born in 1790, but Catherine died 17 Feb 1793 in Ireland, buried at Powerscourt.
[
Edit
]
Their son, Richard, Lord Gilford, went to the continent where he met a penniless aristocrat from Bohemia, Countess Caroline Thun.  Caroline was a true blue-blood, her near ancestors include Christian, King of Denmark and Norway 1588-1648; and Hartmann III, Prince of Lichtenstein.  It's possible that he married Caroline in secret while there.  When they came to Ireland, acrimony ensured.  Richard wanted funds to settle on his wife and any children they might have, and apparently his mother was greatly annoyed at his choice of wife, or perhaps they saw an opportunity to break the entail.  At any rate, break it they did, and the lands were sold off in pieces.  They had to obtain an Act of Parliament to do this, and such was passed in 1795.
Lord Gilford stayed in Vienna until John died, which might lead one to speculate that John was the source of the bad blood.  John Meade, 1st Earl of Clanwilliam died 19 Oct 1800 at St Stephen's Green, Dublin where he kept a townhouse.  The Dowager Viscountess Massarene (Anne Eyre) writing that he was dying in his townhouse with that woman with whom he had lived for some time and would not see his own family.  He was buried in Dublin.  Lord Gilford's wife had also died that same year, and he returned to Ireland and reconciled with his widowed mother, but then returned to live the remainder of his life in Vienna, dying in 1805.  He evidently died from a fever after mixing fresh dung into his flowerbed, which sounds like listeria infection to me.  Theodosia made her will dated 1807, and outlived John by 17 years, dying "after a fortnight's illness" 2 Mar 1817 at Brighton.  Her obituary was published in "Gentleman's Magazine, 1817 p283", at
this link in the New Annual Register
, and at this link in the
Asiatic Journal of the East India Company
.
[
Edit
]
Sources and further Reading
[
Edit
]