Please
sign in
and rate this article by answering the questions at the right ---->>
Directory Project
English Knol Project
Montgomery Clift (you are here)

Montgomery Clift (you are here)
[
Edit
]
This article should be cited as :
I am a professional genealogist. Contact me, if you'd like help in tracing your family tree, by clicking the below button.
See Also:
Montgomery Clift on YouTube
Also see my original version of this same biography on my website at
"Montgomery Clift" at countyhistorian.com
  If you'd like to add or correct anything, please email me.  I am available for hire to assist you to trace your family or create a biography of you or your relative.  I charge $25 per hour.
[
Edit
]
Edward Montgomery Clift
Early life
Montgomery Clift was born 17 Oct 1920, several hours after his twin sister Roberta Ethel "Sister", in Omaha, Douglas County,
Nebraska
-- the son of William Brooks "Bill" Clift and his wife Ethel "Sunny" Blair.  Montgomery's father was at that time the vice-president of Omaha National Bank.  William and Ethel also had one other child, an older son Brooks Clift born 18 months earlier.
A note about names.  Montgomery's mother, always called "Sunny" by her relations, was adopted at birth.  Her reported father was a Blair, and her reported mother an Anderson, her adoptive family were Foggs.  The curious circumstances of her birth explain the confusion in various sources regarding what to call her.  Her nick-name "Sunny" is supposed to be for her disposition and voice.  As for Montgomery's sister, Montgomery always called his twin "Sister".  She is called Ethel in her father's obituary.  Most mentions of her in biographies, probably following the lead of Patricia Bosworth call her Roberta.  But Bosworth only uses this name at her birth, later calling her Ethel as she was apparently later known.  In the Ships Lists extracted below, she is called Roberta, but in the Texas Birth Index for her children, she as mother, is called Ethel.  Her name
might
have been Roberta Ethel or Ethel Roberta, I'm just not yet sure.  Their brother was named William Brooks Montgomery, Jr but he is most often simply called Brooks.
Montgomery and his two siblings were educated at home by his mother and private tutors.  Sunny, reportedly told, at the age of 18, that she had aristocratic bloodlines, decided to raise and educate her children in a peculiar fashion.  They had private tutors and a live-in nurse.  Sunny was reportedly told that her own mother, who never corresponded with her, had died in 1925, so at that time she re-doubled her efforts and enlisted the help of her husband to contact her natural family.  She made contact with her aunt Sophie in 1926 who, according to Sunny, told her that she had to take her children to Europe to live for a while.  They spent quite a lot of time in Europe as Sunny was told that this was the way "thoroughbred" children were raised, as she called them.  She tried to instill the idea in her children that they were of-a-higher-class and must not mix with the common people.  She would often tell Monty that a certain friend was common, not of his class, of no background.  Several people having met Montgomery and the family during this period, came away with the impression that he was quite a snob, as was his mother.
Brooks later told another biographer that this story, that Sophie told them to go to Europe, was just an excuse by his mother, so she could keep traveling, and that his father would do anything to please her. (see ''
Montgomery Clift: A Biography
'', by Michelangelo Capua)  Montgomery's father did not accompany them on these trips to Europe and possibly the impression might be raised that he was detached.  But his letters as Patricia Bosworth points-out use phrases like "I miss you terribly when you're away, but mother knows best."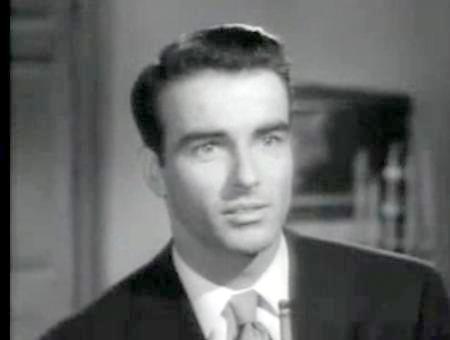 Montgomery Clift in 1951's
"A Place in the Sun"


[
Edit
]
Career
Overview
His article at the Encyclopedia Britannica Online states : "American motion-picture actor noted for the emotional depth and sense of vulnerability he brought to his roles. Along with
Marlon Brando
and
James Dean
, he helped delineate a new paradigm for American cinematic heroes."
[
Edit
]
Background
The Great Depression had hit the Clift family. Their investments worth nothing, their antiques were auctioned off and they moved from their great house in Highland Park, Illinois, to a small apartment on West Ninth Street in Greenwich Village in New York City.  Sunny took jobs, as a secretary and as a cleaning lady to make ends meet.  At this point, Bill became an insurance-policy salesman.
Meanwhile, Sunny's restless foot, made her take the children, along with their tutor Walter Hayward and go rent a house in Sarasota, Florida for the winter of 1932.  Hayward, knew a man who needed a 12-year-old boy for a part in a local production.  This is how in March 1933, in Sarasota, Monty made his stage debut in a local theater production of ''As Husbands Go''.  On their return to New York, his mother, realizing his potential, took him around to agents, auditions and modeling gigs.  He a bit later, began appearing regularly on Broadway.  His first appearance, at age 13 was in ''Fly Away Home''.  He would appear on Broadway for about ten years before his first Hollywood films.
On 27 Jan 1935, an article in the ''New York Times'' (page X2) by Theron Bamberger about the actors in this play ''Fly Away Home'' mentions Clift prominently.  For my purposes now, it gives a few datapoints.  The family in 1934 was living in Sharon, Connecticut.  The father "William Brooks Clift, well known in Wall Street, where he formerly was a broker, and is now the president of an insurance company."  Monty he says "was both handsome and intelligent.  He had lived a good part of his life abroad, spoke two European languages fluently and was exceptionally bright....the boy has a natural histrionic instinct which, if he wants to stick to the theatre should take him far."
Monty's Encyclopedia Britannica Online article states of this period: "From 1934 to 1945 he performed regularly on and off Broadway, appearing in such notable plays as Robert Sherwood's "There Shall Be No Night" (1940), Thornton Wilder's "The Skin of Our Teeth" (1942), and Lillian Hellman's "The Searching Wind" (1944)."
After several favorable reviews, Hollywood wanted him, but he rejected many offers looking for just the right vehicle.  This would be a constant theme in Clift's career -- that he refused to perform in "trashy" productions, which to his mind, were most of them, only seeking the very best which he thought could show his talent and range without typecasting him.
[
Edit
]
Films 1946-1950
Montgomery Clift in
"The Search"


His first film work actually started shooting in 1946.  This was ''Red River'' with John Wayne, but due to a delay in the release, this film became his second film released.  His first film released being ''The Search'', playing American G.I. Ralph Stevenson in just-post-WWII Germany, for which he was nominated for an Academy Award in the category "Best Actor in a Leading Role".  In ''The Search'' Monty finds a young boy, orphaned by WWII and adopts him, albeit temporarily as the film ends by the boy being re-united with his mother, discovered alive, who had similarly thought her son dead.  Bosley Crowther reviewed ''The Search'' for the ''New York Times'' 24 Mar 1948 and about Monty' performance stated that he : "gets precisely the right combination of intensity and casualness into the role...." (
Click here to buy "The Search" on DVD at Amazon
)
Red River, finally released later that same year, "... is considered by many to be one of the best westerns ever made", opines his EB entry.  He plays a sensitive cowboy who challenges his adoptive father the rough, hardened, rancher John Wayne. (Click on
VHS
or
DVD
to buy "Red River", with Montgomery Clift and John Wayne, at Amazon.)  You can watch Red River on YouTube
Part 1
Monty starred as Morris Townsend the possibly-scheming suitor, opposite the heiress Olivia de Havilland as Katherine Sloper in 1949's ''
The Heiress
''. (Click on
VHS
, or
DVD
to buy "The Heiress" with Montgomery Clift and Olivia de Havilland at Amazon.) In 1950 he, as Danny MacCullough starred in the film ''The Big Lift'', about two Air Force sergeants who fall in love with two women in Berlin during the Berlin Air Life. (Click on
VHS
or
DVD
to buy "The Big Lift" with Montgomery Clift at Amazon.)
[
Edit
]
Films 1951-1956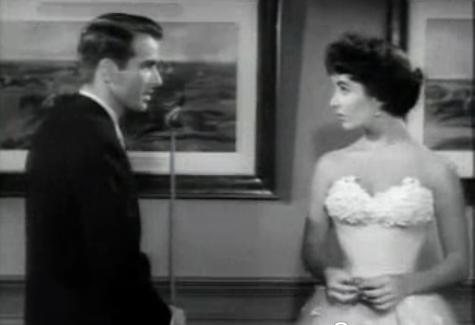 Montgomery Clift and Elizabeth Taylor in 1951's
"A Place in the Sun"


He appeared as "George Eastman" opposite
Elizabeth Taylor
(see "
Elizabeth Taylor Movies on YouTube
") as "Ann Vickers" and
Shelley Winters
("
Shelley Winters" at countyhistorian.com)
in 1951's ''A Place in the Sun'' directed by the legendary
George Stevens
. (Buy it on
VHS
, or
DVD
, watch a
Seven Minute Interview with Liz
.)  The movie was based on the 1925 novel "An American Tragedy" by
Theodore Dreiser
, which was based on a real-life crime.
In the film
Shelley Winters
is his pregnant working-class girlfriend, when he meets the glamorous socialite
Elizabeth Taylor
and falls for her.  Shelley is disposed of, by a "tragic accident" when the two of them are out together in a boat, and she falls overboard and drowns.  He is later convicted of her murder. (Read a bit about the true story
here
, and
even more here
.)  For his work in A Place in the Sun, Monty was again nominated for "Best Actor in a Leading Role". (Click on
VHS
or
DVD
to buy "A Place in the Sun" at Amazon.  Also watch this
Seven Minute Interview with Liz
.)  Elizabeth Taylor who up until this part had breezed her way through her roles, was forced by Stevens to reach deep inside herself to pull out the performance for which he was looking.  Monty helped her develop her character with Method acting techniques he had learned in New York.  She would later appear again under Stevens in the classic "Giant".
[
Edit
]
Montgomery Clift in
"From Here to Eternity"
with Burt Lancaster
and Deborah Kerr



Monty later appeared opposite
Burt Lancaster
and Deborah Kerr, in arguably his most memorable role in 1953's ''From Here to Eternity'' as Private Robert E Lee Prewitt, and for this work, he was again nominated for "Best Actor in a Leading Role".
Prewitt is a complex and tormented soldier who endures ridicule and harassment to stay true to his moral principles.  He refuses to join the boxing team, because he had once blinded a man with whom he was boxing.  When his friend played by Frank Sinatra, is beaten to death by an officer played by Ernest Borgnine, Prewitt hunts the officer down and kills him in an alley.  Prewitt goes AWOL, but then is shot by a sentry when he attempts to return to camp.  (Click on
VHS
or
DVD
to buy "From Here to Eternity" on Amazon.)
His work in these last two films, is considered by some to be the peak of his career, although he continued working until his 1966 death, which subsequently, combined with his drinking and drug abuse, has been called the "longest suicide in Hollywood history."
Also in 1953, he starred in
Alfred Hitchcock
's ''I Confess'', about a Catholic priest who won't break the sanctity of the confessional even if it means risking his own life. (Click on
VHS
,
download
or
DVD
to buy "I Confess" at Amazon.) And he also that year, starred in the rather-bad film ''Terminal Station'' also called ''Indiscretion of an American Wife'', opposite Jennifer Jones the then-wife of producer David O. Selznick.  The film is about an Italian man who falls in love with an American woman. (Click on
VHS
to buy "Indiscretion of an American Wife" at Amazon.)
[
Edit
]
Accident
In 1956, Monty was working opposite
Elizabeth Taylor
and Eva Marie Saint, the three stars of the film ''Raintree County'', which would be released late the next year on 20 Dec 1957.  In this film he plays John Wickliff Shawnessy, a man who drifts away from his high school sweetheart Nell Gaither, played by Eva Marie Saint and enters into a passionate, but loveless, marriage with Susanna Drake (
Elizabeth Taylor
) a wealthy New Orleans belle.  He later discovers that Susanna's mother died in a lunatic asylum and that she has inherited the family curse.  He leaves home to fight in the Civil War, and reflects on his life. (Click on
VHS
,
Book
, or
DVD
to buy "Raintree County" from Amazon.)
On 12 May 1956 during the filming Montgomery had a serious car accident which permanently damaged his looks.  He had been at a party thrown by
Elizabeth Taylor
and her second husband Michael Wilding, at their home in the hills of Coldwater Canyon in Beverly Hills.  Also at the party was
Rock Hudson
and his wife
Phyllis Gates
(who had been married the past November), and Monty's close friend, fellow-actor
Kevin McCarthy
.  Upon leaving, Monty in his car, asked Kevin McCarthy to drive in front of him down the hill as Monty was unsure of his ability to negotiate the twisting curves in the dark without guidance.  His parting words to the group were: "Kevin has to help me down that mountain or I'll drive around in circles all night."
On the way down, Monty lost control of his car, rolled it down a hill and smashed it into a telephone pole.  Years later, in a 1962 interview on the ''Hy Gardner Show'', Monty stated that he had briefly nodded off. 
Kevin McCarthy
, noticing Monty's headlights no longer behind him, went back and found the car down the hill. He went down to it and at first couldn't see where Monty was because he was down on the floor, and it was very dark.  His face was left "a pulpy mess", evidently from being crushed by the steering wheel.  Kevin raced back up to Elizabeth and Michael's house: "Monty's been in an accident! I think he's dead!"
They called a doctor and an ambulance, while Elizabeth is reported to have run down the hill, climbed over the back seat (as the front doors wouldn't open) and cradled his head in her hands until he was taken to the hospital.  She rode in the back of the ambulance, and Phyllis Gates in the front.  "His nose was broken, his jaw shattered, his cheeks severely lacerated, and his upper lip split completely in half." (Bosworth, p 2)
The doctors did their best to reconstruct his features as they were.  It took several weeks for him to recover, but he insisted on finishing the movie.  Elizabeth Taylor brought him to the
Chateau Marmont
, where she leased the penthouse as a place for him to recuperate.  Watching the film today, you can notice the odd changes in his appearance in certain scenes that were spliced together.  The left-side of his face was virtually paralyzed by the accident, his face appears puffy, and his upper lip and nose have changed.  He continued to work, but his appeal had now changed. With no longer the same type of sex appeal he once had, his drinking and drug use became, if possible, more pronounced.
[
Edit
]
Final Films
He appeared opposite
Marlon Brando
in 1958's ''The Young Lions'', as Jewish-American soldier Noah Ackerman, training to fight in WWII. (Click on
VHS
, or
DVD
to buy "The Young Lions" at Amazon) Monty also that year starred as journalist-turned-advice-columnist Adam White in 1958's ''Lonelyhearts''. (
Buy "Lonelyhearts" at Amazon
)  He next starred as Dr. Cukrowicz in 1959's ''
Suddenly Last Summer
'' opposite
Elizabeth Taylor
and
Katherine Hepburn
.  Katherine Hepburn wants her niece Elizabeth Taylor, who has gone insane, lobotomized by the doctor, to prevent her from spilling the secret of how Katherine's son actually died.  (Watch it here on YouTube
Part 1
, or click on
VHS
, or
DVD
to buy "Suddenly Last Summer" at Amazon.)   In all three of his films with Elizabeth Taylor, Monty played her love interest.  In 1960 he starred in the forgotten film ''Wild River'' as Chuck Glover, a field administrator for the TVA who is overseeing the building of a dam on the Tennessee River.
Montgomery Clift in
Judgement at Nuremberg


He starred in 1961's ''The Misfits'' with
Clark Gable
and
Marilyn Monroe
(which was her and Clark's last movie). This film tells the story of the chance meeting of a recent divorcee, a horse rustler and a drifter.  (Watch seven minutes of this film
here on YouTube
or click on
VHS
, or
DVD
to buy "The Misfits" on Amazon.)  Also that same year he appeared in ''Judgement at Nuremberg'', the story of the 1948 trial of four Nazi-era judges, several years after the war has ended, for their part in sterilization and cleansing policies.  Monty played the part of Rudolph Petersen, a mentally-handicapped man for which again he received an Academy Award nomination in the category "Best Actor in a Supporting Role".  Also in this film was Spencer Tracy,
Burt Lancaster
, Marlene Dietrich, and
Judy Garland
. (Click on
VHS
, or
DVD
to buy "Judgement at Nuremberg" at Amazon)  Despite four nominations, Montgomery Clift never received an Academy Award.
Toward the later part of his life, he became close friends with actress Nancy Walker, best known today as the mother on the TV-series ''Rhoda'' (starring Valerie Harper), and also as TV spokesperson for Bounty paper-towels.
In 1962 Monty starred as Sigmund Freud in the semi-autobiographical film ''Freud'', which recounts five years in the life of Freud.  That same year he appeared for his first television interview on the ''Hy Gardner Show''.  Watch it on Youtube (in five parts)
Part 1
,
Part 2
,
Part 3
,
Part 4
, I cannot find Part 5 on YouTube.
His last film was the 1966 ''The Defector'' in which he played James Bower, an American physicist recruited by the CIA. (Watch it on YouTube
Part 1
.)  Although he was set to star opposite
Elizabeth Taylor
in 1967's ''
Reflections in a Golden Eye
'', shooting had not commenced at his death, and his part was subsequently played by
Marlon Brando
. (Click on
VHS
, or
DVD
, to buy it at Amazon, or watch it on YouTube
Part 1
.)
[
Edit
]
Family
Montgomery, while growing, was very close to his twin Ethel, but she married in 1945 to lawyer Robert Campbell McGinnis (1918-95), moving first to Dallas County, Texas where she had two children: Mary Blair McGinnis 1946, and Edward Campbell McGinnis 1948.  And then moving to Austin, Travis County, Texas where she had her last three: John Montgomery McGinnis 1949, Michael James McGinnis 1953, and Robert Clift McGinnis 1952.
Montgomery meanwhile continued to live mostly in New York City, even while appearing at times in Hollywood movies.  He lived for a few months at a time in the Hollywood area while working in film, and like most actors, occasionally on-location wherever they happened to be shooting. He did on-occasion visit his twin at her home in Austin. Ethel McGinnis appears in an interview about him, many years after his death.
Montgomery both loved and hated his mother.  He found her controlling and interfering, but still visited her often.  Montgomery's father was an affable person, but distant and weak-willed when it came to exerting family power against his wife.  The Clifts lived in New York City until Mr Clift died in 1964.  Then at some point prior to her own death, Ethel moved to Austin, Texas where her daughter Ethel lived.
[
Edit
]
Brooks Clift
William Brooks Clift, Jr was born 4 Feb 1919 in Omaha, Douglas County, Nebraska.  He was mostly called "Brooks" to distinguish him from his father.  The family lived at times in Chicago, and New York and also Brooks with his mother and siblings lived in Europe for months at a time while growing up.
Brooks was at times an actor, producer and exporter.  When his eldest child Suzanne was born in 1941 Brooks lived in Elizabeth, New Jersey as she is called "a native of that place, but raised in Boston from infancy."  They also had another daughter Cathy who was "raised virtually by her grandmother [Ethel]".  And they had a son William, who is called age 18 in 1962.  William Brooks Clift III, born 5 Jan 1944 in Boston, became a well-known photographer, with several annual entries in ''Who's Who in American Art'' and also in ''Who's Who in the West''.
It's not yet clear when Brooks and his first wife divorced, but it was before 1962 when she is described as already remarried to Peter Thomson "a Boston engineer".  In 1951 Brooks is mentioned as the producer of NBC-TV's "Home" show. Brooks also had three children by his second wife Eleanor (Roeloffs) Clift (b. 7 Jul 1940) the noted author and columnist.  Those children were Edward Montgomery Clift, Woodbury Blair Clift and Robert Anderson Clift. Eleanor's NNDB entry
here
states that Brooks died in 1986.  Brooks IMDb entry
here
states that he died 24 Sep 1986 in Los Angeles, California.  His California Death Index entry is
here
, curiously his mother's name is there listed as Fogg.
Brooks also had a son Jamison Clift by actress Kim Stanley (1925-2001), although this son was known as Jamison Conway until the 1980s, when he changed his name. (see ''The New York Times'', 21 Aug 2001, "Kim Stanley...dies at 76")  Jamison does or did, at one time, live in New Mexico, possibly in the Santa Fe area, and might be an artist.
In newspaper accounts dated 1962, Brooks is called a "movie and television producer in New York".  Brooks, taking up his mother's passion in genealogy, has done extensive research on the family, according to Monty's biographer Patricia Bosworth.  In 1967 Brooks was in a movie called "Vice Girls, Ltd".  In an article dated 20 Aug 1975 in the ''Anderson Daily Bulletin'' by syndicated columnist Dorothy Manners she states that Brooks "a resident of Atlanta, Ga. with mostly TV commercials to his credit" did a good screen test and landed the part of a white baseball team owner who is the first to sign a black player in the 1930s.  The Universal picture was called "The Bingo Long Traveling All-Stars and Motor Kings", the executive producer was stated to be "boss of Motown" Berry Gordy.
[
Edit
]
Suzanne Clift
An interesting sidenote is that one of Brook's children Suzanne Clift, when she was 21, pled guilty to manslaughter in the 1 Oct 1962, murder of her boyfriend, Piero Brentani, a Swiss-Italian electronics engineer.  She shot him in the head and castrated him, according to the 2000 report in ''The Boston Globe''.  In newspaper reports of the time, it does not mention that he was castrated. Suzanne's mother is called "Mrs Peter Thompson, divorced and remarried....", while her father "William Brooks Clift Jr" is called a "movie and television producer in New York". Suzanne was put in jail without bail, and a month later while still being held, it was discovered that she was pregnant.  Suzanne was committed, during her trial, to the Massachusetts Mental Health Center for tests to determine her mental state.  She offered to plead guilty to manslaughter and related to the judge that her boyfriend had told her he would never marry her.  She however was "hopelessly in love" and due to bear his child. "I never told him because I knew his feelings.  He told me if I ever became pregnant, I would have to have an abortion."  She was sentenced to indefinite but voluntary incarceration at the Mental Health Center and ten years probation.  In June she gave birth to a baby girl.  Suzanne spent three years in the mental hospital before she was released.  She came to see Monty after she was released and they played with the baby. (Bosworth, p. 361)
[
Edit
]
Booze, Drugs and Sex
Monty drank substantially, several times mentioned as "falling down drunk", but while he was working on a film or play he was very focused on the material and not drunk.  In addition he took a quantity of drugs, mostly uppers and tranquilizers.  There doesn't seem to be any evidence that he used cocaine, marijuana or heroin.  Evidently preferring his drugs in pill-form.
Montgomery Clift certainly had sexual relationships with both men and women.  He has been described as having a very tortured life.  Being gay or bisexual in the 1940's and 50's was almost universally viewed by psychiatrists as a mental abnormality.  There is scant evidence that he had a sexual relationship with
Elizabeth Taylor
, but they were very close friends. C. David Heymann in his biography of Elizabeth states that Monty's personal secretary at least a few times found them in bed like "sleepy siamese kittens".  However Monty told another friend that when he and Liz tried to have sex he "couldn't rise to the occasion". Elizabeth is supposed to have asked Monty to marry her before her abrupt marriage to Nicky Hilton in 1951, and just before her second marriage, which was in 1952 to Michael Wilding, she phoned him, and again asked him to marry her.  He and Elizabeth remained close friends from their first film, right up until his death.  Of course their closeness waxed and waned and was strongest when she wasn't married.  His nickname for her was "Bessie Mae".  At the end of his career, when he wasn't insurable, she put up her own money for the insurance bond, for the last movie they were to do together, but he died before shooting began.
Similarly it is very unlikely that he had a sexual relationship with
James Dean
who he called "weird".  Montgomery however was one of James Dean's idols and Jimmy sometimes called Monty "just to hear his voice".  The situation with
Roddy McDowell
is ambiguous.  They were close friends, but other than that I'm not sure.  Patricia often mentions Monty and Roddy, and others getting together to do this or that event.  Similarly Roddy remained a friend right up until his death, but like most of his friends, at the end they were thin on the ground.
About his relationship with Libby Holman, an older mother-figure, Patricia Bosworth believes it was sexual.  Monty certainly stated that it was, during his life.  Monty and Libby drifted apart after his accident.
Patricia Bosworth mentions several male lovers, including some who lived-in, and including some who were apparently somewhat famous as she declines to name them, referring to them only in oblique ways like "this famous actor" or "a certain well-known...". She however alludes to details which it may be possible to track to find out today who they were.  His last live-in lover is called "Gillie" in the book.  They were together for some time and then split-up toward the end.  It was at this time that a live-in nurse was hired in the form of Lorenzo James.  There is no evidence that they were sleeping together.  Lorenzo was his doorman, nurse, and secretary up until Monty's death, and it was Lorenzo who found Monty dead in his own bed.
Monty is quoted as saying "I love men in bed, but I really love women!"  His closest relationships were either to couples like the Greenes and the McCarthys, or to married women separately such as Elizabeth Taylor, Nancy Walker and Myrna Loy.  One female friend said that these were safe relationships.  He knew the women were married and so off-limits, so they could be close friends without complications.  To refresh your mind on who Myrna Loy is (since she was most popular in the 1930s), watch her playing the real-life "
Billie Burke
" in the
Best Picture of 1936
, the biography of Billie's husband Florence in "The Great Ziegfeld", Myrna (as Billie) first appears in segment 13.
[
Edit
]
Death
Montgomery Clift died of a heart attack in his New York City, four-story brownstone (townhouse) at 217 East 61st Street on 23 Jul 1966, age 45.  He was found in his bed, by his personal secretary (some say "companion"), Lorenzo James.  His early death may have been exascerbated by his drinking and drug use, but the official cause of death, after an autopsy, was listed as "...occlusive coronary arteriosclerosis with pulmonary edema."
He was buried at Quaker Cemetery in Brooklyn, Kings County, New York. Montgomery Clift has a star on the Hollywood Walk of Fame at 6104 Hollywood Blvd.
His estate was valued at $200,000 and probate in Surrogate's court in New York City.  The bulk of the estate went to his sister Ethel McGinnis of Austin, Texas and to his mother Mrs Ethel Clift of New York.  He left $12,000 by bequest to his brother William B Clift Jr of Atlanta.
[
Edit
]
Primary sources

[
Edit
]
Secondary sources

"Montgomery Clift: The Hidden Star" on ''Biography'', watch on YouTube :

(Parts of this are missing obviously)
Part 1 (1:34), Intro
Part 2 (7:27), covering year 1950
Part 3 (5:44), covering years 1951-1954
Part 4 (9:57), covering years 1953-1958
Part 5 (7:06), covering years 1961-1962
Part 6 (5:57), covering years 1962-1966, notice at time 5:34 "Sunny Clift outlived both her sons, and died three months shy of her 100th birthday in 1988"

"Montgomery Clift", Encyclopedia Britannica
''Montgomery Clift : A Biography'', by Patricia Bosworth; Harcourt, Brace, Jovanovich; New York (1978), 397 pages.  Buy the paperback edition here on Amazon
"Montgomery Clift" at Findadeath.com
"Montgomery Clift" at Findagrave.com
"Montgomery Clift" on Wikipedia
"Montgomery Clift" on IMDb
[
Edit
]
Further reading
Wjhonson's Knols - Total Pageviews - Independent Counter