Please rate this article by answering the questions at the right ----------------->>>
This Knol should be cited as:
"Billie Burke (1884-1970), biography and movie clips" on Knol, by Will Johnson
wjhonson@aol.com
for Chairpotato Entertainment Channel on Knol, copyright 2010
URL: http://knol.google.com/k/chair-potato/billie-burke-1884-1970-biography-and/hyujx7mco9jp/60
Creative Commons Attribution 3.0 License
Directory Project
English Knol Project
Billie Burke (1884-1970), biography and movie clips (you are here)

Billie Burke (1884-1970), biography and movie clips (you are here)
You like to read biographies of entertainers?  Click here to check out my new Entertainer Biography Store
Do you enjoy all the free information collected below? 
Then support our sponsor by clicking here to go to Amazon and buying anything you were already going to buy but using this link.  You pay the same price.
[
Edit
]
Billie Burke (August 7, 1884 – May 14, 1970) was an American actress. (cf:
"Billie Burke", Wikipedia
) She is primarily known to modern audiences as Glinda the Good Witch of the North in the "
Wizard of Oz
", but she had a very long and full life, appearing in more than eighty films, and also on stage.  See my full write-up of the movie
Wizard of Oz
.  See also my full write-up on her ancestry citing the relevant documentation at
Ancestry of Billie Burke
.
Billie Burke was born 7 Aug in Washington, DC, while her father was away touring with the circus.  Her year of birth is given variously as 1884, 1885 and 1886.  She herself, at one point in her autobiography states, "
I was eighteen years old and the year was 1903.
"  In this
ship's manifest dated 1913
we get a date "7 Aug 1887" !  However several years earlier her own mother records a date of 7 Aug 1884.
[
Edit
]
Her name at birth is not quite clear.  Some sources will cite Mary William Ethelbert Appleton Burke, but she states plainly that "Mary" was her christening name many years later, when she was christened at Westminster Abbey.  From the way Billie describes this incident, many years later, I would say her given name was probably just Ethelbert Burke.
At the time of her birth, her father William E "Billy" Burke (b. 1844 Knox Co, Ohio) was a singing clown in Barnum & Bailey's Circus.  Billie's mother was "...
the widow Blanche Hodkinson from New Orleans who had four children by her first marriage.
"  Blanche's maiden name was Beatty "a proud New Orleans family... who had great wealth before the Civil War".  Billy states this about her mother, but it appears rather that Blanche was born in Zanesville, Ohio about 1843 and if she really
came
from New Orleans, it must be that she had moved there with her Hodkinson husband.  However at the time Blanche and Billy Burke met, Blanche was working in the Treasury Department in Washington, DC and had come to Pittsburgh where the circus was, to visit friends.  Blanche's mother Cecelia Flood Beatty was still living, and at that time in Washington, DC.  Cecelia had at one time, been a great beauty in New Orleans according to Billie. (cf
"Cecelia C Beatty", Census, Ancestry.com
)  Blanche died  in 1922 "at her home in Hastings [New York]"
Because of her father's occupation with the circus, he toured the U.S. and Europe, while Billie and her mother lived in both Washington, DC and New York City.  When Billie was eight years old, they all sailed for London, where her father set up his own entertainment enterprise.  Billie took to the stage, making her debut at age 18 in "The School Girl" starring Edna May and Pauline Chase. Billie later returned to the United States.  She states in her
autobiography at this link
, that she came over to play a season in the "provinces" when she was 21.
[
Edit
]
In 1914 she married in Hoboken, New Jersey to showman
Florenz Ziegfeld
(1867-1932).  They had one child, a daughter Patricia (1916-2008), who became an author.  Florenz died in 1932, Billie never remarried.  She died 14 May 1970 age 85 in Los Angeles, California.
Billie's film debut was in the 1916 movie "Peggy".  Their daughter Patricia was born 23 Oct 1916.  Billie retired from acting sometime in this period, but the 1929 Stock Market Crash left her husband Ziegfeld in tremendous debt.  She returned to acting to help pay off those debts.  Ziegfeld did not last much longer, dying 22 Jul 1932.
[
Edit
]
Billie Burke appeared in 1932's drama "A Bill of Divorcement",
Directed by George Cukor.
Starring John Barrymore, Billie Burke, and the film debut of Katharine Hepburn
, who had been brought from Broadway to Hollywood by
Leland Hayward
for this picture.  Watch two minutes of Billie's role in this movie,
on YouTube at this link.
  Now watch the kind of melodrama that puts modern soap operas to shame in
this four minute clip
.
In 1933, the movie "Dinner At Eight", produced by David O Selznick, directed by George Cukor -- starred Lionel Barrymore, Billie Burke, Wallace Beery,
Jean Harlow
, Marie Dressler, and John Barrymore.  Watch this
excellent six minute-clip
of Billie Burke from Dinner At Eight.  Be sure to watch it all the way to the end where we get to see Billie all agitated and excited. Is that Edna May Oliver with her?
[
Edit
]
The part of her life when she was married to Florenz is fictionalized in the
1936
musical
drama
The Great Ziegfeld
starring William Powell, Myrna Loy, Luise Rainer, with parts as well for Frank Morgan, Fannie Brice, and Ray Bolger.  This movie won the
Best Picture Oscar
for 1936.  Myrna Loy plays the part of "Billie Burke".  While "Billings" is played by Frank Morgan who was the "Wizard", and Ray Bolger plays himself!  Fannie Brice of course was the real-life "Funny Lady" that Barbara Streisand's much-later movie biographed.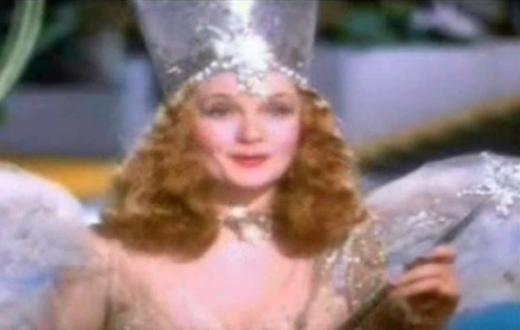 Billie Burke as
Glinda the Good Witch
in 1939's Wizard of Oz
Click to Enlarge



Billie Burke had the part of "Mrs Topper" in
1937
's
fantasy
comedy
starring Constance Bennett,
Cary Grant
, and Roland Young.  The film used to be available on YouTube where we all watched it as part of
Chairpotato's "Night at the Movies"
, but they have since taken it down per a copyright claim.  Billie reprised her role in 1941's "Topper Returns".  But between the two Topper movies, she had what ultimately has become her most well-known part.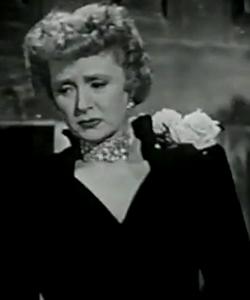 Billie Burke as
"Mrs Pidgeon" in 1945's
"The Cheaters"


[
Edit
]
Billie Burke was cast as "Glinda, the Good Witch of the North" in the 1939 movie "
Wizard of Oz
" starring
Judy Garland
.  Billie was 54 years old at this time.  This was not her first film with Judy Garland, as Burke had played Judy's mother in a just-released film called "Everybody Sing".
[
Edit
]
Billie had the part of "Mrs Pidgeon" in 1945's "The Cheaters. 
Watch a minute of her in that role at this link on YouTube.
[
Edit
]
In 1949 she wrote her autobiography called "With A Feather On My Nose". 
There is a preview edition on Google Books at this link, evidently a modern reprint
.  Billie continued to work in film and on stage, until she finally retired in 1960 at the age of 75.
Archive.org has eight movie listings for Billie Burke.  These are full-length movies you can watch online for free.
Watch "Father's Little Dividend" (1951) online for free
Wjhonson's Knols - Total Pageviews - Independent Counter